by Nick Redfern          February 6, 2018          (mysteriousuniverse.org)
• From 1949 to 1956, Sir Peter Horsley served as an RAF officer n the home of the Duke and Duchess of Edinburgh, now known as Queen Elizabeth II and her consort, Prince Phillip (pictured above).
• Horsley became interested in UFO and extraterrestrials and UFO through Prince Phillip's own fascination with UFOs. Prince Phillip introduced Horsley to an American General named Martin, and to Martin's acquaintance the "mysterious" Mrs. Markham. General Martin "believed UFOs were visitors from an alien civilization which wanted to warn us of the dangers posed by atomic war."
• In 1954, Markham invited Horsely to meet a strange man named Janus, which he did and they talked for hours about traveling in space and time. Horsely was certain that Janus was reading his mind, and he also knew all of Britain's top-secret nuclear secrets. Said Horsley, "I don't know what or who he was. He didn't say he was a visitor from another planet but I had that impression."
• Right up to his death in 2001, Horsely remained adamant that this bizarre episode was not some state-sponsored operation designed to gauge Sir Peter's character and loyalty. Said Horsley, "I don't care what people think. It was what happened. I would say they come from another planet somewhere in the universe but not in our galaxy. They are benign, not aggressive and, like us, are explorers."
Born in 1921, Air Marshal Sir Beresford Peter Torrington Horsley began his career with the British military in 1939, when he boarded the TSS Cyclops, a steamer bound for Malaya. For the return journey, and as the Second World War was declared, he changed ships – to the TSS Menelaus – and eventually gravitated to a career in the Royal Air Force. First as an air-gunner, then as a pilot, and subsequently as a flight-instructor. Horsley was later attached to the Communications-Squadron of the 2nd Tactical Air Force in France. And, during the D-Day invasion of Normandy, he accepted the job of personal pilot to Major-General Sir Miles Graham. He returned to England in 1947, joined the staff of the Central Flying School, 23 Training Group, and was appointed Adjutant to the Oxford University Air Squadron in 1948.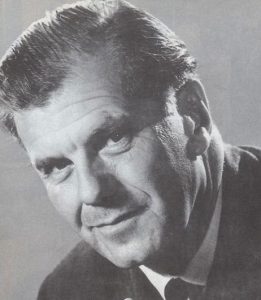 In July 1949, Horsley entered the Royal Household as a Squadron Leader, and as Equerry to Her Royal Highness, the Princess Elizabeth, Duchess of Edinburgh (better known today as Her Majesty, Queen Elizabeth II), and to His Royal Highness, the Duke of Edinburgh. In 1952, Horsley became a Wing-Commander and in 1953 became a full-time Equerry to the Duke of Edinburgh; it was a role he held until 1956. His final post in the Royal Air Force was as the Deputy-Commander-in-Chief of Strike Command, which he held from 1973 to 1975. And there's one more thing: Horsley's other claim to fame is that, in late 1954, he had a face-to-face encounter with a human-looking alien who went by the memorable and mysterious name of Mr. Janus.
The very strange affair began when Horsley learned of the Duke    of Edinburgh's fascination with the complexities of the UFO puzzle. According to Horsley (in his 1998 book, Sounds From Another Room): "[The Duke] was quite interested. As always his mind was open. He agreed I should do a study on the subject in my spare time; as long as I kept it in perspective and didn't bring the Palace into disrepute. He didn't want to see headlines about him believing in little green men."
With typical British understatement, Horsley said: "At the end of my tour at the Palace, I had a very strange experience." To say the least!
Sir Arthur Barratt, who worked at Buckingham Palace, as Gentleman Usher to the Sword of State, introduced Horsley to a certain General Martin, who, in turn, put him in touch with a mysterious Mrs. Markham. Interestingly, the English researchers Dr. David Clarke and Andy Roberts learned from Horsley that General Martin "believed UFOs were visitors from an alien civilization which wanted to warn us of the dangers posed by atomic war." Mrs. Markham who told Horsley to turn up at a particular apartment in London's Chelsea district on a specific evening, where he would meet a stranger: the aforementioned Mr. Janus.
Horsley said of his chat with the man that: "Janus was there, sitting by the fire in a deep chair. He asked: 'What is your interest in flying saucers?' We talked for hours about traveling in space and time. I don't know what or who he was. He didn't say he was a visitor from another planet but I had that impression. I believe he was here to observe us. I never saw him again. I have no qualms about the reaction to my experience with Mr. Janus."
FAIR USE NOTICE: This page contains copyrighted material the use of which has not been specifically authorized by the copyright owner. ExoNews.org distributes this material for the purpose of news reporting, educational research, comment and criticism, constituting Fair Use under 17 U.S.C § 107. Please contact the Editor at ExoNews with any copyright issue.