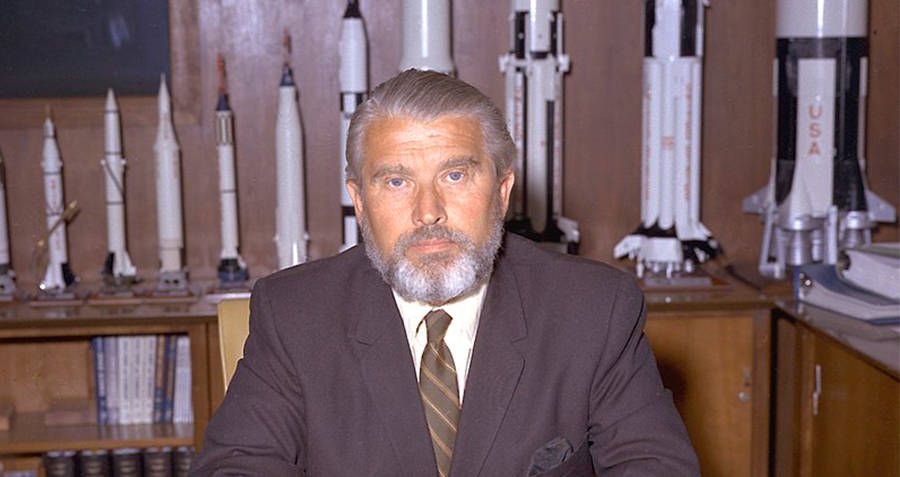 Wilileaks Document Suggest That Wernher Von Braun Tried to Warn Us About a Fake Alien Invasion
by Arjun Walia               April 6, 2018                 (collective-evolution.com)
• Dr Wernher Von Braun (pictured above) was a Nazi rocket scientist in the secret spacecraft development plant at Peenemünde during World War II , then through Operation Paperclip recruited as a high-level NASA aeronautical engineer during the 1960's and early 70's. One of Von Braun's mentors, a founding father of rocketry and astronautics, Herman Oberth said, "It is my thesis that flying saucers are real and that they are space ships from another solar system. I think that they possibly are manned by intelligent observers who are members of a race that may have been investigating our Earth for centuries."

• Below is an excerpt from a video interview of Carol Rosin speaking about her mentor, Dr Wernher Von Braun. (See the full 33:53 minute video from the Sirius Disclosure YouTube channel below.)
          o "I met the late Dr Wernher Von Braun in early '74, at that time Von Braun was dying of cancer, but he assured me that he would live a few more years in order to tell me about the game that was being played, that game being the effort to weaponize space, to control Earth from space and space itself."
          o "What was most interesting to me was a repetitive sentence that he said to me over and over again… that was, the strategy that was being used to educate the public and decision makers, and the scare tactics, the spin that was being put on (as justification for our advanced) weapons system… (was based upon) …how we identify an enemy."
          o "The enemy at first, (Von Braun) said, (to justify our) …space based weapons system… first the Russians are going to be considered the enemy… then terrorists would be identified… then we were going to identify third world crazies… The next enemy was asteroids… [and] against asteroids we're going to build space based weapons."
          o "And the funniest one of all was against what he called aliens, extraterrestrials. That would be the final card. And over, and over, and over during the four years that I knew him and was giving his speeches for him, he would bring up that last card. 'And remember Carol, the last card is the alien card. We're going to have to build space based weapons against aliens.' And all of it, he said, is a lie."
• Is there a possibility that powerful groups that control governments will use the extraterrestrial phenomenon to deceive the masses? Given everything we've seen with false flag terrorism so far, it certainly seems plausible.

• [Editor's Note] The article's writer then asks "Why do we always wait until the government or the media verifies something in order to believe it's true? Why do we assume that anyone without these official credentials is lying, or crazy, or both? If we simply did our own research, we could come to our own conclusions and we wouldn't be so easily fooled when these official sources lie to us. There is so much information out there and so much evidence to support not only the existence of UFOs but of extraterrestrials as well. We don't need the government to tell us what is already apparent. We just need to do independent research and think for ourselves." Why? It is becoming apparent that the negative extraterrestrials that have been manipulating humanity on Earth (ie" Anunnaki, Draco Reptilians, negative Nordics, and their small Greys), have subjected the planet to mass mind controlled agenda, inducing our top leaders to do their bidding and instilling an apathy and cognitive dissonance in the collective minds of the populace.
As you've probably already heard, a while ago Wikileaks released the Podesta emails . As with previous leaks, they expose massive amounts of corruption within the U.S. political system.
Some of the Podesta leaks include information about UFOs and extraterrestrials in the form of private emails.
One in particular was from Apollo 14 astronaut Dr. Edgar Mitchell, and it reads as follows:
Dear John,
Because the War in Space race is heating up, I felt you should be aware of several factors as you and I schedule our Skype talk. Remember, our nonviolent ETI from the contiguous universe are helping us bring zero point energy to Earth. They will not tolerate any forms of military violence on Earth or in space.
The following information in italics was shared with me by my colleague Carol Rosin, who worked closely for several years with Wernher von Braun before his death.
Carol and I have worked on the Treaty on the Prevention of the Placement of Weapons in Outer Space, attached for your convenience.
In the email, he mentions Carol Rosin, who was the first female corporate manager of Fairchild Industries. A space and missile defence consultant who has worked with various corporations, government departments, and intelligence communities, she worked closely with Wernher Von Braun shortly before his death, specifically on the subject of space-based weapons. She also founded the Institute for Security Cooperation in Outer Space.
Below is a very telling interview with Carol that was conducted by Dr. Steven Greer, founder of The Disclosure Project. Greer accompanied Dr. Edgar Mitchell in all his communications and meetings with the Pentagon and has been instrumental in bringing forth hundreds of military whistleblowers of all ranks, with verified credentials and backgrounds, to share what they've learned about this phenomenon through their work.
In the interview, she brings up the idea of a false flag alien threat. The term 'false flag' describes covert operations that are designed to be misleading, to make it appear as though events are being carried out by entities, groups, or nations other than those who actually planned and executed them.
"I met the late Dr Wernher Von Braun in early 74, at that time Von Braun was dying of cancer, but he assured me that he would live a few more years in order to tell me about the game that was being played, that game being the effort to weaponize space, to control Earth from space and space itself."
"He asked me to be his spokesperson, to appear on occasions when he was too ill to speak, and I did. And what he asked me to do was to educate decision makers and the public about why we shouldn't be putting weapons into space . . . and what the alternatives are, how we could be building a cooperative space system."
"What was most interesting to me, was a repetitive sentence that he said to me over and over again. . . . And that was the strategy that was being used to educate the public and decision makers, and the scare tactics, the spin that was being put on the weapons system. And that was how we identify an enemy."
"The enemy at first he said, the enemy against whom we're going to build a space based weapons system . . . First the Russians are going to be considered the enemy . . . then terrorists would be identified and that was soon to follow . . . then we were going to identify third world crazies, we now call them nations of concern. . . . The next enemy was asteroids . . . [and] against asteroids we're going to build space based weapons."
"And the funniest one of all, was against what he called aliens, extraterrestrials, that would be the final card. And over, and over, and over during the four years that I knew him and was giving his speeches for him, he would bring up that last card.
'And remember Carol, the last card is the alien card. We're going to have to build space based weapons against aliens,' and all of it, he said, is a lie."
FAIR USE NOTICE: This page contains copyrighted material the use of which has not been specifically authorized by the copyright owner. ExoNews.org distributes this material for the purpose of news reporting, educational research, comment and criticism, constituting Fair Use under 17 U.S.C § 107. Please contact the Editor at ExoNews with any copyright issue.
Carol Rosin, Dr Wernher Von Braun, Herman Oberth
---
ExoNews Editor
Duke Brickhouse is a former trial lawyer and entertainment attorney who has refocused his life's work to exposing the truth of our subjugated planet and to help raise humanity's collective consciousness at this crucial moment in our planet's history, in order to break out of the dark and negative false reality that is preventing the natural development of our species, to put our planet on a path of love, light and harmony in preparation for our species' ascension to a fourth density, and to ultimately take our rightful place in the galactic community.
---