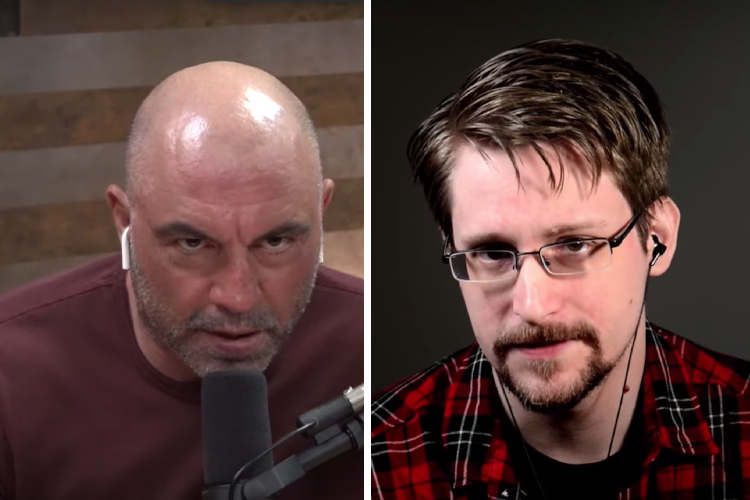 Listen to "e158 Edward Snowden Confirms Aliens Never Contacted the CIA; Moon Landing Did Happen" on Spreaker.
October 25, 2019                     (news18.com)
• CIA employee turned whistle blower, Edward Snowden recently released a memoir entitled: "Permanent Records" wherein he says that when he had access to CIA databases and resources he could find no evidence of any contact with extraterrestrial beings. Writes Snowden, "For the record, as far as I could tell, aliens have never contacted Earth, or at least they haven't contacted US intelligence."

• Snowden repeated the same on a recent episode of "The Joe Rogan Experience" podcast where he said, "I had ridiculous access to the networks of the (National Security Agency), the CIA, the military, all these groups. I couldn't find anything". "If we are hiding them," said Snowden, "…it's hidden really damn well, even from people who are on the inside". (watch the full 2:49:32 minute Joe Rogan Experience Podcast below)
• Snowden could confirmed that the 1969 moon landing did happen. Snowden writes: "Yes, man really did land on the moon. Climate change is real. Chemtrails are not a thing."
• [Editor's Note]  Corey Goode has said that the United States' National Security Agency is only aware of a couple of classified USAF-operated space stations orbiting the earth and the TR3B triangular anti-gravity craft that services these classified space stations. The NSA is not allowed access to the most top secret information, probably because of whistle blowers such as Snowden.
And as to the existence of chemtrails, in 2013 the website 'Geoengineering Watch' published an article that discussed
the US government's weather modification programs from the 1950's, and it linked a November 1966 NASA report that supported the governments involvement in seeding the atmosphere with silver dioxide (not to mention aluminum, barium and strontium to affect not only the weather but the food supply and the health of the population in general). I live in Virginia Beach, and while in July I noticed a decrease in the daily crisscrossing of chemtrails in the sky, they resumed with a vengeance in August. Here are some photos I took in the late evening just the other day. Maybe Snowden doesn't think that chemtrails are "a thing" because he lives in Moscow, but we in the US need only to look up to confirm that chemtrails continue to proliferate in our skies. Or have the American people become conditioned not to believe what they see with their own eyes?
Despite hundreds of films, science fiction and fantasy novels as well as thousands of conspiracy theories, humans have never found proof of aliens existing or ever contacting Earthlings.
In fact, Area 51, one of the most secretive military bases in the United States, is actively believed by thousands of people to be the site of alien experiments conducted by the Central Intelligence Agency (CIA). However, CIA employee turned whistle blower Edward Snowden recently debunked one of the biggest conspiracy theories prevalent in the US – that aliens managed to contact the US government and/or its security agencies and that the government actively hides this bit of information from the world.
In his recently released memoir "Permanent Records", however, Snowden revealed that during his time at the CIA, he had searched the CIA databases and resources find out if the US or any of its agencies had ever been in contact with extraterrestrial creatures.
However, Snowden found no evidence of any official (or unofficial) contact with aliens. "For the record, as far as I could tell, aliens have never contacted Earth, or at least they haven't contacted US intelligence," Snowden writes in his recent memoir," Snowden wrote.
He also confirmed that the moon landing, another famously disbelieved moon landing – a favourite with conspiracy theorists in US – did indeed happen.
"In case you were wondering: Yes, man really did land on the moon. Climate change is real. Chemtrails are not a thing," he wrote.
Full 2:49:32 minute Joe Rogan Experience Podcast (PowerfulJRE YouTube)
FAIR USE NOTICE: This page contains copyrighted material the use of which has not been specifically authorized by the copyright owner. ExoNews.org distributes this material for the purpose of news reporting, educational research, comment and criticism, constituting Fair Use under 17 U.S.C § 107. Please contact the Editor at ExoNews with any copyright issue.