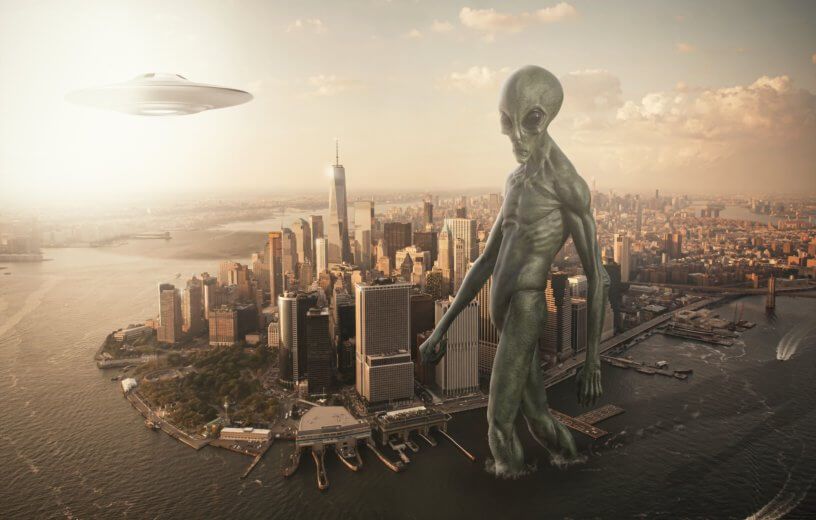 Article by Nirmal Narayanan                              May 22, 2020                           (ibtimes.sg)
• If the Earth is invaded by advanced, hostile extraterrestrial beings, Clifford N Lazarus believes that we Earthlings will need to come together to prevail. Lazarus, the clinical director of the Lazarus Institute, wrote in Psychology Today: "It is critically important that we find a way to create a coordinated, global response to this mortal peril because it will almost inevitably not be the final pandemic our world will face. Without rational, scientifically guided and cooperative, multinational leadership, "ET" will prevail and human civilization as we know it will be doomed."
• Lazarus also says that an alien invasion is very similar to a pandemic outbreak, where humans should unite as a single species irrespective of various barriers. "If ever there was a time for joining forces and pulling together as a nation, a global community and a single species, this is it," says Lazarus. "COVID-19 does not recognize national borders or social boundaries. It will infect and possibly kill anyone regardless of nationality, race, religion, gender, sex, age, education, wealth, social status, or political affiliation."
• Investigative journalist Leslie Kean recently suggested that alien hypothesis could be the best option to explain UFO sightings. (see ExoArticle here)  "The extremely advanced technology that the objects have displayed since the 1950s… demonstrate tremendous speed and accelerations, the ability to make sharp right-angle turns, stand still in midair, zoom off and disappear in the blink of an eye, and operate underwater. They appear to defy the laws of aviation as we know it since they have no wings or visible means of propulsion." Many believe that (some) UFO sightings are authentic proof of alien existence and their presence here on Earth to 'monitor human activities'.
• [Editor's Note]   They're here, and they've been here for a very long time – both the 'bad' ETs who have turned the Earth into a slave planet using mind control over our leaders and the media, and the 'good' ETs who watch our species from a distance, assisting us through our consciousness. This struggle has escalated since WWII when we reached a level of technological development that made us more valuable and susceptible to the 'bad' ETs' agenda of domination. We have now reached the culmination of this cosmic struggle for planet Earth, where we will need to either awaken to the ET reality and take control over our own sovereign future, or accept our species' fate as servants to an elite human class and their deep state henchmen doing the bidding of an evil extraterrestrial race.
Many space experts believe that humans are not alone in the universe, and they claim that advanced alien species might be living somewhere in the deep nooks of the universe.
If these advanced beings are now searching for life in the universe, there are possibilities that they could find earth, and we cannot rule out a possible invasion in the future.
Will Earth Face Doomsday Due to Alien Invasion?
Clifford N Lazarus, the clinical director of the Lazarus Institute believes that the earth will be doomed if hostile aliens visit earth. He also added that multi-national leadership should prevail in the world if humanity wants to fight against a common enemy.
"It is critically important that we find a way to create a coordinated, global response to this mortal peril because it will almost inevitably not be the final pandemic our world will face. Without rational, scientifically guided and cooperative, multinational leadership, "ET" will prevail and human civilization as we know it will be doomed," wrote Lazarus in his recent article published in Psychology Today.
FAIR USE NOTICE: This page contains copyrighted material the use of which has not been specifically authorized by the copyright owner. ExoNews.org distributes this material for the purpose of news reporting, educational research, comment and criticism, constituting Fair Use under 17 U.S.C § 107. Please contact the Editor at ExoNews with any copyright issue.