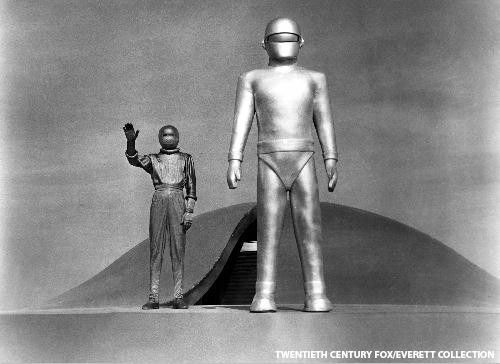 by Katherine Hignett           February 19, 2018             (newsweek.com)
• At a press conference on February 19th, during the annual meeting of the American Association for the Advancement of Science, Arizona State University psychologist Michael Varnum presented new unpublished data with regard to Americans perception of meeting extraterrestrials. The results suggest, said Varnum, "If we find out we're not alone, we'll take the news rather well." "We would actually be pretty upbeat about it."
• Varnum analyzed media coverage and public reaction to hypothetical revelations ranging from the discovery of microbial life off planet, or that the interstellar object 'Oumuamua', ie: the cigar shaped asteroid that recently traveled through our solar system, was in fact an extraterrestrial spacecraft.
• Varnum's results suggested that the individuals question believed that humanity as a whole would react more positively than negatively to news of intelligent alien life.
Humans are fascinated by aliens. Whether they're chest-bursting assassins or cuddly childhood friends, pop culture is awash with extraterrestrials. Science, too, has been looking for little green men for years with the Search for Extra-Terrestrial Intelligence (SETI) Institute and more recently with Breakthrough Listen.
But what would actually happen if we encountered alien life? Would humans greet the news with pitchforks or embrace our extraterrestrial cousins?
A group of recent studies have suggested the latter. If news broke of alien life, it seems humans would be cool with it.
Arizona State University psychologist Michael Varnum presented new unpublished data at a press conference Friday during the AAAS (American Association for the Advancement of Science) annual meeting.
"If we came face to face with life outside of Earth, we would actually be pretty upbeat about it," said Varnum at the press conference. "So far, there's been a lot of speculation about how we might respond to this kind of news, but until now, almost no systematic empirical research."
Interstellar Objects, Martian Microbes and Earth-Like Exoplanets
Varnum analyzed recent media coverage of the interstellar object 'Oumuamua—first spotted flying through our solar system in late 2017—for positive and negative emotions. Specifically, Varnum was interested in the public's response to reports that the visiting asteroid might actually be an alien spaceship. His results suggested humans would react more positively than negatively to news of intelligent alien life.
These unpublished data build on recent evidence from Varnum and colleagues suggesting humans would be happy about the discovery of alien microbes. The results from three studies were recently published in Frontiers in Psychology.
FAIR USE NOTICE: This page contains copyrighted material the use of which has not been specifically authorized by the copyright owner. ExoNews.org distributes this material for the purpose of news reporting, educational research, comment and criticism, constituting Fair Use under 17 U.S.C § 107. Please contact the Editor at ExoNews with any copyright issue.