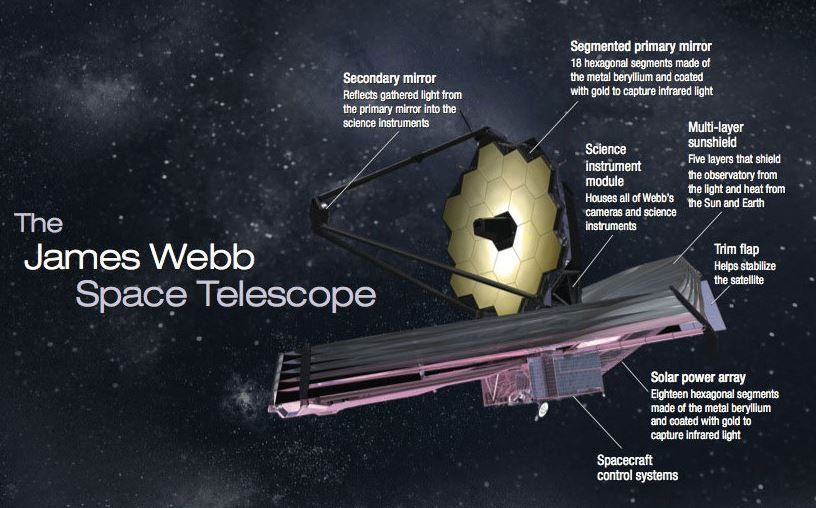 by Johnny Vatican                       May 1, 2019                       (medicaldaily.com)
• The James Webb Space Telescope (JWST), which will go online in 2021 replacing the Hubble Telescope, will be the most sophisticated space telescope ever made. The JWST will be able to observe high redshift objects that are too old and too distant for the Hubble and other earlier instruments to observe. It promises to see deeper into time, and with much greater clarity, than any space-based or terrestrial optical telescope on Earth.

• One of the JWST's major goals is observing some of the most distant events and objects in the universe such as the formation of the first galaxies, the formation of stars and planets, and direct imaging of exoplanets and novas. The JWST will be able to see 0.3 billion years after the Big Bang to when visible light itself was beginning to form. It will accurately measure the content of water, carbon dioxide and other components in the atmosphere of an exoplanet hundreds of light years away and will tell scientists more about the size and distance of these exoplanets are from their host suns. By measuring the chemical make-up of a planet, scientists will be able to see if it can host life.

• "Even if we never find other life in our Solar System, we might still detect it on any one of thousands of known exoplanets," Cathal O'Connor, researcher and center manager at the University of Melbourne, said. "The ancient question 'Are we alone?' has graduated from being a philosophical musing to a testable hypothesis. We should be prepared for an answer."
When the astonishing James Webb Space Telescope (JWST) sees first light in 2021, the world of science as we know it will never be the same again.
The most sophisticated space telescope ever made promises to see deeper into time, and with much greater clarity, than any space-based or terrestrial optical telescope on Earth. Some of the more starry-eyed fantasize JWST might even glimpse alien spacecraft hovering over their home planet.
|
The replacement for the venerable Hubble Telescope will be able to see 0.3 billion years after the Big Bang to when visible light itself was beginning to form. It will accurately measure the content of water, carbon dioxide and other components in the atmosphere of an exoplanet hundreds of light years away and will tell scientists more about the size and distance of these exoplanets are from their host suns.
By measuring the chemical make-up of a planet, scientists will be able to see if it can host life.
FAIR USE NOTICE: This page contains copyrighted material the use of which has not been specifically authorized by the copyright owner. ExoNews.org distributes this material for the purpose of news reporting, educational research, comment and criticism, constituting Fair Use under 17 U.S.C § 107. Please contact the Editor at ExoNews with any copyright issue.