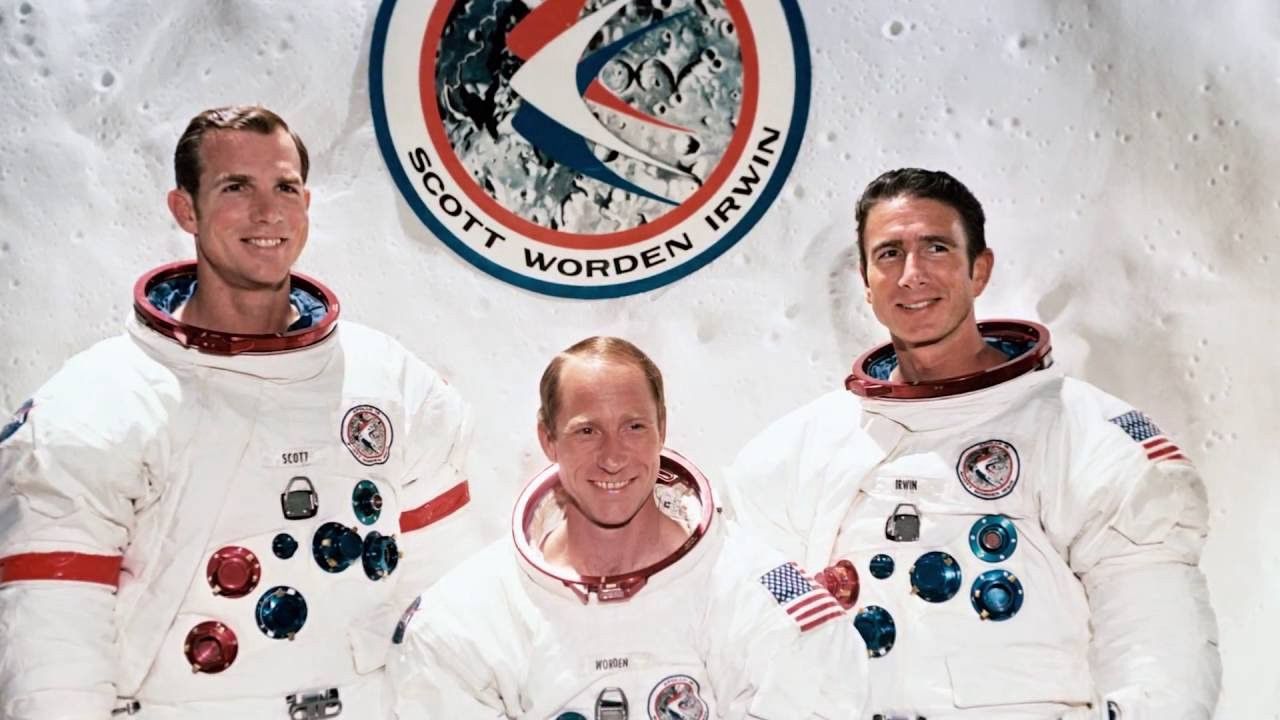 by Sean Martin                July 16, 2019                    (express.co.uk)
• In 1971, the crew of Apollo 15 – David Scott, Alfred Worden, and James Irwin – were the fourth group of astronauts to land on the Moon. When they got there, however, they saw neatly organized vehicle tracks on the surface and relayed this information to mission control. The conversation was picked up by UFOlogist Don Wilson. In his 1975 book 'Our Mysterious Spaceship Moon', Wilson wrote, "What are these tracks? Who made them? Where did they come from? Does NASA have an answer for the people?".

• A transcript between the astronauts and ground control shows how the crew spotted the tracks leading up to Mt Hadley – a mountain range on the northern hemisphere of the Moon. James Irwin tells mission control "tracks here as we go down slope" "I can't get over those lineations, that layering on Mt. Hadley". David Scott adds, "I can't either. That's really spectacular."

• Irwin continues, "That's the most organized structure I've ever seen!" Scott says, "It's so uniform in width." Irwin notes, "Nothing we've seen before this has shown such uniform thickness from the top of the tracks to the bottom."

• Conspiracy website UFO-Aliens.co.uk says there is something strange going on, with the page reading: "Many people feel we have not been told the complete truth regarding NASA's space program, in particular the Apollo Missions of the late 60's and early 70's. "Something is seriously amiss."
AN APOLLO mission which went to the Moon saw "organised" tracks on the lunar surface which conspiracy theorists believe is evidence of aliens.
The Apollo 15 crew, consisting of David Scott, Alfred Worden, James Irwin, became just the fourth group to land on the Moon in 1971. However, they were in for a shock once they got there, as they supposedly saw neatly organised tracks on the surface. A transcript between the astronauts and ground control shows how the crew spotted "organised" tracks leading up to Mt Hadley – a mountain range on the northern hemisphere of the Moon – leading to UFO theories.
The conversation between the crew and ground control is as follows:
Scott: Arrowhead really runs east to west.
Mission Control: Roger, we copy.
Irwin: Tracks here as we go down slope.
Mission Control: Just follow the tracks, huh?
Irwin: Right we're (garble). We know that's a fairly good run. We're bearing 320, hitting range for 413 … I can't get over those lineations, that layering on Mt. Hadley.
Scott: I can't either. That's really spectacular.
Irwin: They sure look beautiful.
Scott: Talk about organisation!
Irwin: That's the most organised structure I've ever seen!
Scott: It's (garble) so uniform in width.
Irwin: Nothing we've seen before this has shown such uniform thickness from the top of the tracks to the bottom.
The sighting has prompted speculation from alien hunters with a debate that still rages on to this day.
The conversation was picked up by UFOlogist Don Wilson, who in his 1975 book 'Our Mysterious Spaceship Moon', questioned whether NASA has any answers for the sighting.
Mr Wilson wrote: "What are these tracks? Who made them? Where did they come from? Does NASA have an answer for the people?".
Conspiracy website UFO-Aliens.co.uk says there is something strange going on, with the page reading: "Many people feel we have not been told the complete truth regarding NASA's space program, in particular the Apollo Missions of the late 60's and early 70's.
"Something is seriously amiss."
5:32 minute interview, at 4:30 Apollo 15 astronaut
Al Worden talks about extraterrestrials (Good Morning Britain)
FAIR USE NOTICE: This page contains copyrighted material the use of which has not been specifically authorized by the copyright owner. ExoNews.org distributes this material for the purpose of news reporting, educational research, comment and criticism, constituting Fair Use under 17 U.S.C § 107. Please contact the Editor at ExoNews with any copyright issue.