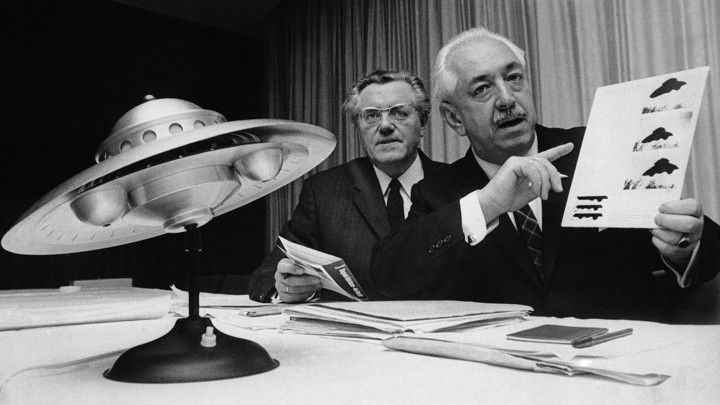 Listen to "E108 9-28-19 Angels, Airships, and Aliens: The 3,500-Year History of UFO Sightings" on Spreaker.
Article by Matt Blitz                       September 24, 2019                        (popularmechanics.com)
• The US Navy has admitted that the three released videos of 'unidentified aerial phenomenon' are authentic, each depicting quick-moving oblong-shaped objects. The Navy has yet to identify the objects in these videos. The term "UAP" has replaced "UFO" which still carries a lot of historical "baggage" and stigma, and discourages people from reporting a sighting. Journalist Leslie Kean who helped break the New York Times story in December 2017 about the Navy's UAP sightings says, "That term (UFO) is so loaded at this point, that you are never going to change people's understanding of what it means." "All you can do is adopt a new one."
• But this is not a new phenomenon. Humans have seen and encountered unidentified flying objects for millennia. The only thing that's changed is how people have interpreted these events over the years. Here is a summary of four eras of UFOs:

• Biblical Beginnings – Diana Walsh Pasulka, author of American Cosmic: UFOs, Religion, Technology and a professor of philosophy and religion at UNC Wilmington reports that "Catholicism, Judaism, Buddhism, Hinduism, and all the major religions actually have pictures and anecdotes of aerial phenomenon." In nearly every religion, there are "contact events" where an important figure makes contact with a heavenly figure. Moses and the burning bush, Mohammad and the angel Gabriel, and the Virgin Mary's own angelic visitation. "These are human's first contact with something they interpret to not be human or of this planet. And, if they are [not of this planet], they are de facto extraterrestrial." Unexplainable phenomena can become religion.

• The Era of Airships – In his 2010 book Wonders in the Sky: Unexplained Aerial Objects from Antiquity to Modern Times, French astronomer Jacques Vallee analyzed 500 historical UFO reports. The earliest sighting dates back nearly 3,500 years to modern-day Sudan, when a falling star "the like had not happened before" struck down the Nubians to give the Egyptians a military victory. These mysterious sightings dot human history and culminate in Dubuque, Iowa in 1879 when a "large, unexplained airship" was visible for an hour before it "disappeared on the horizon."

• According to Pasulka, by the late 19th century humans began to shift their interpretation of the unknown from a religious framework to a technological one. In 1896 and 1897, mysterious "airships" were seen all over the U.S. with many witnesses signing affidavits. Thomas Edison remarked "it is absolutely impossible to imagine that a man could construct a successful airship and keep the matter a secret." But by the late 19th century, hydrogen-filled airships were in development.

• The Dawn of the UFO – Late into World War II, American fighter pilots started observing orange, glowing lights they dubbed "foo fighters". Rumors circulated about the Nazi's using advanced technology and even establishing a lunar base. But American scientists explained it away as "electrostatic phenomena". Then in 1947, Kenneth Arnold saw strange round craft flying in formation in excess of 1,000 miles per hour. Again, the Army dismissed it as a mirage or hallucination. But others came forward to say they had also seen similar aerial phenomenon.

• A few years later, the Air Force coined the term 'UFO' and it was prominently used in the Robertson Report, the same scientific panel that dismissed the 'foo fighters'. The convenient excuse for these UFOs became the Soviet's testing of secret weapons. But the US military brass "wrote that off pretty early on because of the extreme sophistication of the technology," says Kean. "It was unimaginable that the Russians could have something like this."
• An Extraterrestrial Threat? – The US Air Force created a secret project code-named "Sign" to investigate these UFO incidents. Kean says that there were "so many documents that show at the highest levels [the U.S. military] didn't know what they were." Some believed that these aerial phenomena were not from this planet. Then the July 1952 sightings over Washington D.C. convinced the government that the phenomenon could not be ignored. The military told the FBI that "the objects sighted may possibly be ships from another planet such as Mars". The military told the public was that there was no "conceivable threat to the United States", while they secretly feared a national security threat. Says Kean, "They just didn't know what else to do at that point."

• The Mystery Remains – The Robertson Panel in 1953 determined to debunk UFO sightings as either man-made or natural phenomenon. And that's exactly what federal authorities did for more than six decades. But recent events suggest a new government strategy in the works. As of the 2017 New York Times article, the government confirmed that it had been investigating the UFO/UAP phenomenon in a $22 million Pentagon program that officially ended in 2012, but insiders said it continued until 2017 when its head, Luis Elizondo, resigned. The program studied physical effects from encounters with the objects and the theoretical technology that could enable the UAPs to perform as they did. But most interesting was that the program had recovered materials from these UAPs.

• Kean thinks there is a lot of research going on behind-the-scenes. As it is presumed that the U.S. isn't the only country in possession of UAP materials, there is a secretive global race associated with this research. Says Kean, "From what I've been told, it's a competitive thing. Whoever understands the technology first has a real advantage. My sense of it is that there's an undercurrent of competition among Russia, China, and the U.S."

• Sources have also told her that the physics of how these objects move has already been cracked. "What they've figured out is very futuristic," says Kean. "[T]hey can understand how it's done." Scientists and medical experts are also attempting to understand the biological effects on those humans who've come close to these phenomenon.

• More than two-thirds of Americans believe that the US government knows more about UFOs than they are telling the public. It's becoming common to see UFO videos on YouTube. But are they extraterrestrial? "It's a valid hypothesis," says Kean. Or could they be explained as inter-dimensional, or time travelers, or super-secret weapons or aircraft developed by another nation on this planet? What was a mystery in ancient times remains a mystery today.
This past week, the U.S. Navy confirmed that several videos—two of which were first released by The New York Times in 2017 depicting so-called "Unidentified Aerial Phenomena" (UAP)—are authentic. The three videos, (another was later published by The Washington Post), each depicting quick-moving oblong-shaped objects, were shot by Navy pilots during training exercises in 2004 and 2015. The Navy has yet to identify the objects in the video, and along with the Department of Defense, said the videos should have never been made public.


While a "UAP" may be an unfamiliar term, that's sort of the point. UAPs are essentially the new UFO—but with a lot less historical baggage. A Navy spokesman told The Washington Post that the acronym "UFO" carries so much stigma that it discourages someone from reporting a sighting.
"That term is so loaded at this point, that you are never going to change people's understanding of what it means," journalist Leslie Kean, who co-wrote the 2017 New York Times investigation into the Pentagon's UFO (or UAP) program, tells Popular Mechanics. "All you can do is adopt a new one."
But humans didn't just start seeing UFOs darting around above our heads in just the past few weeks…or in 2015, 2004, 1947, or even 1639. Humans have seen and encountered unidentified flying objects for millennia.
BIBLICAL BEGINNINGS
Unidentified flying objects have been recorded throughout human history. The only thing that's changed is how people—stretched across thousands of years—have interpreted these unexplainable events.
"Catholicism, Judaism, Buddhism, Hinduism, and all the major religions actually have pictures and anecdotes of ariel phenomenon," Diana Walsh Pasulka, author of American Cosmic: UFOs, Religion, Technology and a professor of philosophy and religion at UNC Wilmington tells Popular Mechanics.
Some of them were comets, asteroids, meteors, and other atmospheric optical phenomena that were scientifically unknown to our ancient ancestors, but others still defy modern explanations.
Pasulka explains in nearly every religion, there are "contact events" where an important figure makes contact with a heavenly figure. Moses and the burning bush, Mohammad and the angel Gabriel, and the Virgin Mary's own angelic visitation.
"These are human's first contact with something they interpret to not be human or of this planet. And, if they are [not of this planet], they are de facto extraterrestrial."
Pasulka says the Torah's tale of Jacob's fight with an angel is a good example of an encounter with aerial phenomenon that was turned into a religious narrative. "When you go back to the original source and read it in its original language… it wouldn't look like what the artists' rendition of it are in Western history," says Pasulka, "It would look like he's fighting some kind of being from outer space."
Pasulka isn't saying that a biblical figure fought an alien and it turned into a religious text, but that vision of a figure descending from the sky could have come from a shared, human experience or observation. When religion is a lens to explain the universe, unexplainable phenomena can become religion.
FAIR USE NOTICE: This page contains copyrighted material the use of which has not been specifically authorized by the copyright owner. ExoNews.org distributes this material for the purpose of news reporting, educational research, comment and criticism, constituting Fair Use under 17 U.S.C § 107. Please contact the Editor at ExoNews with any copyright issue.