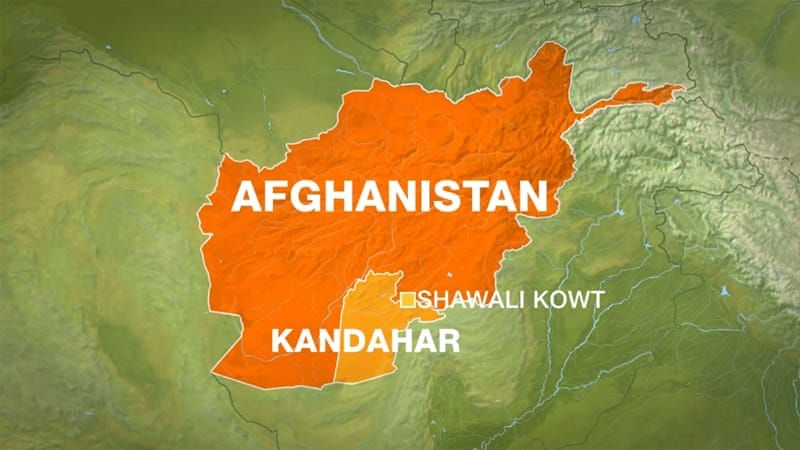 by Richard Enos                June 22, 2018               (collective-evolution.com)
• In 2002 in a remote area of Afghanistan, a U.S. military patrol was searching for a missing patrol and came upon a cave in the side of a mountain with bones scattered around the entrance along with a piece of our communications equipment. Suddenly a man emerged from the cave, standing 12 to 15 feet tall. He had a red beard, long red hair, fair complexion, six fingers on each hand, six toes on each foot, and two rows of teeth. A member of the patrol ran at him and began to shoot. The giant skewed the trooper on a pike as the others continued to shoot and kill the giant.
• A helicopter was sent and the soldiers were told to bundle the giant up in cargo netting, and the helicopter carried the giant away. When the patrol had submitted their after-action report, they were told to re-write it removing any mention of a giant.
• Other soldiers at the base began to hear rumors of a man being killed that was three times the height of an ordinary human. Paranormal researcher L.A. Marzulli corroborated the account with two soldiers, and Afghan locals told stories of cannibalistic giants living in nearby caves. Of course, the U.S. Department of Defense denies any incident involving a giant in Afghanistan.
• George Noory interviewed the helicopter pilot that transported the "Kandahar Giant" on Coast to Coast radio. The pilot said it was a dead guy "about 9 by 12 feet… laying in a fetal position on the pallet. He was around an 1100 pound guy." The pilot went on to corroborate that the giant was fair-skinned, red-haired, and had extra digits on his hands and feet.
• Native Americans recount ancient stories of a cannibalistic, red-haired race of giants that once inhabited North America. According to legend, the American native tribes banded together, chased the giants into their cave dwellings and set a fire to the entrance, burning or suffocating all of the giants.

• David Wilcock and Corey Goode claim that red-haired giants have been found in stasis, or suspended animation, in full battle regalia ready to resume their role on Earth at the appointed time.

• It seems that those in power are trying their best to keep anyone from finding out that human history is very different from the long and slow model of human evolution, absent any intervention by another species, as advocated by the Darwinian model. Confirming the existence of a non-human species here on Earth would have people demanding the truth about our history and our place in this universe alongside other intelligent species.
In 2002 a U. S. patrol had gone missing in a very remote area of Afghanistan. Another patrol was dispatched on a search and rescue mission, and one soldier on that patrol described what he saw after coming around the side of a mountain:
As we bent around this corner you could see the opening of the cave. And then I see a lot of rocks which is another oddity. And then bone matter. I'm not close enough to identify what kind of bones but I did see what I knew to be a piece of our communications equipment. So instantly we're thinking 'ambush,' maybe animal, you know, could be anything. There was enough room in front of the cave, but it had a sheer drop-off; but there was enough room that we got into a decent dispersal in case of ambush.
Not long after they had gotten into that dispersal formation, they saw something emerge from the cave that, despite their preparedness, caught them fully off guard.
"It was a man at least 12 to 15 feet in height. This is a MONSTER. Red beard, with his hair–was longish, past his shoulders, a scarlet red. And Dan runs at him and starts shooting, which broke all of us into the reality–because it was surreal."
"While Dan is moving at him, another bro of mine is laying down fire and I start firing. He skewers Dan–he's now got him on this 'pike.' It went through him. He's got him and he's coming after more. We all just clicked in. I don't know what it was, but I remember we were all like, 'Shoot him in the face, shoot him in the face!' He's taking multiple hits, and he's still moving."
Eventually, the giant was killed. Dan had been killed as well. And the patrol unit was soon visited by a helicopter that dropped some cargo netting. They were told they had to bundle up the giant in the netting, and soon after they were done, a larger helicopter came by, dropped a hook, and the giant was carried off.
The soldier confirmed that the red-haired, fair-skinned giant had six fingers on each hand and six toes on each foot. After they had submitted their after-action report, the soldier recounts that they were told by their top brass to re-write it in a particular fashion, presumably to remove any mention of a giant being.
Corroborating Testimony
Although not an eyewitness, another special ops soldier in Afghanistan provides the following corroborating testimony: "We would come back to the base and started hearing this rumor about a unit that killed this, what they started calling this really tall person. At first I didn't think anything of it, then come to find out that the person they killed was actually three times the size of a man, had extra digits on their hands, and extra digits on their feet, and had red hair, and a special unit had come in and wanted this target."
"Well we'd heard that they killed this thing inside a cave, or the mouth of a cave, and there was common knowledge among the military to hear this. When you first hear, you're thinking like, this has got to be a joke. This has got to be a hoax. Then after things go down a certain way, and you keep hearing it, you start to realize it's not a joke."
FAIR USE NOTICE: This page contains copyrighted material the use of which has not been specifically authorized by the copyright owner. ExoNews.org distributes this material for the purpose of news reporting, educational research, comment and criticism, constituting Fair Use under 17 U.S.C § 107. Please contact the Editor at ExoNews with any copyright issue.