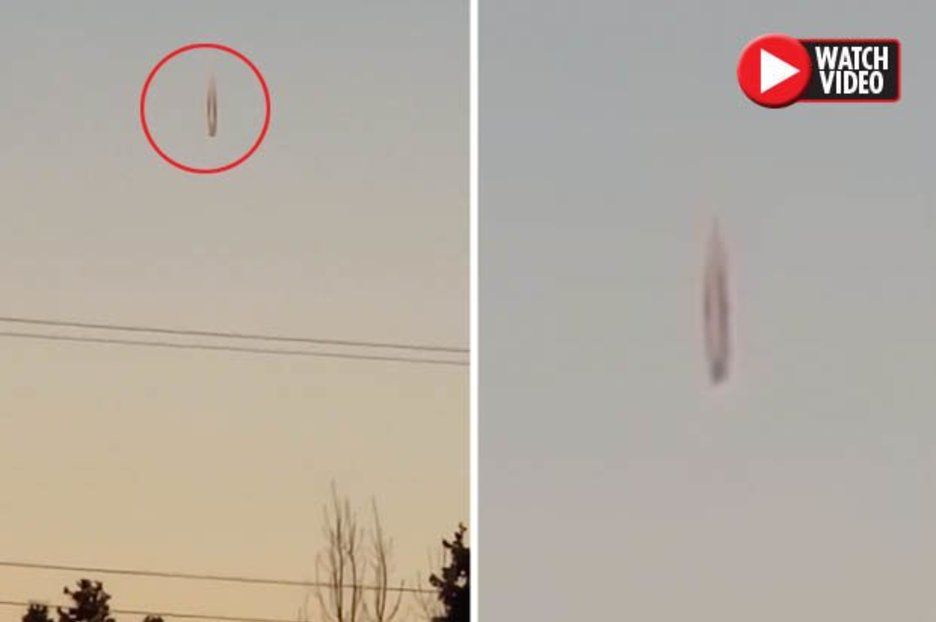 by KTVA Web Staff                   March 21st 2019                       (ktva.com)
• On the evening of March 29th, 18 year-old Adonus Baugh noticed something "falling" from the sky over Anchorage, Alaska, and video recorded it. A pair of smoke plumes seem to be following it (pictured above). Baugh submitted the video footage to local CBS news affiliate KYVA channel 11 Alaska checked with various federal agencies who also could not identify the object. (see 3:03 minute video of the falling object below)

• Federal Aviation Administration officials said the object seen in the video was not an aircraft, and that the FAA didn't receive any reports of aviation issues Tuesday night. Joint Base Elmendorf-Richardson spokeswoman Erin Eaton who monitors a variety of aircraft operating from the base, ranging from F-22 Raptor stealth fighters to C-130 Hercules and C-17 Globemaster III transports as well as E-3 Sentry AWACS command jets, said, "That doesn't look like any of our planes."
• In the original video, two people discuss the falling object: "You see that? It's something falling," a woman says. "Yeah, definitely falling," a male voice agrees. Bebe Kang saw it and said, "It really didn't look like a plane or a jet." King later deleted her post, 'because she "didn't want people to think I was seeing aliens."'
• Peter Davidson, of the National UFO Reporting Center, says it is only a parallax view of "a high-altitude jet airliner, with a contrail behind it."

• [Editor's Note]  Or could it be another spacecraft shot down in a near-earth space battle between a Deep State Secret Space Program faction and the SSP Alliance?
An object was recorded in the skies over Anchorage Tuesday night, but the truth wasn't out there when KTVA checked with various federal agencies.
A video submitted to KTVA Wednesday by Adonus Baugh shows a plume following an object tracking across local skies as two people discuss it.
"You see that? It's something falling," a woman asks.
"Yeah, definitely falling," a male voice agrees.


Facebook user Bebe Kang said in a since-deleted Alaska Scanner Joe post, containing two photos of the object, that she saw it at 8:23 p.m. Tuesday.
"It didn't look like an airplane or one of those jets. It was big, super slow and RED!!" Kang wrote. "I tried to get a video but it got further and smaller."
On Wednesday, Kang said she deleted the photos because she "didn't want people to think I was seeing aliens."
"I really just thought it might be an asteroid," Kang wrote.
Kang saw the object as she was headed west on Dimond Boulevard, but her photos didn't do it justice.
"But it was much more awesome to see in person," she wrote. "It really didn't look like a plane or a jet."
3:03 minute video of object falling in Anchorage sky (ShantiUniverse)
FAIR USE NOTICE: This page contains copyrighted material the use of which has not been specifically authorized by the copyright owner. ExoNews.org distributes this material for the purpose of news reporting, educational research, comment and criticism, constituting Fair Use under 17 U.S.C § 107. Please contact the Editor at ExoNews with any copyright issue.