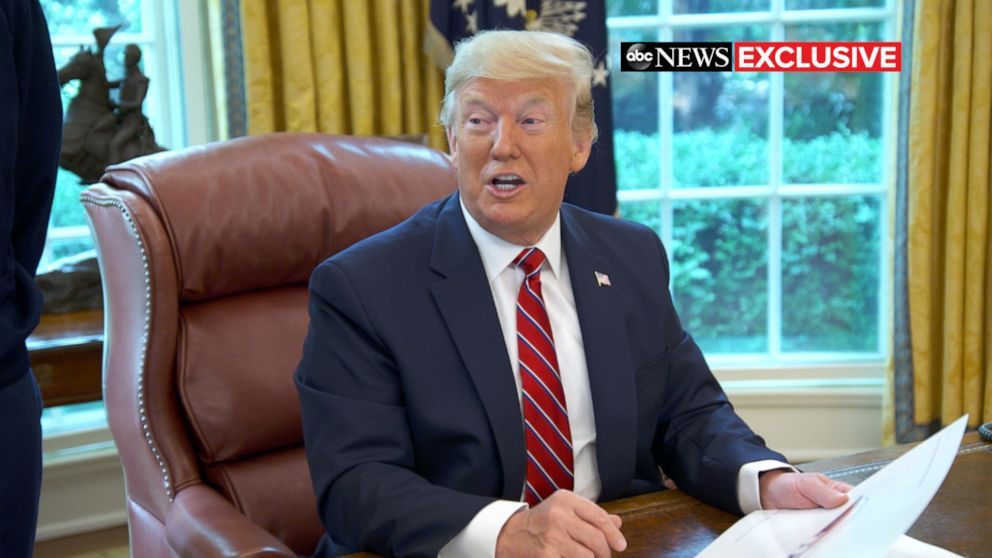 In last week's interview with ABC's George Stephanopoulos, President Trump was asked of the existence of UFOs,
by Morgan Gstalter                        June 15, 2019                       (thehill.com)
• In last week's interview with ABC's George Stephanopoulos, President Trump was asked of the existence of UFOs, given Navy pilots recent claims of routinely seeing them in the skies. Trump replied that he doesn't particularly believe in them. "I want them to think whatever they think," the President said. "I did have one very brief meeting on it. But people are saying they're seeing UFOs. Do I believe it? Not particularly."

• Stephanopoulos then asked if the President thought he would know if there were cases of extraterrestrial life. "Well, I think my great — our great — pilots would know," Trump responded. "And some of them really see things that are a little bit different than in the past. So we're going to see. But we'll watch it. You'll be the first to know." (see 1:18 minute video clip below)

• The Navy recently rolled out new protocols for reporting "unexplained aerial phenomena" after pilots reported seeing unidentified flying objects while training over the East Coast in 2014 and 2015. Multiple Navy pilots said they spotted "strange objects" with "no visible engine" reaching 30,000 feet and going hypersonic speeds. One pilot reportedly said he "almost hit one of those things" described it as looking "like a sphere encasing a cube."
• [Editor's Note]   After two and a half years in office, we were hoping that Trump would offer support or some type of evidence of the UFO/extraterrestrial presence to boost his Presidency in the run-up to the next Presidential election. But besides a vague Space Force initiative, he has gone out of his way to avoid the issue. And now, in this recent interview, it appears that Trump has sold out the UFO community just as he has everyone else. Or is this just part of the stable genius' 'master plan' to outsmart the Deep State?
President Trump weighed in on the possibility of unidentified flying objects (UFOs) during his interview with ABC's George Stephanopoulos this week, saying he doesn't particularly believe in their existence.
The president also acknowledged that he's been briefed on the subject.
"I think it's probably — I want them to think whatever they think. They do say, I mean, I've seen, and I've read, and I've heard. And I did have one very brief meeting on it. But people are saying they're seeing UFOs. Do I believe it? Not particularly," Trump said in the interview.
Stephanopoulos asked if the president thought he would know if there were cases of extraterrestrial life.
"Well, I think my great — our great — pilots would know," Trump responded. "And some of them really see things that are a little bit different than in the past. So we're going to see. But we'll watch it. You'll be the first to know."
1:18 minute clip of Stephanopoulos interview with Trump on UFOs (ABC News)
FAIR USE NOTICE: This page contains copyrighted material the use of which has not been specifically authorized by the copyright owner. ExoNews.org distributes this material for the purpose of news reporting, educational research, comment and criticism, constituting Fair Use under 17 U.S.C § 107. Please contact the Editor at ExoNews with any copyright issue.