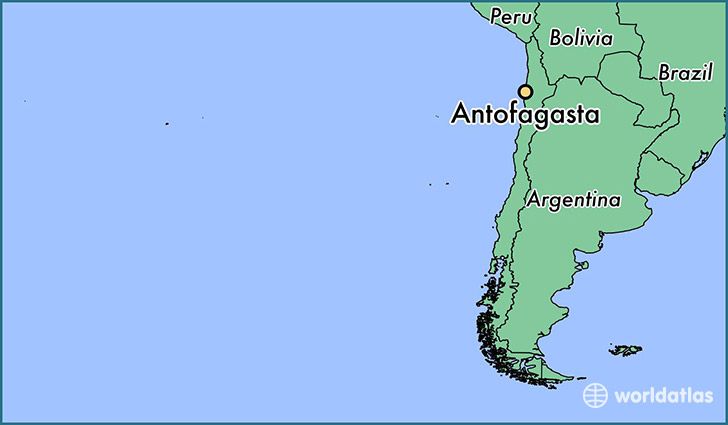 by Arjun Walia               April 5, 2018             (collective-evolution.com)
• This is a quote issued by the Chilean Air Force on December 16, 1978 with regards to a recent UFO encounter. "Two pilots on a training mission, each flying a F5 fighter aircraft, tracked the object on their airborne radar. It gave a return equal to ten or more aircraft carriers-except this object was in the air, not floating on the water. Each pilot assumed his radar equipment was faulty, until he learned that the other pilot was also getting the same return. Not only this, but ground radar from a nearby airport also picked up the object and confirmed its huge size. The pilots also saw the object with their own eyes. One pilot later said that at a distance of twenty miles, it looked "like a plantain banana swathed in smoke." The pilots were frightened, having no missiles or weapons. As they approached the massive object, which had been motionless all this while, it took off at an unimaginable speed. All at once, it vanished from the three radar screens."
• The very next morning the Chilean Air Force scrambled some F5 fighter jets to intercept another very large UFO. The pilots described this one as very bright, and very large. The Chilean Air Force has officially acknowledged these events, but could not explain what had occurred.
• Why haven't people heard about this and the hundreds of other high-level sightings of UFOs in our recent history? Roscoe H. Hillenkoetter, who was the first director of the CIA until 1950, is quoted as saying, "Behind the scenes, high-ranking Air Force officers are soberly concerned about UFOs. But through official secrecy and ridicule, many citizens are led to believe the unknown flying objects are nonsense." Through movies and mainstream news, the mass population has been brainwashed by the global elite to create a culture where anyone who speaks seriously about UFOs is ridiculed and vilified.
• But things are changing now. The majority of the populace is aware that something strange is happening within and above our atmosphere, and this has been going on for a long time.
• [Editor's Note] This UFO incident took place over the port city of Antofagsta on the coast of northern Chile, in the fall of 1978. Two Chilean Air Force F-5 fighter jets were dispatched to engage with the UFO. The pilots described the "smoke-covered, half-deformed banana" shaped UFO as being the size of "10 or 15 aircraft carriers", hovering at 35,000 feet and moving parallel with the Air Force jets. When the jets moved in to intercept, the UFO sped off of radar and out of sight westward over the Pacific Ocean.
UFOs are perhaps the most searched subject on internet search engines at the moment and if they're not, they're close to the top. Interest in the subject matter continues to grow, and the Deep State community has certainly recognized it. Years and years of petitioning from the citizenry and UFO disclosure advocacy groups, on top of other international governments acknowledging the phenomenon, not to mention hundreds of high-ranking people from numerous ranks within military agencies, academia and intelligence agencies have all come forth sharing their knowledge and experiences.
Recently, it seems to have reached a critical boiling point, where a majority of the populace is aware of the fact that something strange seems to be happening in the inside, and outside of our atmosphere and has been for a long time. Perhaps this is why the US government recently decided to end what seems to be, as the first CIA Director Roscoe H. Hillenkoetter alluded to, and official campaign of secrecy?
"Behind the scenes, high-ranking Air Force officers are soberly concerned about UFOs. But through official secrecy and ridicule, many citizens are led to believe the unknown flying objects are nonsense."
Because the idea has been ridiculed by the global elite, through movies and mainstream news, it brainwashes mass amounts of people to do the same. This is done with several different topics, and it creates a culture where anyone who raises their voice, is instantaneously vilified by whomever they tell. But things are changing.
The Pentagon recently disclosed this info as well, by approving the release of video footage shot by US military pilots of three different UFOs. All three objects, one the size of two air-craft carries, defied our current known laws of physics and aerodynamics. The videos came from a Pentagon program which located, and video taped unidentified aerial objects to determine if there is a 'threat' associated with them.
The head of that Program, who recently retired from the Pentagon, Louis Elizondo, shared the fact that this is actual data, electro-optical data and radar returns. He also emphasized how this type of thing is quite common, and how he believes there is a great deal of evidence to suggest that "we may not be alone, whatever that means." He did so on national mainstream television.
UFO encounters with the military is nothing new, there are millions of pages of declassified documents from various governments and agencies showing so.
People like Louis, and others at the To The Stars initiative of which he is apart of, don't really speak out until they are given the green light. One thing is for certain, the US government has now disclosed the existence of UFOs, and many researchers within the field, including myself, are very cautious of the direction the government wants to take this information.
I only say that because we've been lied to and manipulated so much so that it's almost hard to believe anything that comes from a government agency, unfortunately.
FAIR USE NOTICE: This page contains copyrighted material the use of which has not been specifically authorized by the copyright owner. ExoNews.org distributes this material for the purpose of news reporting, educational research, comment and criticism, constituting Fair Use under 17 U.S.C § 107. Please contact the Editor at ExoNews with any copyright issue.