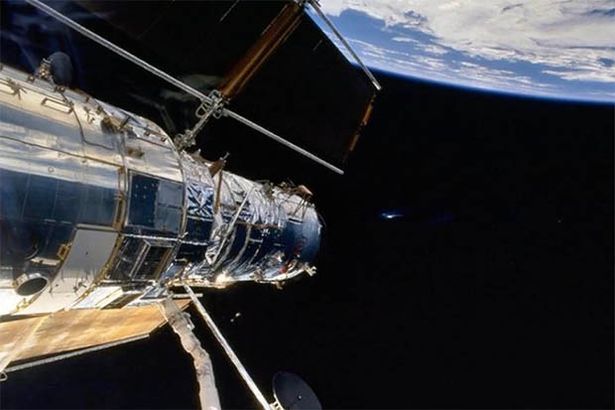 NASA's Hubble Telescope Spotted 'Being Watched by Mysterious Flying Saucer'
Article by Simon Green                     October 20, 2019                       (dailystar.co.uk)
• Trawling through pictures from NASA's Hubble Telescope, Tyler Glockner of the YouTube channel 'secureteam10' noticed nearby a flying saucer-shaped UFO "watching" the space telescope in the background. (see video clip starting at 5 minutes)
• Tyler says in the video, "If you look in the distance, almost as if there's something sitting and watching the Hubble telescope, there appears to be something alien." "[It] looks like a flying saucer." Glockner added, "[W]hen NASA is not busy cutting the feed and hiding these things from us, we get to see some pretty cool pieces of evidence." "Could this be a satellite? It could be but I don't know of any satellite that looks like a flying saucer."
• One YouTube commenter said this was the "best UFO video I've seen in a while". Another claimed that it was just a "lens flare".
A flying saucer-shaped UFO has been captured "watching" NASA's Hubble Telescope, a renowned conspiracy theorist has claimed.
Tyler Glockner – of YouTube channel secureteam10 – noticed the bizarre sight as he trawled through NASA pictures this week.
In his video, a bright light can be seen in the background of the telescope, above Earth.
He goes to zoom in and discovers the "craft" is shaped just like a flying saucer.
"If you look in the distance, almost as if there's something sitting and watching the Hubble telescope, there appears to be something alien," Tyler said in the video.
"This looks alien to me, it's not just the light but looks like a flying saucer.
"It almost looks like it's flying head on with the telescope, it could be something passing by.
"It looks like something was captured here in space – there's almost more UFO sightings captured above Earth then on the planet.
"It seems like these things are buzzing by like rush-hour traffic and when NASA is not busy cutting the feed and hiding these things from us, we get to see some pretty cool pieces of evidence.
"Could this be a satellite? It could be but I don't know of any satellite that looks like a flying saucer."
video clip of UFO 'watching' the Hubble Telescope (starts at 5 min, 'secureteam 10' YouTube)
FAIR USE NOTICE: This page contains copyrighted material the use of which has not been specifically authorized by the copyright owner. ExoNews.org distributes this material for the purpose of news reporting, educational research, comment and criticism, constituting Fair Use under 17 U.S.C § 107. Please contact the Editor at ExoNews with any copyright issue.
'Secureteam10', Hubble Telescope, Tyler Glockner
---
ExoNews Editor
Duke Brickhouse is a former trial lawyer and entertainment attorney who has refocused his life's work to exposing the truth of our subjugated planet and to help raise humanity's collective consciousness at this crucial moment in our planet's history, in order to break out of the dark and negative false reality that is preventing the natural development of our species, to put our planet on a path of love, light and harmony in preparation for our species' ascension to a fourth density, and to ultimately take our rightful place in the galactic community.
---