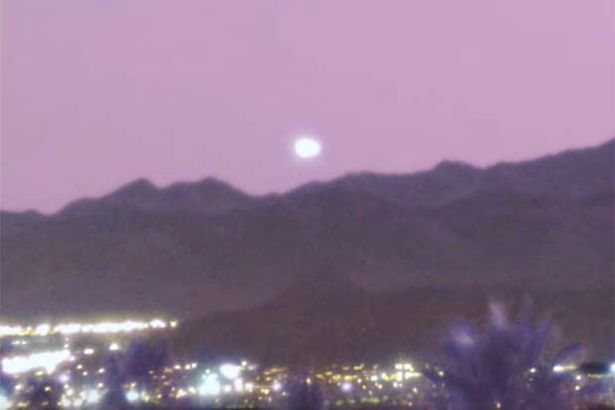 Multiple Reports of UFO 'Traveling at 1,000mph' Over Las Vegas
Article by Simon Green                         December 24, 2019                          (dailystar.co.uk)
• On December 19th, a YouTube user posted footage of a huge bright object slowly moving up from the mountains surrounding Las Vegas. The mysterious object repeatedly flashes blue as it hurtles over the bustling region.  (see 6:10 minute video below)
• The YouTuber said that four witnesses saw the same object and described it in exactly the same detail. The object lifts up into the sky and when it appears to reach its altitude it starts speeding up. "Once it starts moving, it is going to haul ass," he says. "This thing is moving, no sound."
• "This thing looks big and a long way away," says YouTuber. "Nobody heard any sound at all and the UFO could have covered a 50 mile span in three minutes. …That would equal 1,000mph." "No helicopter (or airliner) can do that."
• YouTuber thinks it was a UFO. YouTube commenters leaned toward a military explanation, being that Nellis Air Force Base is nearby. "Secret Space Force having some fun with you guys."
A conspiracy theorist claims to have captured a huge UFO hurtling at 1,000mph over Las Vegas – and says several other witnesses saw it.
YouTube user UFOs over Vegas posted the bizarre footage on December 19, where it has since become a viral sensation with 135,000 views.
The clip begins with a huge bright object slowly moving up from the mountains surrounding the Nevada city.
"This thing looks big and a long way away," he says.
The object then lifts up into the sky and – when it appears to reach its altitude – it starts speeding up.
"Once it starts moving, it is going to haul a***," he continues. "This thing is moving, no sound."
The mysterious object repeatedly flashes blue as it hurtles over the bustling region.
According to the YouTube user, four witnesses saw the same object and described it in exactly the same detail.
"Nobody heard any sound at all and the UFO could have covered a 50 mile span in three minutes," he added.
"That would equal 1,000mph. To be fair let's just say it only travelled 25 miles.
"Even then it would have to be travelling at 500 miles an hour.
"No helicopter can do that, you must be a passenger on a commercial airline at altitude to do that."
But he strongly dismissed these claims, suggesting instead that it was a UFO.
6:10 minute video of large object over Las Vegas (UFOs Over Vegas YouTube)
22:37 minute '162 Screengrabs' of Las Vegas UFO (UFOs Over Vegas YouTube)
FAIR USE NOTICE: This page contains copyrighted material the use of which has not been specifically authorized by the copyright owner. ExoNews.org distributes this material for the purpose of news reporting, educational research, comment and criticism, constituting Fair Use under 17 U.S.C § 107. Please contact the Editor at ExoNews with any copyright issue.
Las Vegas, Nellis Air Force Base
---
ExoNews Editor
Duke Brickhouse is a former trial lawyer and entertainment attorney who has refocused his life's work to exposing the truth of our subjugated planet and to help raise humanity's collective consciousness at this crucial moment in our planet's history, in order to break out of the dark and negative false reality that is preventing the natural development of our species, to put our planet on a path of love, light and harmony in preparation for our species' ascension to a fourth density, and to ultimately take our rightful place in the galactic community.
---