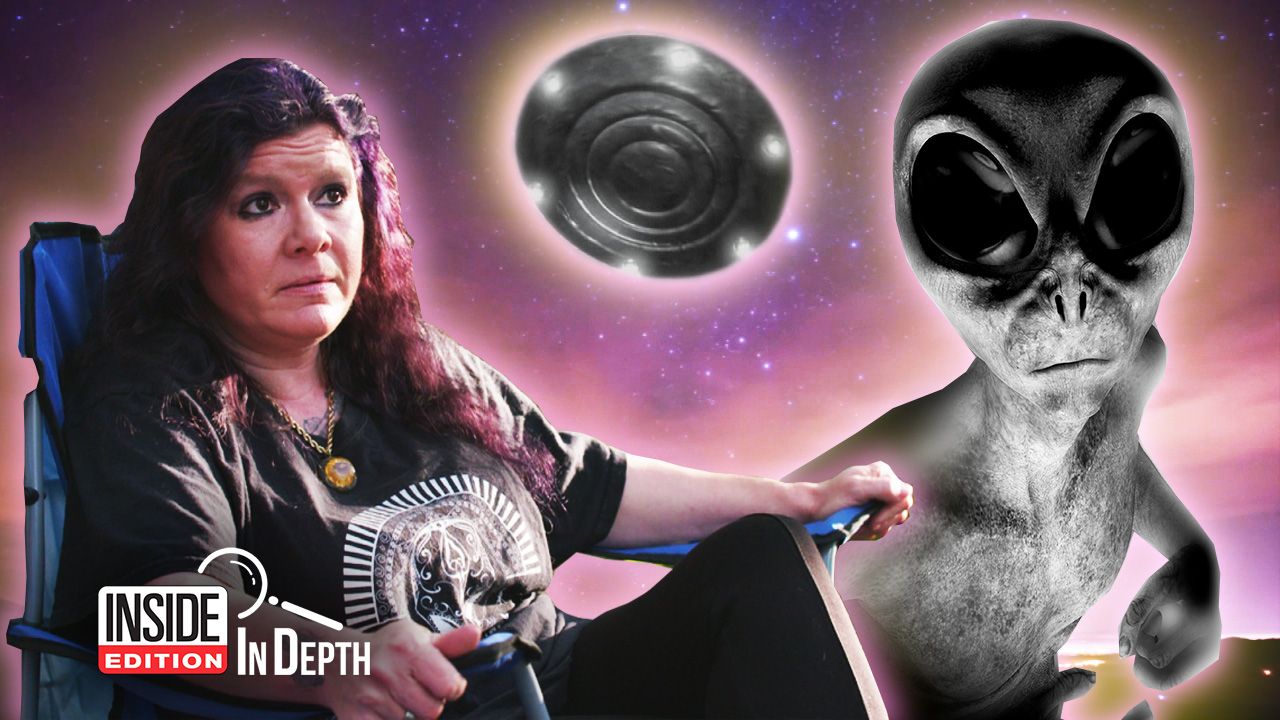 Inside the Support Group for People Who've Had Alien Encounters
by Keleigh Nealon, Sophie Trouw and Tara Fowler            October 27, 2018          (insideedition.com)  
• In Wareham, Massachusetts, in the southeastern part of the state near Cape Cod, twin sisters Debbie and Audrey Hewins have created 'Starborn Support', a support group for extraterrestrial 'experiencers' and abductees. Members of Starborn Support find comfort in each other when coping with the trauma and dread that such encounters elicit.

• Many describe these encounters as a life-changing event. For Debbie, her experience felt like death. Unable to move, unable to speak, all you can do is watch as the alien being approaches you, its energy seeping into your body. Said Debbie, "When we were looking out, reaching for help when stuff really started happening, we couldn't find any groups or anybody to help." That's why they created Starborn Support.

• As a little girl in Ohio, Debbie would plead with her parents to protect her from the "bald men", whom she now identifies as the 'grays'. After she would fall asleep, the aliens would awaken her using her parent's voices and a blue light shining through her bedroom. Debbie notes that these alien beings could appear to her as giant lizards, or small beings with silver swirling skin, or simply as humans. Then, "you get hit with this energy," Debbie continued. "Your whole body starts vibrating and you get paralyzed, but if you're sitting up and they want you to be laying down, your body will automatically lay down." It's terrifying, she said. "Your mind is working, your eyes are working, you can see what's going on, you're aware of what's going on, but you cannot move."

• Many say they feel alone after undergoing an ET experience. "Not being able to speak to somebody [is hard], that's why we do what we do," said Debbie. "You don't come up to somebody, 'Hey. I'm an abductee,'" added Matthew Moniz, Starborn Support's scientific adviser. Years ago, a girlfriend had moved in with Moniz who had experienced ET visitations late at night. One night, his girlfriend awoke to find him levitating above their bed. "I was like, 'Yeah, I forgot to tell you. I'm an abductee,'" he said with a laugh. She left.

• Post-traumatic stress disorder is "rampant" among the community, according to Debbie. Some people can handle it. Some people can't. This is "a place where [experiencers] can go and be accepted." It's a tight-knit group, Moniz said. "We have that special bond, similar to combat vets. … Our combat is just on a different battlefield." Debbie thinks there are "thousands if not millions" of experiencers out there, and she urges them to speak up. "Look, you're not alone."
• Members of Starborn Support know many people out there doubt them. Debbie asks that non-believers treat experiencers with more respect. "A lot of people, what they don't understand, they attack," she said. Starborn Support offers is assistance to family members of experiencers as well, helping them learn to deal with what an experiencer may be going through.
• Debbie suspects experiencers have been chosen for a specific reason. "I don't know the purpose or what is gonna happen, but it's gonna be something big," she said. "… I think people like me are chosen to be speakers for the truth." She adds, "We cannot all be…having this mass delusion."
It starts with a strange buzzing and a creeping sense of dread.
Unable to move, unable to speak, all you can do is watch as the being approaches you, its energy seeping into your body.
For Debbie Starborn, it feels like death.
It's what's known as an "experience" or "encounter." And for those who claim to have had them, they are life-changing.
In Wareham, Massachusetts, on the edge of a remote bay, members of Starborn Support come together to find comfort in each other. Each member of the group says they have experienced an extraterrestrial alien encounter or, in some cases, abduction.
Founded by Debbie and her twin sister Audrey, the group focuses on helping people learn how to cope with the trauma such experiences can inflict.
"I've always had a twin sister to go through, to be there together, to go through this together," Debbie told InsideEdition.com at the gathering over Labor Day weekend. "When we were looking out, reaching for help when stuff really started happening, we couldn't find any groups or anybody to help."
So they created Starborn Support.
Close Encounters
Many say they feel alone after undergoing an experience.
You think "you're completely insane," said Debbie. "Not being able to speak to somebody [is hard], that's why we do what we do."
"You don't come up to somebody, 'Hey. I'm an abductee,'" added Matthew Moniz, Starborn Support's scientific adviser.
Moniz knows this firsthand. Years ago, a girlfriend moved in with him. He hadn't mentioned his penchant for receiving midnight visitors, so the first time they showed up after she moved in, he said, his girlfriend awoke to find him levitating above the bed they shared.
"I was like, 'Yeah, I forgot to tell you. I'm an abductee,'" he said with a laugh.
His girlfriend couldn't cope with it. "A couple of weeks later, she's like … 'I'm outta here.'"
He points to the incident when people say he's just making up stories for attention.
"The attention you get isn't the type of attention you want when you're talking about this. It's not good attention," he said.
As a little girl, Debbie pleaded with her parents to protect her from the "bald men."
"When I lived in Ohio when I was little, I used to beg my parents, 'Don't put me to bed, the bald men are gonna get me!'" she recalled. "I called them the bald men, 'cause I was dealing with the typical movie aliens, the grays."
But unlike the extraterrestrials you see in Hollywood, these beings can shapeshift, appearing as giant lizards, or small beings with silver, swirling skin, like mercury. Sometimes they even look like humans, Debbie said.
9:41 minute video of the founders of the Starborn abductee support group
FAIR USE NOTICE: This page contains copyrighted material the use of which has not been specifically authorized by the copyright owner. ExoNews.org distributes this material for the purpose of news reporting, educational research, comment and criticism, constituting Fair Use under 17 U.S.C § 107. Please contact the Editor at ExoNews with any copyright issue.
Debbie and Audrey Hewins, Matthew Moniz, Starborn Support, Wareham Massachusetts
---
ExoNews Editor
Duke Brickhouse is a former trial lawyer and entertainment attorney who has refocused his life's work to exposing the truth of our subjugated planet and to help raise humanity's collective consciousness at this crucial moment in our planet's history, in order to break out of the dark and negative false reality that is preventing the natural development of our species, to put our planet on a path of love, light and harmony in preparation for our species' ascension to a fourth density, and to ultimately take our rightful place in the galactic community.
---