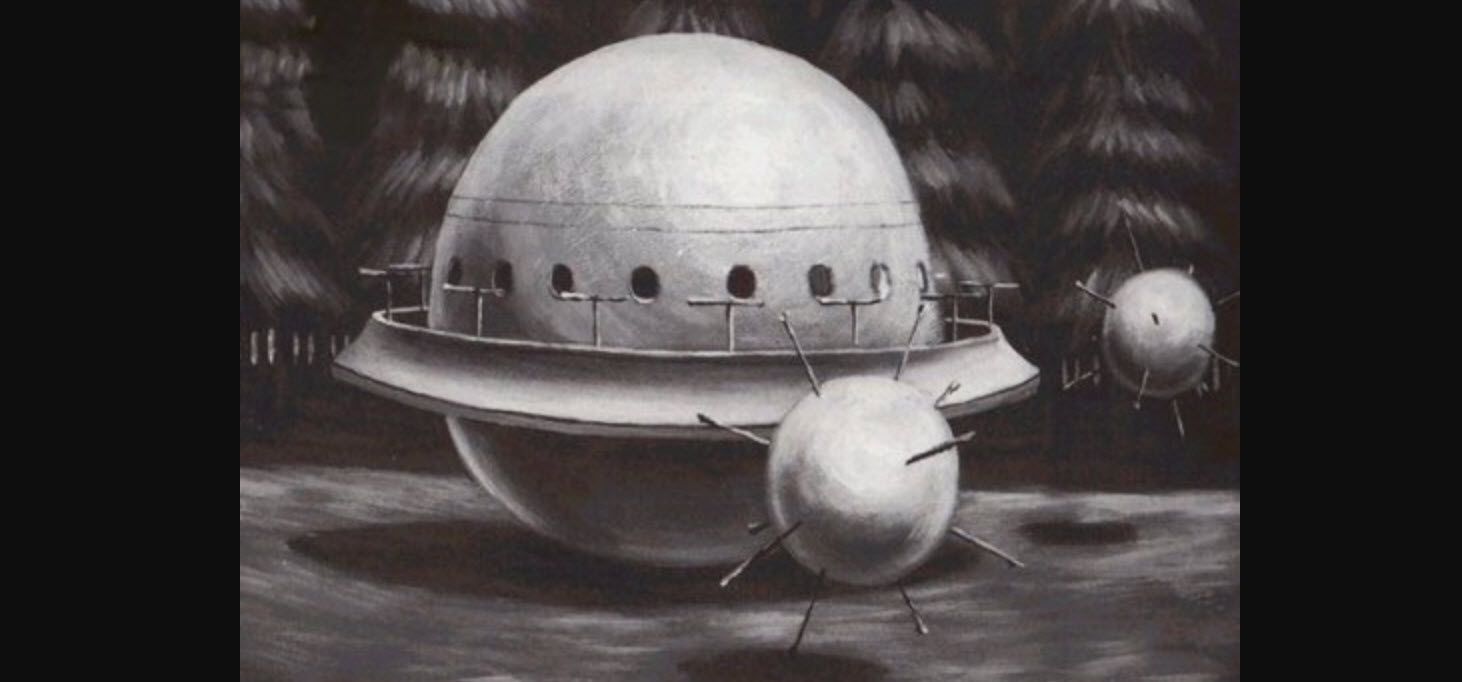 Forty Years on From the Dechmont Incident, Author Looks Back at Baffling Flying Saucer Sighting
by Tracey Bryce                   March 5, 2019                       (sundaypost.com)
• On November 9, 1979, Scottish forestry worker named Bob Taylor took his dog for a walk in the woodland near Deans, Livingston (West Lothian, Scotland), known as Dechmont Woods. There, Taylor saw a large "flying dome" hovering above the forest floor. It was dark metallic with a rough texture, and an outer rim with small propellers. As he approached it, two spheres dropped down. Their protruding spikes hooked on to his trousers and forcefully dragging him towards the hovering dome. Taylor reported that he smelled a strong acid odor when he felt as if being choked and then losing consciousness.

• When he came round he was laying face-down on the grass with his dog nearby, although the strange objects had disappeared. He couldn't speak and his legs hurt. When he made it home to his wife, he was disheveled and his clothes were torn. Police were contacted and found strange marks in the soil beneath where the craft was said to have been hovering. They also determined that his clothes had been ripped by a sharp, upward pull.

• Taylor's alien abduction claims were ridiculed. Some claimed that Taylor had eaten some hallucinatory berries. Others believed that it was an elaborate hoax. The authorities dismissed the matter as a simple assault.
• Malcolm Robinson, 61, is a paranormal investigator who spent four decades scrutinizing the Dechmont Woods Incident. He believes this was indeed a visitation from another planet. "This case is certainly a mysterious one," Robinson says. "As a man who has spoken to hundreds of UFO witnesses over many years, none have convinced me so much as Bob Taylor."

• "People often think the paranormal is a big joke, but the number of sightings in recent years has certainly increased," says Robinson. "There have been many other astonishing UFO cases which have been recorded above the Scottish skies…" "In the last 10-15 years, there have been about 300 sightings in Scotland every year – and I would class at least a third of these as bona fide sightings." "These are certainly not aircraft. We always try to find a rational explanation before we go down the route of UFOs."

• "Robert Taylor passed away in 2007, but his story will live long into the future."
When forestry worker Bob Taylor took his dog for a walk in the woodland near Deans, Livingston, he did not expect the next few hours would generate headlines around the world as police launched an investigation into his possible abduction by aliens.
The hypothetical causes of what became one of the world's most notorious flying saucer sightings involve everything from hallucinatory berries and stellar mirages to an obscure type of lightning and even anti-tank helicopters.
After 40 years of research, Malcolm Robinson, however, is certain the most outlandish remains the most likely.
Malcolm, a paranormal investigator who has spent four decades scrutinising the account, believes there was indeed a visitation from another planet. The Dechmont Woods incident on November 9, 1979, led to a small village in West Lothian being dubbed "the twilight zone" after Bob reported seeing a large "flying dome" hovering above the forest floor.
He described it as being made from a dark metallic material with a rough texture. It also had an outer rim with small propellers.
As he approached, two spheres dropped down – and started forcefully dragging him towards the dome, their protruding spikes hooking on to his trousers, and, after smelling a strong acid scent, he described being choked and eventually losing consciousness.
When he came round he was lying face-down on the grass with his dog nearby, although the strange objects had disappeared.
He found that he couldn't speak and his legs hurt.
When he returned home his wife was concerned at the state he was in. He appeared dishevelled and his clothes were torn.
Police were contacted and found strange marks in the soil beneath where the craft was said to have been hovering.
They also determined it was likely his clothes had been ripped by a sharp, upward pull.
They would later record the matter as an assault and the alien abduction claims were ridiculed by many. But not, Malcolm, 61, who grew up in Tullibody, Clackmannanshire.
FAIR USE NOTICE: This page contains copyrighted material the use of which has not been specifically authorized by the copyright owner. ExoNews.org distributes this material for the purpose of news reporting, educational research, comment and criticism, constituting Fair Use under 17 U.S.C § 107. Please contact the Editor at ExoNews with any copyright issue.
Dechmont Woods Incident, Malcolm Robinson, Robert Taylor, West Lothian Scotland
---
ExoNews Editor
Duke Brickhouse is a former trial lawyer and entertainment attorney who has refocused his life's work to exposing the truth of our subjugated planet and to help raise humanity's collective consciousness at this crucial moment in our planet's history, in order to break out of the dark and negative false reality that is preventing the natural development of our species, to put our planet on a path of love, light and harmony in preparation for our species' ascension to a fourth density, and to ultimately take our rightful place in the galactic community.
---