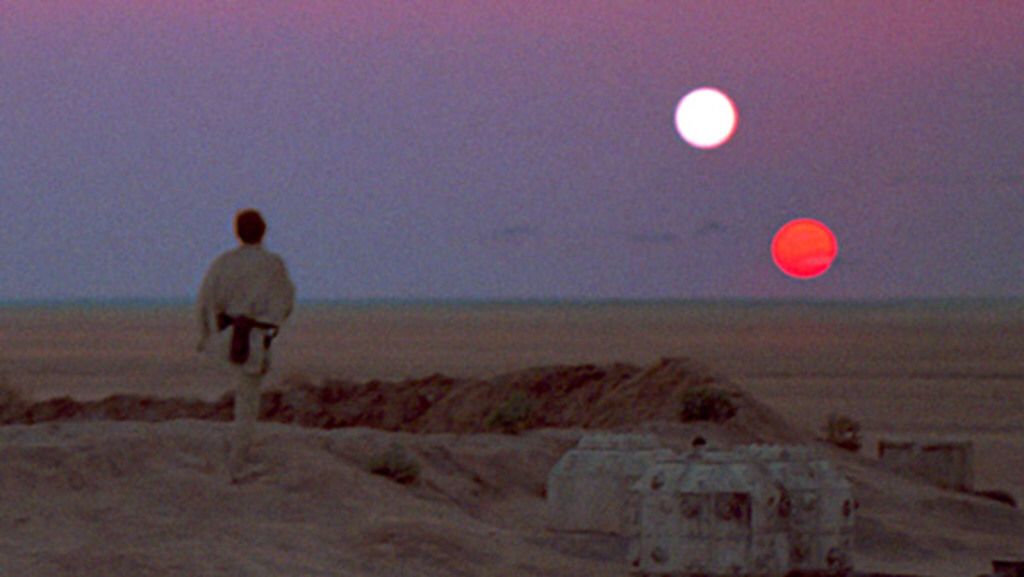 Alien Life 'A Lot More Likely Now' Study Reveals
by Tom Fish                  March 8, 2019                   (express.co.uk)
• A new University of Sheffield research study suggests solar systems formed in turbulent times, when stars form in pairs, could actually improve the chances of allowing the planets around them to be the right temperature. About one third of our galaxy's star systems are made up of binary star pairs. In such systems, when the stars are far enough apart, the habitable 'Goldilocks zone' is set by the radiation emanating from individual stars. If the stars are close enough, the zone's size expands. The stars feel the warmth from each other and the planet is more likely to be in the habitable zone, doctors Bethany Wootton and Richard Parker write. When a pair of stars encounter a third star, the binary pair of stars might be pushed together. This, in turn, could expand the habitable zone, increasing the likelihood of life.

• And in a typical "stellar nursery", where there would be 350 or so binaries, some 20 of them would be squeezed together in such a way as to expand their Goldilocks zone, and with it the chance of alien life. In some cases, those habitable zones even overlapped, consequently increasing the chances of life. These are the star systems toward which astronomers should turn their telescopes in the search for alien life.

• Dr Wootton said: "Our (computer) model suggests that there are more binary systems where planets sit in Goldilocks zones than we thought, increasing the prospects for life. "So those worlds beloved of science fiction writers – where two suns shine in their skies above alien life – look a lot more likely now."
Young planetary systems are violent, with new planets often colliding into each other. Such environments were thought to be too rough for life since they are so harsh and extreme. But the latest research now suggests astronomers should, in fact, turn their telescopes to these solar systems in the search for alien life.
The search for extraterrestrial life has so far centred around planets orbiting stars similar to our own.
This is because of a bias presuming other solar system containing aliens will likely look like ours.
But almost none of those "solar twins" – stars resembling our own – have actually been found to exist.
Now new University of Sheffield research suggests solar systems formed in turbulent times, when stars form in pairs, could actually improve the chances of allowing the planets around them to be the right temperature.
Such habitable planets sit in a zone where liquid water can exist and life could consequently flourish.
When they encounter a third star, a binary pair of stars might be pushed together.
This, in turn, could expand the habitable zone, increasing the likelihood of life.
The habitable zone is dubbed the "Goldilocks zone": existing where the temperature is just right – not too hot and not too cold.
Those perfect conditions are believed to be necessary for life since water could allow complex molecules to eventually evolve into life can form.
FAIR USE NOTICE: This page contains copyrighted material the use of which has not been specifically authorized by the copyright owner. ExoNews.org distributes this material for the purpose of news reporting, educational research, comment and criticism, constituting Fair Use under 17 U.S.C § 107. Please contact the Editor at ExoNews with any copyright issue.
Bethany Wootton, binary star systems, Goldilocks zone, Richard Parker, University of Sheffield
---
ExoNews Editor
Duke Brickhouse is a former trial lawyer and entertainment attorney who has refocused his life's work to exposing the truth of our subjugated planet and to help raise humanity's collective consciousness at this crucial moment in our planet's history, in order to break out of the dark and negative false reality that is preventing the natural development of our species, to put our planet on a path of love, light and harmony in preparation for our species' ascension to a fourth density, and to ultimately take our rightful place in the galactic community.
---