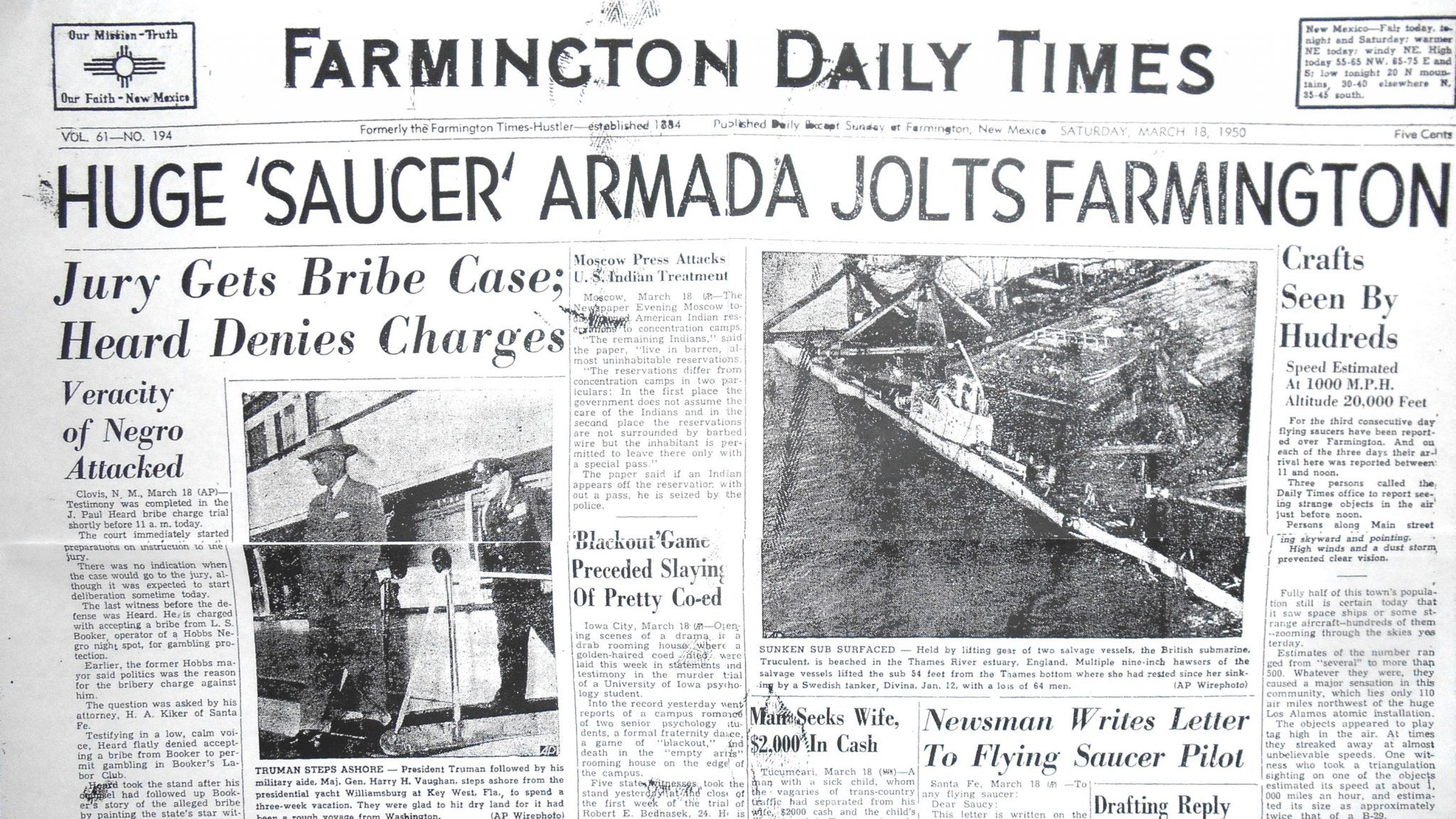 Farmington NM 70th Anniversary of Mass UFO Sighting
Article by Mike Easterling                             March 17, 2020                          (daily-times.com)
• 70 years ago, during three days – March 16, 17 and 18, 1950 – the town of Farmington in the northwestern corner of New Mexico experienced a sustained UFO invasion. Hundreds of residents watched a display of saucer-shaped UFOs in broad daylight over these three days. But this area was a hotspot for UFOs at the time. Two years earlier in March of 1948, a saucer craft landed on a mesa near the town of Aztec, about 15 miles from Farmington, and was taken away by the military. And of course the infamous Roswell crashes (there were actually two downed craft there) had occurred only three years earlier in 1947 in the southeastern part of the state.
• Farmington was a smaller community in those days with a population of no more than 5,000 people. The sightings took place between 11 a.m. and 12 noon each day in the dusty skies over San Juan County. People stood on the streets looking up at the spectacle. The sightings were thoroughly documented in various regional newspapers at the time. An Associated Press story was picked up by newspapers across the country. References to the Farmington UFO incident exist in many government documents.
• The Farmington UFO armada has become family lore for many long-time residents. Patty Tharp recalls her uncle, Clayton Boddy, recalling the sighting when she was growing up. Clayton was the business manager of local newspaper, The Daily Times, in 1950. "He described the object and said several other people saw it, as well," Patty said. She noted that he wasn't the kind to call attention to himself by manufacturing outlandish stories. The Daily Times' account chronicles how pedestrians along Main Street could be seen looking skyward and pointing, and the paper was "deluged" with calls from readers reporting the objects.
• The saucer-shaped objects appeared to play tag, traveling at "almost unbelievable speeds." The paper quoted a former Army captain who was walking on Broadway Avenue: "All of a sudden, I noticed a few moving objects high in the sky. Moments later, there appeared to be hundreds of them." The Army officer said they appeared to be flying at an altitude of approximately 15,000 feet. Witnesses emphatically denied a theory that the objects were bits of cotton floating in the air. Many reported seeing a single red object that appeared to be leading the others.
• Marlo Webb, who later became the mayor of Farmington, was a 26-year old automotive parts manager at the time. Someone alerted him to the objects in the sky so he went out to look at them. He watched 12 to 20 objects, loosely arranged but moving steadily from east to west. The objects moved in an unusual way — "sideways, on edge and at every conceivable angle," said Webb. "They were darting around almost like leaves in the sky being blown around. This is what made it easy to determine that they were saucer-shaped."
• Marilu Waybourn was in college in the spring of 1950 when the incident took place. When she came home on break, she must have heard a dozen stories from her friends about the UFOs. Some of her friends even took her to the landing site of one of the objects. It was "a large circle, about 60 feet in diameter, with the sagebrush flattened out and singed weeds around the edge."
• Pauline McCauley was a little girl herding sheep south of town at the time of the sighting. She heard a sound above her, looked up and spied a circular object that looked like an upside-down bowl. She could see windows on the saucer, and she could see three people inside of it wearing striped caps and navy blue uniforms with brass buttons.
• Ron Boddy is the son of one witness, Clayton Boddy. Ron said that his father was a veteran of World War II and the Korean War and was not easily impressed. His father was still a major in the Army Reserve at the time of the incident. Ron recalled his father getting a phone call later from a military official asking him to refrain from doing any more interviews on the subject. "I remember him saying he was asked not to bring it up or talk about it," Ron said. But Ron's father felt that these were some sort of military craft, not extraterrestrial spacecraft.
• On the final day, March 18th, a UFO sighting occurred that day in the town of Tucumcari, New Mexico, to the east near Texas. An Air Force captain and two technical sergeants stationed at Kirtland Air Force Base in Albuquerque reported seeing three strange objects in the sky. Newspaper accounts reveal that there were UFO sightings from that time period not just across New Mexico, but all over Texas and well into Mexico.
• A government official responded to the event by claiming the objects in the sky were the remnants of a ruptured, high-altitude U.S. Navy Skyhook balloon. But this isn't plausible for an occurrence over a three day period. Also, there were no documented Skyhook balloon launches during that time frame.
• David Marler, an independent UFO researcher and author, has spent years studying the Farmington UFO incident. Marler says he is not sure why the Farmington UFO incident hasn't gotten the attention it deserves. His research has uncovered dozens of similar sightings in the American Southwest, Mexico and Central America during that same time period. "There was a lot more other than Farmington going on (during March 1950)," Marler said.
• [Editor's Note]   No doubt that this region of the United States was a hotspot for UFO sightings in the late 1940s and early 1950s. At the time, this region was sparsely populated but contained numerous Army and Air Force military bases. Could this 'armada' of UFO craft over northwest New Mexico have been a demonstration of the early stages of the Nazi German 'Dark Fleet' being built underneath the ice of Antarctica? Were the Roswell crashes by German/Reptilian servants – the bio-android Greys – a way to 'seed' technology to the U.S.?  Perhaps this region of the U.S. was chosen by the Germans/Reptilians as a good place to reveal themselves and their technology to the American military without causing a public panic, paving the way for the US military industrial complex to join with them to provide the industrial capacity to build more advanced spacecraft for both sides, which ultimately happened.
FARMINGTON — Farmington has reached the 70th anniversary of one of the more sensational events in its history this week, but it's a safe bet to say few residents will pay much attention to that milestone – or even be aware of it.
From March 16 to March 18 in 1950, the city experienced a mass UFO sighting, with some reports indicating "hundreds" of residents saw strange objects in the sky in broad daylight over the three-day period.
Their accounts were reported in breathless fashion not just in this publication — "HUGE 'SAUCER' ARMADA JOLTS FARMINGTON" screamed the banner headline on page 1 of The Daily Times on March 18, 1950 – but in many others as well. Those include The Santa Fe New Mexican ("Farmington 'Invaded' by Saucer Squadron") and the Las Vegas (New Mexico) Daily Optic ("'Space Ships' Cause Sensation").
An account of the incident by The Associated Press was picked up by newspapers across the country.
It's a fantastic story, one that might have seemed destined to leave an indelible impression on UFO history and the sizable community of amateur sleuths and researchers who have made it their duty to investigate and publicize such incidents.
And, yet, the Farmington UFO incident of 1950 largely has been lost to history, especially when it is compared to its in-state counterpart, the famed, alleged crash of an alien spacecraft on a ranch northwest of Roswell in June 1947.
While that incident — sketchy as its details may be — is widely regarded as the most famous UFO-related event in history, having achieved legendary status over the years, the Farmington event that took place a few years later barely registers on anyone's radar.
With seven decades having passed, that remains true, even though Farmington's brush with UFO fame, or infamy, holds up to scrutiny far better than most other incidents, many of them much better known. That's the assessment of an Albuquerque man who studies such phenomena, but who acknowledges the need to take a skeptical approach to most UFO reports.
David Marler, an independent UFO researcher and author who works in the health care field, has spent years studying the Farmington UFO incident, delivering his findings in the form of a website that serves as the most exhaustive and in-depth report on the event. He labels it "one of the most dramatic and well-documented cases in the history of UFO phenomenon" and said his research has uncovered dozens of similar sightings in the American Southwest, Mexico and Central America during that same time period.
"There was a lot more other than Farmington going on (during March 1950)," he said.
FAIR USE NOTICE: This page contains copyrighted material the use of which has not been specifically authorized by the copyright owner. ExoNews.org distributes this material for the purpose of news reporting, educational research, comment and criticism, constituting Fair Use under 17 U.S.C § 107. Please contact the Editor at ExoNews with any copyright issue.
Aztec NM, Clayton Boddy, David Marler, Farmington NM, Kirtland Air Force Base, Marilu Waybourn, Marlo Webb, Patty Tharp, Pauline McCauley, Ron Boddy, Roswell NM, San Juan County, Tucumcari NM, U.S. Navy Skyhook balloon
---
ExoNews Editor
Duke Brickhouse is a former trial lawyer and entertainment attorney who has refocused his life's work to exposing the truth of our subjugated planet and to help raise humanity's collective consciousness at this crucial moment in our planet's history, in order to break out of the dark and negative false reality that is preventing the natural development of our species, to put our planet on a path of love, light and harmony in preparation for our species' ascension to a fourth density, and to ultimately take our rightful place in the galactic community.
---