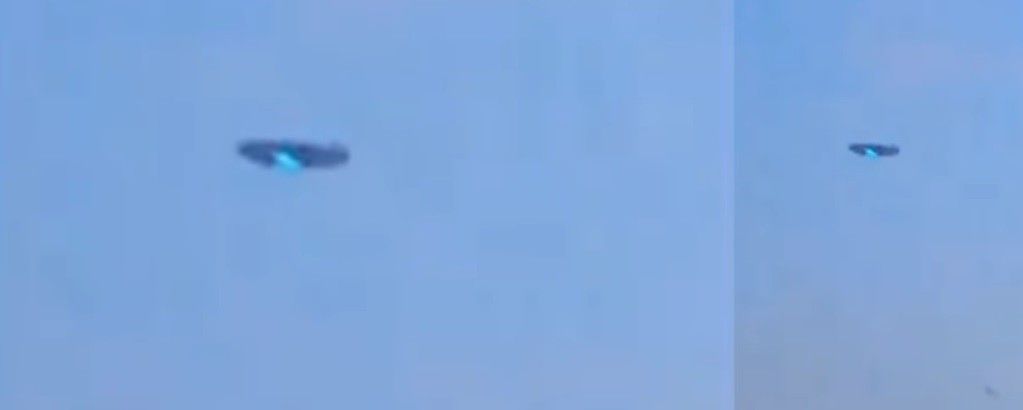 Eerie Clip of High-Speeding UFO in Orange County, California
by Nirmal Narayanan                      June 29, 2019                      (ibtimes.co.in)
• On June 19th, 2019, Orange County, California resident Sherlly Galicia video recorded an apparent disc-shaped UFO, with a glowing blue light underneath a metallic body, flying across the sky in broad daylight.  (see 1:30 minute video clip below)

• After watching the video, most YouTube commenters took the video as proof of alien visitors. Others suggested that it could be secret advanced military craft.
Popular conspiracy theory YouTube channel 'Mavixxx' has now uploaded a mysterious video clip that shows a UFO flying in the skies of Orange County, California at breathtaking speed. The clip shows a disc-shaped flying object in the skies, and it had glowing light in its seemingly metallic body.
In the video, the conspiracy theorist revealed that the footage was shot on June 19, 2019, and the sighting was apparently captured by a local resident named Sherlly Galicia. Interestingly, the shape and structure of the flying object spotted in the skies of Orange County seems very similar to the alien flying crafts we have seen in Hollywood sci-fi flicks like 'Independence Day' and 'Mars Attack'.
The video uploaded by Mavixxx has already gone viral on YouTube, and it has already racked up more than 25,000 views. After watching the video, most of the viewers claimed that sightings like these are authentic proof of alien existence. As per these alien enthusiasts from the deep space used to visit the earth to monitor human activities, and they even went ahead and claimed that these otherworldly entities are gearing up for an invasion.
However, skeptics were quick to dismiss the alien angle, and they revealed that the flying object spotted in the video could be a drone. Some others argued that these crafts might be sometimes secret military vehicles that have the capability to travel at hypersonic speed.
UFO over Orange County CA – first 1:30 minutes of 10:20 minute video (mavi xxx YouTube)
FAIR USE NOTICE: This page contains copyrighted material the use of which has not been specifically authorized by the copyright owner. ExoNews.org distributes this material for the purpose of news reporting, educational research, comment and criticism, constituting Fair Use under 17 U.S.C § 107. Please contact the Editor at ExoNews with any copyright issue.
Orange County California, Sherlly Galicia
---
ExoNews Editor
Duke Brickhouse is a former trial lawyer and entertainment attorney who has refocused his life's work to exposing the truth of our subjugated planet and to help raise humanity's collective consciousness at this crucial moment in our planet's history, in order to break out of the dark and negative false reality that is preventing the natural development of our species, to put our planet on a path of love, light and harmony in preparation for our species' ascension to a fourth density, and to ultimately take our rightful place in the galactic community.
---