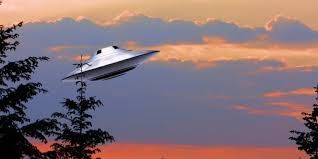 $100,000 Reward for Evidence of Extraterrestrials on Earth
by Paul Seaburn                September 15, 2017               (mysteriousuniverse.org)
• Movie executive James Fox is offering $100,000 for solid, compelling evidence of a UFO.
• Fox is encouraging military and government officials to come forward, but anyone is eligible.
• Fox thinks that the time is right since so many people now believe in extraterrestrial UFOs.
• The money is actually coming from two unnamed but extremely high-profile American public figures and philanthropists.
Tired of buying Powerball Lottery tickets and never winning the top prize? Perhaps your odds (1 in 292 million) would be better if you tried taking a video of a UFO and submitting it to a movie executive who is offering a cool $100,000US for concrete evidence of extraterrestrial activity on Earth. Can a Reptilian just show up and collect the prize? Don't be absurd. Why would a Reptilian need $100,000?
"It would have to be coupled with a piece of pretty substantial evidence. If there was a photograph of the object on the ground, a photograph of the object in the air, if there was a government document, irrefutable, confirming that, that would certainly be considered something that was bona fide."
The offer was made this week by James Fox, the director of the UFO documentary Out of the Blue and the follow-up I Know What I Saw. On his first visit to Australia, during which he's giving lectures and interviewing witnesses from the so-called Westall UFO incident in Melbourne in 1966 (when over 200 students and teachers saw a saucer-shaped UFO descend and take off), Fox announced his offer in an interview with news.com.au.
"And we are encouraging any military or government officials with some of these materials a rather large sum of money — $100,000 and possibly more — if they are willing to come forward."
The prize will be paid to anyone, not just military or government officials, but Fox singles them out because he's made this offer to them before … in 2013 at a UFO conference. The response was disappointing.
"We've got lots of compelling photographs but nothing where our jaw hit the floor."
That's why Fox is now opening the reward to the general public. He expects interest to be high because of the recent U.S. presidential election when John Podesta, Hillary Clinton's campaign manager and former White House chief of staff, spoke opening about disclosing UFO secret files to the public. While he wouldn't reveal if Podesta will be involved in the evaluation of submitted evidence, Fox says he's talked to him (an interview that will appear in his next film):
"He said that the phenomena cannot be explained away … (not) all of it. That it merits further investigation and that other people should take it more seriously."
FAIR USE NOTICE: This page contains copyrighted material the use of which has not been specifically authorized by the copyright owner. ExoNews.org distributes this material for the purpose of news reporting, educational research, comment and criticism, constituting Fair Use under 17 U.S.C § 107. Please contact the Editor at ExoNews with any copyright issue.
Disclosure, James Fox, UFO Reward
---
ExoNews Editor
Duke Brickhouse is a former trial lawyer and entertainment attorney who has refocused his life's work to exposing the truth of our subjugated planet and to help raise humanity's collective consciousness at this crucial moment in our planet's history, in order to break out of the dark and negative false reality that is preventing the natural development of our species, to put our planet on a path of love, light and harmony in preparation for our species' ascension to a fourth density, and to ultimately take our rightful place in the galactic community.
---