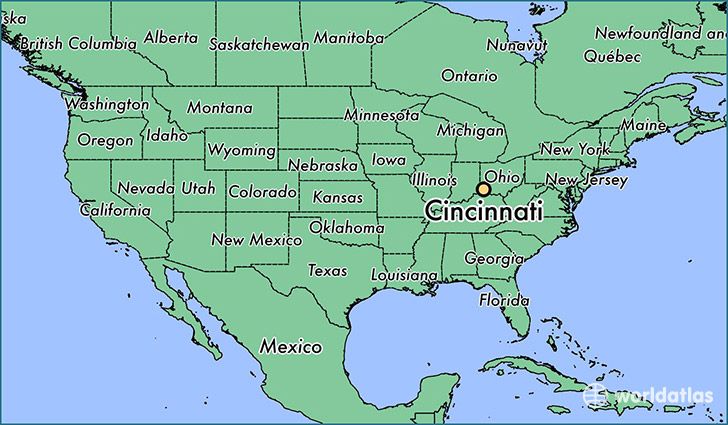 Video Shows UFOs Flying In Formation Over Cincinnati
Article by Inigo Monzon                           April 9, 2020                         (ibtimes.com)
• In 2019, Samantha Mains was in Cincinnati, Ohio and video recorded five strange lights hovering in the sky that appear to be in some sort of formation. Three of the bright orbs appear next to each other, while a fourth one hovers over them and a fifth orb stays below the cluster of orbs. THen they all disappear from the sky. Then the objects appear again in a similar formation but a slightly different location. (see 1:16 minute video below)
A woman in Ohio was able to capture videos of strange lights hovering in the sky. According to an expert, the objects appear to be a fleet of UFOs that were flying in a strange formation.
The videos of the UFO sighting was captured and shared on YouTube by Samantha Mains. According to Mains, the sighting occurred in 2019 but she was only able to upload the videos earlier this week.
As noted by the uploader, she was in the city of Cincinnati when she spotted the bright objects hovering in the sky. Based on the video, the objects appear to be bright orbs that have the same sizes and brightness.
In total, five bright objects appeared in the videos. Three of them appeared next to each other while a fourth one hovered over them. The fifth orb stayed below the cluster of orbs.
The objects remained motionless for a couple of seconds in the video. Then, one by one, each of them started to disappear from the sky. After a while, the objects appeared again but in slightly different locations.
1:16 minute video of strange lights over Cincinnati, Ohio (YouTube)
FAIR USE NOTICE: This page contains copyrighted material the use of which has not been specifically authorized by the copyright owner. ExoNews.org distributes this material for the purpose of news reporting, educational research, comment and criticism, constituting Fair Use under 17 U.S.C § 107. Please contact the Editor at ExoNews with any copyright issue.
Cincinnati Ohio, Samantha Mains
---
ExoNews Editor
Duke Brickhouse is a former trial lawyer and entertainment attorney who has refocused his life's work to exposing the truth of our subjugated planet and to help raise humanity's collective consciousness at this crucial moment in our planet's history, in order to break out of the dark and negative false reality that is preventing the natural development of our species, to put our planet on a path of love, light and harmony in preparation for our species' ascension to a fourth density, and to ultimately take our rightful place in the galactic community.
---