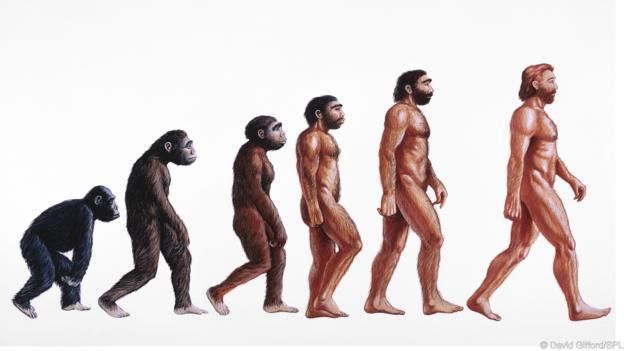 Listen to "E19 "Trilobites & Homo Sapiens" –Is Our Evolution Unique in the Cosmos?" on Spreaker.
Jun 23, 2019                     (dailygalaxy.com)
• Fossil evidence suggests that life began very early in Earth's history, and this has led people to determine that life might be quite common in the universe because it happened so quickly here. But life on Earth doesn't translate to a probability of life on other planets according to the Oxford paper, "Dissolving the Fermi Paradox" (see here for exoarticle).

• A 2018 study from the Future of Humanity Institute at Oxford University suggests that, although this universe potentially hosts 50 quintillion habitable planets, the expectation that life has or will develop on other planets as it has on Earth might be based more on optimism than scientific evidence.

• Oxford neurobiologist Colin Blakemore took this a step further by suggesting that a mutation in the brain of a single human being 200,000 years ago that turned primates into a super-intelligent species was a genetic accident. Says Blakemore, "This leads to… conclude that there is a fairly high likelihood that we are alone."
• David Spiegel of Princeton University and Edwin Turner from the University of Tokyo used Bayesian reasoning to show that just because we evolved on Earth, doesn't mean that the same occurrence would necessarily happen elsewhere. Just because the universe is vast and we therefore have an expectation that life would exist outside of Earth, doesn't prove that such extraterrestrial life actually exists. And even if it did, abiogenesis would require Earth-like circumstances.

• Spiegel continues by pointing out that, "Discoveries by NASA's Kepler Space Telescope of potentially habitable exoplanets provide no evidence that they exist." "Instead, these planets have our knowledge of life on Earth projected onto them." If the earth id 4.5 billion years old, and it takes 3.5 billion years for intelligent life to develop, then the Earth had a head start that other planets did not have. It is very possible that Earth is a cosmic aberration and "no evidence exists to substantially change that."
|
• [Editor's Note]   This article's writer contends that the pro-UFO argument for the existence of intelligent extraterrestrial civilizations is based on conjecture and not scientific proof. But the 'science' that he uses to assert that the human race developed through unlikely happenstance, and therefore it is unlikely that other civilizations have done the same thing, is based on the 'scientific fact' that there is no evidence of extraterrestrials ever having visited the Earth. "Homo sapiens appear to be a genetic accident." "The Earth is a cosmic aberration." These Deep State academics are using the fact that Deep State governments have been hiding the extraterrestrial presence for the past seventy years as their proof that extraterrestrial beings probably don't exist. The Deep State's desperation for keeping the ET presence a secret is really starting to show.
In contrast to Harvard astrophysicist Avi Loeb's optimism that extraterrestrials are less speculative than dark matter or extra dimensions, a study that we posted in September of 2018 conducted by three scholars from the Future of Humanity Institute (FHI) at Oxford University, suggests that although we exist in a universe with a potential 50 quintillion habitable planets, the expectation that life — from inorganic to bacteria to sentient beings —abiogenesis– has or will develop on other planets as it has on Earth, might be based more on optimism than scientific evidence.
Colin Blakemore, an Oxford neurobiologist not involved in the FHI study argued that a mutation in the brain of a single human being 200,000 years ago turned intellectually able primates into a super-intelligent species that would conquer the world. Homo sapiens appears to be genetic accident. Or are we?
"There is no sign that the human brain has reached its capacity to accumulate knowledge," adds Blakemore, "which means that the wonders we have already created – from spaceships to computers – represent only the start of our achievements."
Fossil evidence suggests that life began very early in Earth's history and that has led people to determine that life might be quite common in the universe because it happened so quickly here, but the knowledge about life on Earth simply doesn't reveal much about the actual probability of life on other planets. suggests the Oxford paper, "Dissolving the Fermi Paradox".
The study was jointly-conducted by Anders Sandberg, a Research Fellow at the Future of Humanity Institute and a Martin Senior Fellow at Oxford University; Eric Drexler, the engineer who popularized the concept of nanotechnology; and Tod Ord, Australian moral philosopher at Oxford University.
The study concluded that "even using the guesstimates in the literature (we took them and randomly combined the parameter estimates) one can have a situation where the mean number of civilizations in the galaxy might be fairly high – say a hundred – and yet the probability that we are alone in the galaxy is 30%! The reason is that there is a very skewed distribution of likelihood.
"The probability of getting life and intelligence on a planet has an extreme uncertainty given what we know – we cannot rule out that it happens nearly everywhere there is the right conditions, but we cannot rule out that it is astronomically rare. This leads to an even stronger uncertainty about the number of civilizations, drawing us to conclude that there is a fairly high likelihood that we are alone. However, we also conclude that we shouldn't be too surprised if we find intelligence!"
In an earlier study, David Spiegel of Princeton University and Edwin Turner from the University of Tokyo turned the Drake equation upside down using Bayesian reasoning to show that just because we evolved on Earth, doesn't mean that the same occurrence would necessarily happen elsewhere; "using evidence of our own existence doesn't show anything" they argue, "other than that we are here."
FAIR USE NOTICE: This page contains copyrighted material the use of which has not been specifically authorized by the copyright owner. ExoNews.org distributes this material for the purpose of news reporting, educational research, comment and criticism, constituting Fair Use under 17 U.S.C § 107. Please contact the Editor at ExoNews with any copyright issue.