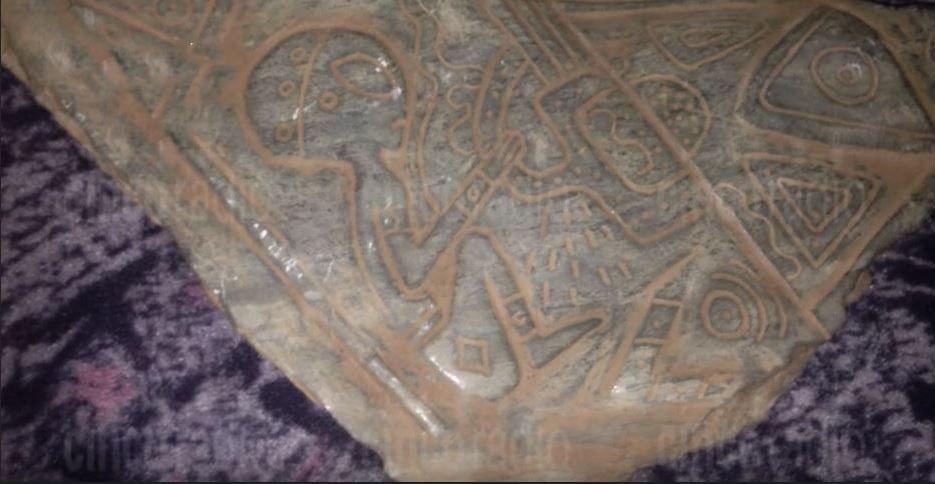 by Ivan            (ancient-code.com)
• Explorers have found new stones with etchings depicting spaceships and Grey aliens in a Mexican cave.
• They have been dubbed "stones of the first encounter".
• The Mexican National Institute of Anthropology and History will not weigh in on the find because its obvious implication contradicts mainstream archaeology.
A group of explorers has discovered in a Mexican cave evidence what they boast as the best evidence of alien contact on Earth.
The group of explorers recently visited the cave and explored it in detail.
The cave—part of three caves actually—is located between the cities of Veracruz and Puebla.
In two of the cases, researchers made unexpected discoveries including several carved stones with images that represent alien related engravings.
Furthermore, the group of explorers discovered a number of golden items in another cave.
On the surface of the stones, the group of researchers found evidence of what many people interpret as 'extraterrestrial ships' and 'humanoid beings'; one of the stones, which was apparently fractured sometime in the past, supposedly shows the upper part of a spaceship together with a being which according to some people, is not from this world.
The depicted image features an alleged alien being standing next to an ancient ruler of a pre-Hispanic culture receiving a corncob, in addition to some other symbols that are still to be deciphered; these artifacts were dubbed "stones of the first encounter."
It is reported that local legends speak of a mysterious 'ship' that has remained since time immemorial, hidden somewhere near the caves.
This was the main reason why the group of explorers set out to search the area three months ago.
Their search has yielded totally unexpected results. They have come across—what they believe is—the ultimate evidence that aliens beings visited Earth thousands of years ago, and had direct contact with ancient cultures inhabiting Mexico at that time.
FAIR USE NOTICE: This page contains copyrighted material the use of which has not been specifically authorized by the copyright owner. ExoNews.org distributes this material for the purpose of news reporting, educational research, comment and criticism, constituting Fair Use under 17 U.S.C § 107. Please contact the Editor at ExoNews with any copyright issue.