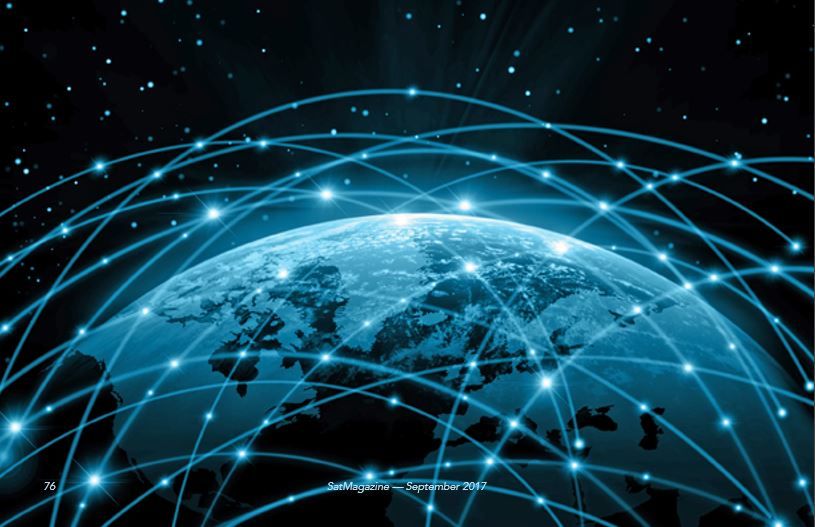 Article by Luke Dormehl                            March 14, 2020                           (digitaltrends.com)
• The United States launched Explorer 1, its first satellite, into space on January 31, 1958. Since then we have ramped up our reliance on these orbiting objects with every passing year. Today, there are over 2,000 active satellites in orbit belonging to both governments and private industry with more going up all the time.
• Three-star US Air Force Lieutenant General Chris Bogdan, who retired in July 2017, is worried about satellites. He's not worried about the tremendously increasing number of satellites in Earth's orbit. He's worried about other nations' capabilities to disable them or knock them out of orbit. Says Bogden, "Space is a new warfighting domain. Our job is to try and help the Department of Defense to become space warfighters."
• One of the greatest threats to American satellite assets is the new 'hunter-killer satellites'. These can fire jets of plasma to blast objects out of orbit. They are claimed to be useful in cleaning up space junk – shooting at an inactive satellite until it eventually disintegrates in the Earth's atmosphere. But a hunter-killer satellites can also knock an active satellite from its designated orbit, rendering it useless. Bogden says that these hunter-killer have already been deployed by rival nations into space.
• Bogden is also concerned about foreign satellites getting too close to our satellites, or even smashing into them – called a "conjunction" of satellites. But hunter-killer satellites can also disrupt an active satellite by merely getting close to it, disrupting its maneuverability and its electro-magnetic field.
• Another threat involves anti-satellite missiles fired from the ground. China, India, and Russia have all demonstrated such weapons as a show of force.
• Knocking out satellites has the potential for massive damage. From a military perspective, satellites carry out worldwide sensing and imaging, and space-based communications, which are crucial for global voice and data communications on Earth. We also rely on satellites for GPS, or the global positioning system. Loss of these capabilities, says Bogden, could put America at an enormous 'warfighting disadvantage'.
• For example, in January 2015, the US Air Force took just one of its GPS satellites offline. Somehow a fractionally wrong time was accidentally uploaded to the remaining satellites and caused twelve hours of severe problems. Global telecommunications networks were compromised. Police, fire and EMS radio equipment in parts of the US stopped working. BBC digital radio was knocked out for a couple of days for many people. And an anomaly was detected on electrical power grids. All from a time discrepancy of just thirteen-millionths of a second. If several satellites were disabled, it would be nothing short of a disaster.
• To avoid this type of scenario, we rely on a 1967 'Outer Space Treaty' among Russia, Britain and the United States that provides guideline in settling disputes regarding the allocation of resources in space, and a 1963 treaty prohibiting nuclear explosions in outer space. But sixty years ago we didn't consider space a 'war-fighting domain' as we do today. As Bogden says, "[W]e felt that no-one would [ever] threaten our space assets."
• [Editor's Note]  Just like our electric grid and the internet, we are completely dependent on the 2218 satellites currently orbiting our planet (that we know of). And the world's military and commercial titans are just starting to ramp up the number of satellites that will be deployed in the near future. The Pentagon has announced a National Defense Space Architecture (NDSA) satellite constellation consisting of seven layers of military capabilities. The first layer alone will deploy hundreds of satellites. (see Exoarticle here) The US, Russia and India all have its own GPS navigation system satellite constellations. (see Techworm article here) And one of the Pentagon's NDSA layers will be an entirely new back-up GPS system. Yet all of these government satellites will be dwarfed by the commercial use of satellites in the future. Elon Musk alone plans to deploy up to 45,000 internet satellites in a SpaceX Starlink mega constellation. It's no wonder that the Pentagon's 'first offensive space weapon' is a ground-based satellite communications jamming system. (see The Drive/The Warzone article here)
Of course, this 'modern' anti-satellite weapons technology is primitive compared to what we truly have in space already, unknown to the vast majority of the world. It appears that the deep state will use a new military space race as their next Cold War distraction from what is really going on. Still, our inexorable encroachment into space only increases the odds that the secret space programs and the ubiquitous extraterrestrial presence will have to reveal itself to the world.
"The bottom line," said retired three-star general Chris Bogdan, "is that we want to learn how to fight in space. Just as we know how to fight on air, land, sea, and, in some respects, in cyberspace. Space is a new warfighting domain. Our job is to try and help the Department of Defense to become space warfighters."
Bogdan knows a thing or two about militarized combat. Over a 34-year career in the U.S. Air Force, Bogdan rose from a test pilot, flying no less than
30 different aircraft types, to the rank of lieutenant general. For the last five years of his career, before he retired in July 2017, he was program executive officer for the F-35 Joint Strike Fighter Program for the Air Force, U.S. Navy, U.S. Marine Corps, and 11 allied nations. He has one of those grizzled, no-nonsense voices which suggests that he has forgotten more about warfighting before breakfast that day than you've ever known in your entire life. On balance, that's probably not a bad guess.
Right now, Chris Bogdan is worried about satellites. But not for the same reason that many people are. Recently, satellites have gotten a bum rap. Astronomers have sounded the alarm regarding the plan of individuals like Elon Musk to launch enormous, sky-blotting mega-constellations of satellites. Bogdan doesn't seem to be so tied up in knots about extra stuff being shot into space, however. Instead, he's far more concerned about the stuff that's already in space being shot down. Or, at least, being tampered with.
He's particularly uneasy about things called hunter-killer satellites, deployed by one of the United States' "pure adversaries," being used to screw with America's network of "space assets."
A new kind of threat
A hunter-killer satellite represents a new kind of threat. In a paper published in the journal Scientific Reports in 2018, researchers from the Australian National University describe a hunter-killer satellite that can fire jets of plasma to blast objects out of orbit. They suggested that such a satellite could be used to help clean up space junk; shooting it down until it eventually disintegrates in Earth's atmosphere. But such a tool could be used for more malicious purposes as well. A hunter-killer satellite might damage or purposely knock off-course a crucial active satellite, thereby negatively impacting its ability to operate.
"What we're most concerned about is what we call conjunction," Bogdan said. "That's a space term describing two things colliding in space. But you don't need to actually hit something in space to affect it or reduce its capability. You can fly a hunter-killer satellite close enough to a satellite that you can disrupt maneuvering or its electro-magnetic field to do a host of different things."
How far away from deployment does he think these hunter-killer satellites, developed by those who don't have America's best interests at heart, might be? "I believe they've already been deployed," he said.
FAIR USE NOTICE: This page contains copyrighted material the use of which has not been specifically authorized by the copyright owner. ExoNews.org distributes this material for the purpose of news reporting, educational research, comment and criticism, constituting Fair Use under 17 U.S.C § 107. Please contact the Editor at ExoNews with any copyright issue.