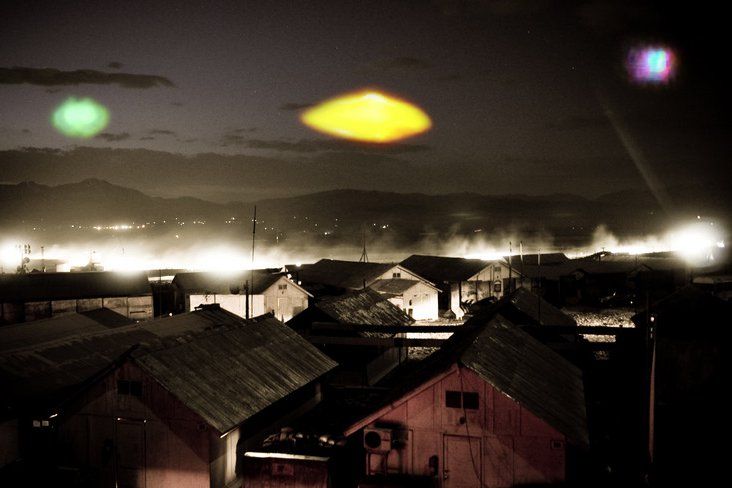 by Arjun Walia             September 19th, 2017                 (collective-evolution.com)

• In 1960 the NY Times quoted CIA directors admitting "through official secrecy and ridicule, many citizens are led to believe the unknown flying objects are nonsense."
• A CIA document dated 1965 relates that three UFOs were tracked for two hours flying in formation over Antarctica.
• The CIA has released hundreds of statements by top officials from various fields and countries referring to the study of UFOs and extraterrestrial visitations.
• For many decades, government UFO studies have been secretly conducted and classified under "national security".
• The findings of these ET/UFO studies remain secret in black budget "Special Access Programs" that are exempt from reporting requirements.
• Isn't it time that all of our government's true findings on extraterrestrial visitors and UFOs were publicly disclosed?
The third director of the post-World War II United States Central Intelligence Group (CIG), the third director of Central Intelligence (DCI), and the very first director of the Central Intelligence Agency, Roscoe H. Hillenkoetter, once told the world, via the New York Times in 1960, that, "behind the scenes, high ranking Air Force officers are soberly concerned about UFOs," and that, "through official secrecy and ridicule, many citizens are led to believe the unknown flying objects are nonsense."
The key words are here are "official secrecy and ridicule," which is why, for so many years, you were perceived as a crazy person at the slightest mention of UFOs, let alone intelligent extraterrestrial life.
Today, however, it's a much different story. Hundreds of thousands of pages of de-classified documents show, beyond a shadow of a doubt, that intelligence agencies and global militaries have an extremely high interest in the UFO phenomenon, and have had this interest for a very long time.
For example, just go to the CIA's Freedom of Information Act electronic reading room, and type in the word "UFO," and you'll see for yourself. There is no shortage of interesting documents that span not only the CIA's website, but on a global scale.
"Everything is in a process of investigation both in the United States and in Spain, as well as the rest of the world. The nations of the world are currently working together in the investigation of the UFO phenomenon. There is an international exchange of data." – General Carlos Castro Cavero (1979).
On top of documents, their release has sparked a number of high-ranking officials from various fields, from top military brass, politicians, and credible figures from within academia, astronauts and more. Here's one of hundreds of statements.
"There is a serious possibility that we are being visited and have been visited for many years by people from outer space, from other civilizations. That it behooves us, in case of these people in the future or now should turn hostile, to find out who they are, where they come from, and what they want. This should be the subject of rigorous scientific investigation and not the subject of 'rubishing' by tabloid newspapers." – Lord Admiral Hill-Norton, Former Chief of Defence Staff, 5 Star Admiral of the Royal Navy, Chairman of the NATO Military Committee
The Document Referencing Red, Green & Yellow "Flying Saucers"
This document, straight from the CIA , relays several pieces of information, with the part about these UFOs highlighted in brackets, which suggests special attention paid to it. It goes to show just how interested, and how important this topic is within the intelligence community. They've been studying it for years under the guise of "national security," a term now used to classify everything, and protect the interests of the global elite as well as allow them to basically do whatever they please, with justification.
It states as follows:
"ANTARCTIC FLYING SAUCERS" – A group of red, green, and yellow flying saucers has been seen flying over Deception Island for two hours by Argentine, Chilean and British bases (military) in Antarctica. The flying saucers were also seen flying in formation over the South Orkney islands in quick circles."
It's strange how other unrelated factors are inserted into the document, and interesting how this part is highlighted.
Quite telling isn't it? What's even more interesting is that this document is more than five decades old, dating back to 1965.
It's also interesting, given the lore that surrounds Antarctica, and possible extra-dimensional/terrestrial beings.
FAIR USE NOTICE: This page contains copyrighted material the use of which has not been specifically authorized by the copyright owner. ExoNews.org distributes this material for the purpose of news reporting, educational research, comment and criticism, constituting Fair Use under 17 U.S.C § 107. Please contact the Editor at ExoNews with any copyright issue.