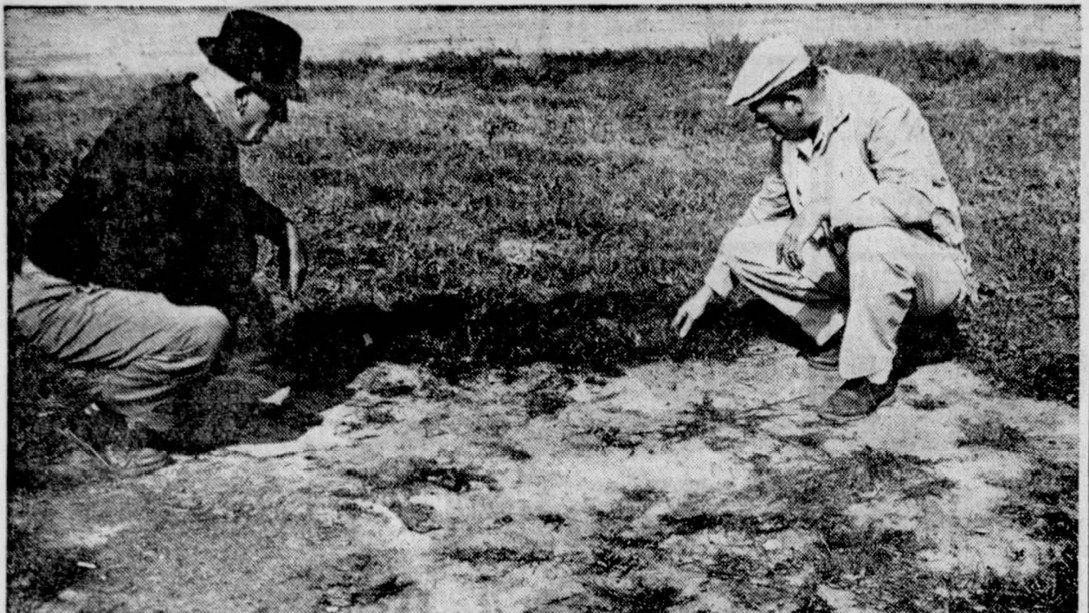 Recounting Lebanon County PA's Brief UFO Frenzy of the 1960s
Article by Joshua Groh                         April 28, 2020                         ( lebtown.com)
• Several dozen UFO sightings have been reported through the years in Lebanon County, Pennsylvania. But 1965 seemed to be an especially eventful year.

• After the Lebanon Daily News ran a story on reported UFO sightings over the county on July 12, 1965, jets from Olmsted Air Force Base were dispatched to intercept the same UFO the next day. It was described as a "mainly circular" object miles up in the sky. But the USAF said it was a half-inflated balloon. Lebanon resident R. L. Clauser wrote a letter to the editor asking: "How stupid does the Air Force think the people of Lebanon are?"

• More news reports of UFOs were coming from states including Oklahoma, Texas, and Nebraska.

• On July 9, 1965 at 10pm, 16 year old Connie Wolferd saw a clam-shaped craft 10-feet in diameter with red lights around the rim, and a "lavender flame" blazing from its underside "that hovered above the trees." Wolferd said that it "beeped, whirred, and made sounds like loud radio static when it flew away." Wolferd's family also spoke of electrical disturbances in their home that night. Several other Bunker Hill neighborhood residents claimed to have seen "something more than a celestial or atmospheric disturbance" but were afraid to speak up. Wolferd's account seemed to spark a small local wave of reports from other county residents over the next several months.

• On August 23, 1965, teenage brothers Frederick and Robert were sleeping in a car at their house in North Lebanon at 2 am when they saw a red "oval ball of flame" overhead, "as large as a passenger aircraft." As they watched it travel north toward Jonestown, they called Civil Defense headquarters. Later, they compared experiences with Connie Wolferd.

• On the evening of September 19, 1965, Giles Brown of Jonestown, PA and his family saw a low-flying "grey hulk" with a bluish ring of lights at the back of their trailer home. It caused their television to roar with distortion. Brown said he later found strange imprints on a new pile of sand.

• The Young family reported a sighting on that same evening, but described it as larger and differently colored. The sighting was blamed on a blimp that had passed over Lebanon County on that particular evening, but there was a dependency about the locations of the UFO sightings and the blimp's course.

• A week later that September 1965, a trucker reported seeing a red glow on the infield of the Fredericksburg Speedway. The speedway's operators Elmer and Dale Richard found a strange, "perfect circle" patch of 'burnt' land seven feet in diameter that had appeared on the infield overnight. Other reports from the Annville-Cleona area apparently coincided with the time of the event.

• Finally, on December 9, 1965, the citizens of Kecksburg, Pennsylvania to the west toward Pittsburgh, saw an acorn-like object crash into the woods. Witnesses reported that the object was covered with some kind of "hieroglyphs". The Air Force investigated and, according to witnesses, carting away the object. This incident has become famous and regarded as "Pennsylvania's Roswell".

• In the years following 1965, Lebanon County residents reported several more sightings, including some over nearby Mt. Gretna and Cornwall. In 1967, a high school student caught a series of unknown flashes of light on film while he was photographing Jupiter. The student, Michael Kohl, stated that the lights were not from aircraft.

• According to the National UFO Reporting Center, the latest UFO sighting in Lebanon happened on October 5, 2019, when a resident observed "two round bright white objects" floating over their house during the afternoon for 45 minutes.
If you lived in Lebanon County back in the mid-1960s, you might have been among a group of residents who claimed witness to a number of unidentified flying objects, or UFOs. Several dozen sightings of UFOs were reported through the years, though 1965 seemed to be an especially eventful year.
The modern idea of the UFO and its connection to aliens is usually traced back to a famous 1947 incident in Roswell, New Mexico, involving what
some declared to be a government coverup. From that point on, UFOs and rumors of extraterrestrials became embedded in the American consciousness, and in the summer of 1965, Lebanon County joined in on the frenzy.
On July 13, the Daily News reported the sighting of a "mainly circular" object miles up in the sky over Lebanon seen a day earlier. A jet from Olmsted Air Force Base approached the object and identified it as an unoccupied plastic balloon in the process of inflation, but some Lebanon residents doubted this report. Days later, the Daily News printed a letter to the editor written by one R. L. Clauser that took issue with the Air Force's explanation.
"How stupid does the Air Force think the people of Lebanon are?" Clauser wrote. "I have read all the books on UFOs that I could get my hands on and have also have heard and have seen numerous radio and television reports on them[…] Did Lebanon have an interplanetary visitor on [the 12th]? From all evidence available it did."
That week in early July was evidently a busy one for extraterrestrials. In August, a Bunker Hill resident named Connie Wolferd spoke with the Daily News about an sighting she claimed to experience on July 9.
The 16-year-old Wolferd described a "huge hulk that hovered above the trees" that "beeped, whirred, and made sounds like loud radio static when it flew away." It was around 10 feet in diameter, with red lights ringing the rim of the clam-like shape, and was propelled by a "lavender flame" that blazed out from its underside. She estimated the event to have taken place at 10 p.m. on July 9, and Wolferd's family spoke of electrical disturbances in their home that accompanied it (evidently, only incandescent lights were affected).
The Daily News reported that other Bunker Hill residents had seen it but feared to speak up, and opined that "it is obvious, however, that Connie and the others saw something more than a celestial or atmospheric disturbance."
FAIR USE NOTICE: This page contains copyrighted material the use of which has not been specifically authorized by the copyright owner. ExoNews.org distributes this material for the purpose of news reporting, educational research, comment and criticism, constituting Fair Use under 17 U.S.C § 107. Please contact the Editor at ExoNews with any copyright issue.
Connie Wolferd, Elmer and Dale Richard, Giles Brown, Kecksburg, Lebanon County, Lebanon Daily News, Michael Kohl, National UFO Reporting Center, Olmsted Air Force Base, Pennsylvania's Roswell, R. L. Clauser
---
ExoNews Editor
Duke Brickhouse is a former trial lawyer and entertainment attorney who has refocused his life's work to exposing the truth of our subjugated planet and to help raise humanity's collective consciousness at this crucial moment in our planet's history, in order to break out of the dark and negative false reality that is preventing the natural development of our species, to put our planet on a path of love, light and harmony in preparation for our species' ascension to a fourth density, and to ultimately take our rightful place in the galactic community.
---