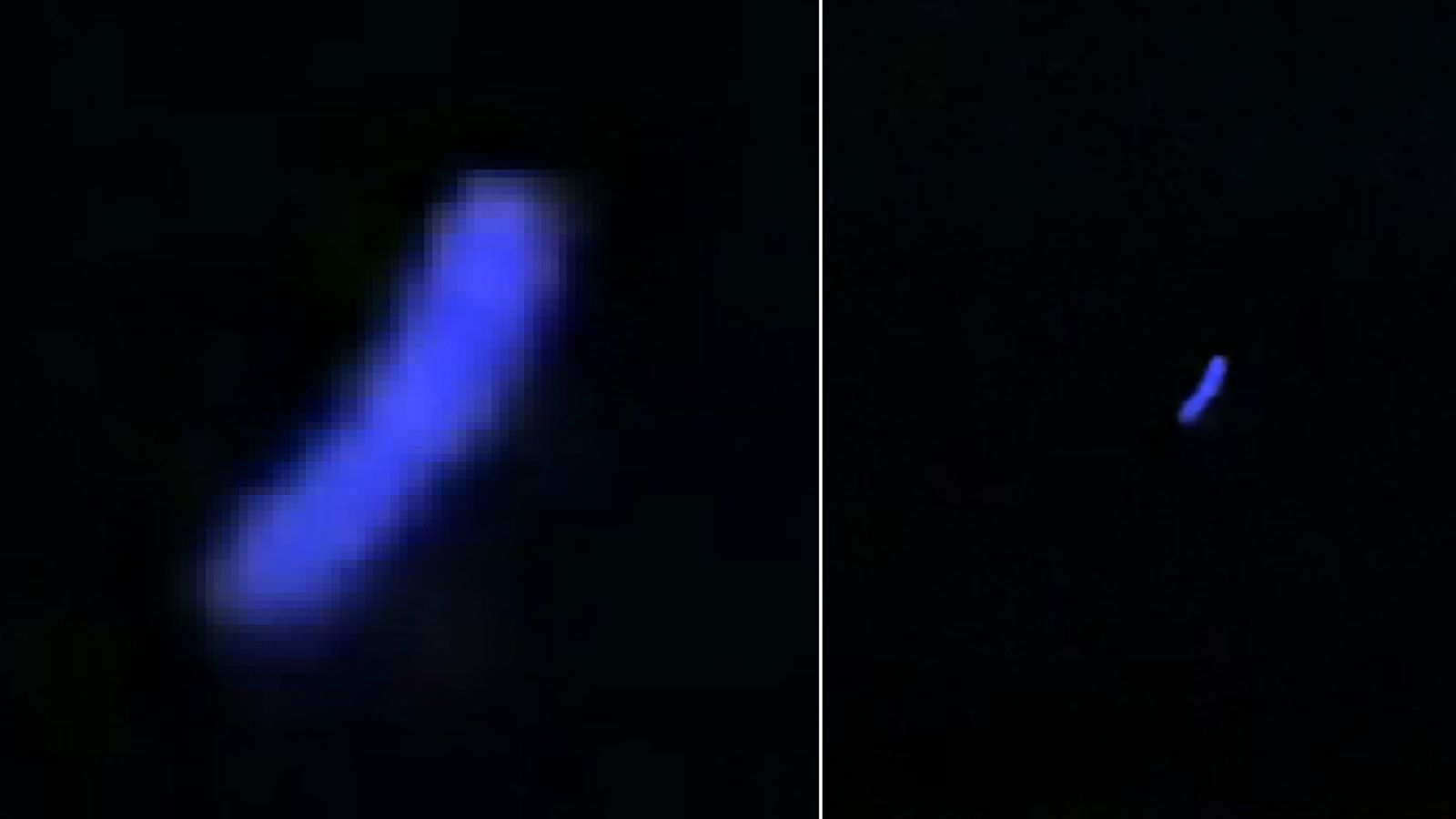 Large Blue UFO Seen Above Oahu Appeared to Drop Into Ocean
Article by Allyson Blair                                   December 31, 2020                                    (hawaiinewsnow.com)
• On Tuesday night December 29th, "Moriah", a 38 year old women from Nanakuli, Hawaii (on the western side of Oahu), spotted a bright blue elongated object in the sky around 8:30 pm. She called her husband, and the two of them jumped in the car to follow the object. "I don't know what it was," said Moriah. "This one was going so fast." (see 10:42 minute video below)
• After following the blue light for three miles, they reached the ocean water where they saw the object drop out of the sky and into the ocean. Moriah described it as being larger than a telephone pole but she never heard it make a sound. "We called 911," Moriah said. When the police arrived, Moriah and the officers spotted a second light. This time it was a smaller white orb "coming in the same direction as the blue one". But they lost sight of the after it passed behind a nearby mountain.
• An FAA spokesperson, Ian Gregor, said the agency received a report from police Tuesday night about a possible plane down in the area "but had no aircraft disappear off radars. And no reports of overdue or missing aircraft." A spokesperson for the Honolulu police said they had no further information on whatever fell into the ocean.
• Multiple witnesses reported seeing the large blue object fall out of the sky and into the ocean, and there are multiple videos of what appears to be a glowing' oblong mass — both in the sky and in the water. Moriah has had a couple days to think about it, but she is still baffled by what she saw. "To this day I don't know," she said laughing. "If you guys can find out what it was, I'd like know…"
HONOLULU, Hawaii (HawaiiNewsNow) – An unidentified flying object spotted in the evening sky over
Leeward Oahu prompted witnesses to call 911 on Tuesday.
The sighting happened about 8:30 p.m.
There are multiple videos of what appears to be a glowing' oblong mass — both in the sky and in the water.
Officials from the Federal Aviation Administration say there were no aircraft incidents or accidents in this area at the time. But multiple witnesses reported seeing a large blue object fall out of the sky and into the ocean.
In a one video a woman can be heard saying, "Something is in the sky. What is that?"
Misitina Sape told Hawaii News Now she captured the image at 8:26 p.m. near Haleakala Avenue in
Nanakuli.
Not long after, a woman named Moriah spotted what looked like the same object passing over Princess Kahanu Estates.
"I look up and then I was like oh s***!," she said. "I started calling my husband and them because they were all in the garage. I was like hey. Come look up there. See if you see what I see. They all said yea!"
The 38-year-old says she's never really been a believer in UFOs, but the bright blue object had them so intrigued they jumped in the car and started following it.
10:42 minute video of blue UFO over Oahu, Hawaii Dec 29, 2020 ('Popcorned Planet" YouTube)
FAIR USE NOTICE: This page contains copyrighted material the use of which has not been specifically authorized by the copyright owner. ExoNews.org distributes this material for the purpose of news reporting, educational research, comment and criticism, constituting Fair Use under 17 U.S.C § 107. Please contact the Editor at ExoNews with any copyright issue.
---
ExoNews Editor
Duke Brickhouse is a former trial lawyer and entertainment attorney who has refocused his life's work to exposing the truth of our subjugated planet and to help raise humanity's collective consciousness at this crucial moment in our planet's history, in order to break out of the dark and negative false reality that is preventing the natural development of our species, to put our planet on a path of love, light and harmony in preparation for our species' ascension to a fourth density, and to ultimately take our rightful place in the galactic community.
---