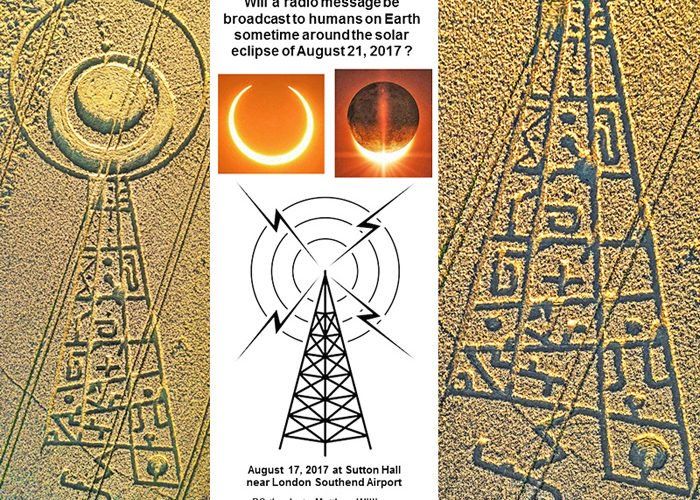 Intriguing 'Eclipse Like' Crop Circle Shows Up In Essex
By  Joe Martino – August 20, 2017
It's just days before an eclipse of a lifetime and as the world readies for the sight and some for the energetic shifts, a new crop circle has appeared in a field at Sutton Hall near London Southend Airport. The circle was discovered on August 17, 2017 but it's meaning, if any, is not yet fully understood. A crop circle with meaning you might ask? Yes, evidence has shown time and time again that many of these circles have incredible scientific anomalies and thus people believe the formations come from somewhere or something else.
On the scientific side, the electromagnetic field over the area where a circle appears is usually electrostatically charged. There is also a rare form of electromagnetic energy called an "ionized plasma vortex," also known as ball lighting, involved with these formations.
Let's have a closer look at this and imagine for a moment. In this particular formation, it appears the overall appearance resembles a "radio broadcast tower" with a "satellite dish" near the top. In this case, its "satellite dish" resembles the usual symbols for a "solar eclipse." Interesting considering we will have the Great American Eclipse  in just a couple days  on August 21, 2017.
So what might this mean? Could we be receiving some sort of radio message from somewhere or someone at that time? Might it simply mean that new frequencies are coming onto our planet as a result of the eclipse? As we explored deeply in our latest documentary The Collective Evolution III: The Shift, celestial bodies, including the sun, have a great impact on our physical bodies, minds, and consciousness. This eclipse will be no different, and our in-house astrologer Carmen DiLuccio has outlined how this eclipse may affect you in his latest article about the eclipse.
---
ExoNews Editor
Duke Brickhouse is a former trial lawyer and entertainment attorney who has refocused his life's work to exposing the truth of our subjugated planet and to help raise humanity's collective consciousness at this crucial moment in our planet's history, in order to break out of the dark and negative false reality that is preventing the natural development of our species, to put our planet on a path of love, light and harmony in preparation for our species' ascension to a fourth density, and to ultimately take our rightful place in the galactic community.
---