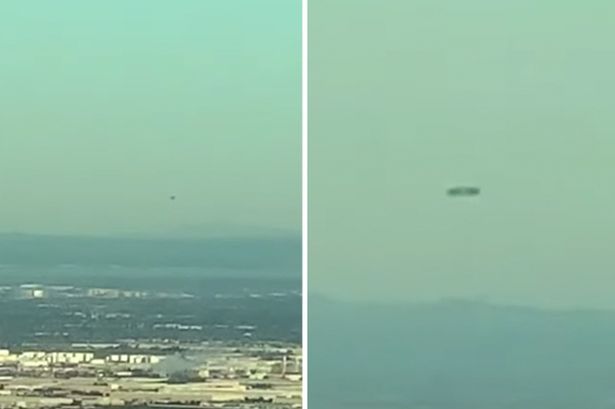 Cigar Shaped UFO Appears Over Arizona Airport to End Bizarre 2019 Sightings
Article by Katy Gill                            January 1, 2020                           (dailystar.co.uk)
• On December 28th, a cigar-shaped craft " glowing from the inside " was captured on video hovering just off of a cliff over a valley near the Sky Harbor Airport in Phoenix, Arizona. The UFO then hurtles through the Phoenix sky, shifting slightly in the air, revealing its bizarre shape. "It's been up there since we've been up here, I don't know what the hell it is," the camera man says. "It's not a plane." (see 13:48 minute video below)
A cigar-shaped UFO has been capturing hovering over an Arizona airport in the final sighting of 2019.
Throughout 2019, scores of tic-tac-shaped UFOs have been captured lurking in the skies, leaving many pondering what they are.
A former US intelligence officer told Daily Star Online many sightings have been documented near disaster-struck locations, "connecting" them to mega earthquakes.
Only months ago, a cigar-shaped craft " glowing from the inside " was captured hurtling through the Las Vegas sky.
And the most recent footage has fuelled the ever burning fire of conspiracy.
The clip, which was uploaded by YouTube conspiracist Disclose Screen The Grimreefar, has been viewed by more than 1,000 people in only a couple of days.
In the clip, filmed off a cliff on December 28 above Phoenix Sky Harbor Airport, Arizona, US, a bizarre black object appears to hover over a valley.
The clip, which lasts for almost 14 minutes, captured the object seemingly shifting slightly in the air, revealing its bizarre shape.
13:48 minute video of UFO hovering over Phoenix airport ('Disclose Screen The Grimreefar' YouTube)
FAIR USE NOTICE: This page contains copyrighted material the use of which has not been specifically authorized by the copyright owner. ExoNews.org distributes this material for the purpose of news reporting, educational research, comment and criticism, constituting Fair Use under 17 U.S.C § 107. Please contact the Editor at ExoNews with any copyright issue.
Phoenix Arizona, Sky Harbor Airport
---
ExoNews Editor
Duke Brickhouse is a former trial lawyer and entertainment attorney who has refocused his life's work to exposing the truth of our subjugated planet and to help raise humanity's collective consciousness at this crucial moment in our planet's history, in order to break out of the dark and negative false reality that is preventing the natural development of our species, to put our planet on a path of love, light and harmony in preparation for our species' ascension to a fourth density, and to ultimately take our rightful place in the galactic community.
---