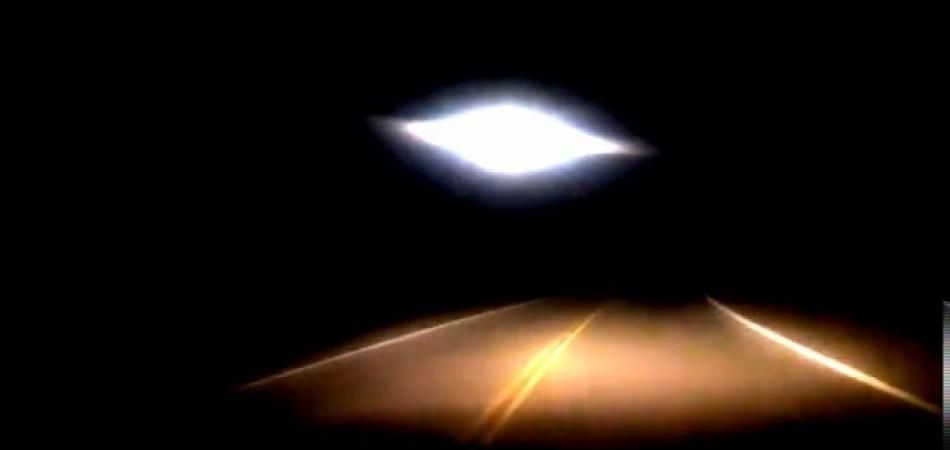 Argentinian Man Records Video of Bright UFO Hovering Low in Skies
by Nirmal Narayanan                     May 4, 2019                   (ibtimes.co.in)
• On April 17, 2019, Gustavo Fabian Zarate shot video of a bright, saucer-shaped UFO hovering over a highway in Argentina and posted it to his Facebook page. (see 1:56 minute video below)

• "I never thought I'd go through something like this. Look, it's a matter of belief or bust. The kids are speechless. Look at this thing, it's impressive," says Zarate in the video.

• The YouTube channel, 'UFOMania' reposted it, inciting numerous comments. UFO enthusiasts say that it is the military using extraterrestrial technology. Other claim that it shows that extraterrestrial beings are monitoring the earth, or even living on the earth. Skeptics say it is just a reflection of the windshield inside the car.
A creepy video shared to YouTube by popular conspiracy theory channel 'UFO Mania' is now the hottest debating point among conspiracy theorists and extraterrestrial enthusiasts. In the video, a bright UFO, probably disc-shaped can be seen hovering in low in the night sky.
Interestingly, the shape of the object seen in the video seems very familiar to the alien spaceships which we have seen in popular Hollywood sci-fi flicks.
The YouTube channel reveals that the video was apparently shot by a man named Gustavo Fabian Zarate on April 17, 2019, in Argentina. After seeing the bizarre structure in the skies, Gustavo soon took his smartphone and captured the incident.
"I never thought I'd go through something like this. Look, it's a matter of belief or bust. The kids are speechless. Look at this thing, it's impressive," said the man in the video.
After capturing the incident, Gustavo shared in on his Facebook page, where it racked up more than 3568 shares. However, the clip became popular after it was shared by UFO Mania on YouTube.
After watching the video, viewers of 'UFO Mania' too put forward various theories explaining this weird sky sighting. Most of the people who watched the video claimed that aliens from deep space have visited the earth to monitor our activities, and some of them even went a step ahead and claimed that extraterrestrials are living together with humans.
1:56 minute video of UFO hovering over Argentinian highway (UFOmania YouTube channel)
FAIR USE NOTICE: This page contains copyrighted material the use of which has not been specifically authorized by the copyright owner. ExoNews.org distributes this material for the purpose of news reporting, educational research, comment and criticism, constituting Fair Use under 17 U.S.C § 107. Please contact the Editor at ExoNews with any copyright issue.
Argentina, Gustavo Fabian Zarate, UFOmania
---
ExoNews Editor
Duke Brickhouse is a former trial lawyer and entertainment attorney who has refocused his life's work to exposing the truth of our subjugated planet and to help raise humanity's collective consciousness at this crucial moment in our planet's history, in order to break out of the dark and negative false reality that is preventing the natural development of our species, to put our planet on a path of love, light and harmony in preparation for our species' ascension to a fourth density, and to ultimately take our rightful place in the galactic community.
---