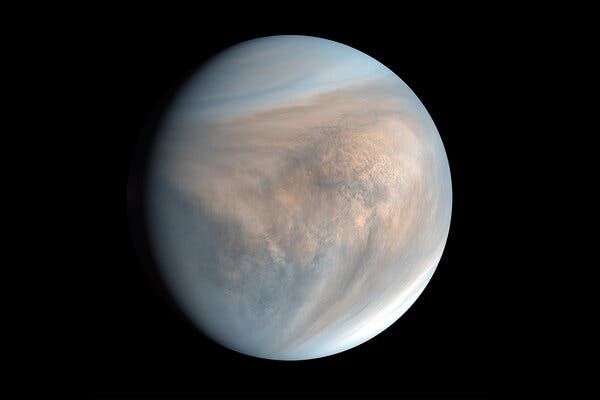 A Chemical on Venus Hints at Possible Life, Says Study
Article by Becky Ferreira                                 September 14, 2020                                (vice.com)
• Jane Greaves and her fellow astronomers at Cardiff University wanted to dial into the Atacama Telescope Array in Chile and the James Clerk Maxwell Telescope in Hawaii to look for 'biosignatures', or 'signs of life' on the planet Venus (pictured above). Lo and behold, they identified the spectral fingerprints of the gas, phosphine – a compound produced by some lifeforms on Earth – at about 20 parts-per-billion in the Venusian clouds, according to a study published September 14th in Nature Astronomy.

• Greaves cautioned that the discovery of phosphine is "not robust evidence for life" on Venus. While it may be produced by certain lifeforms on Earth, the research team notes that "phosphine could originate from unknown photochemistry or geochemistry, or, by analogy with biological production of phosphine on Earth, from the presence of life."
• Greaves and her colleagues simulated possible alternative sources of phosphine that might arise on Venus without any help from life, including photochemical reactions, lightning or meteorites. None of those scenarios can explain the presence of phosphine on Venus, which means a 'biotic origin' cannot be ruled out at this point.

• Venus is notoriously inhospitable to life on its surface. The environment in the Venusian skies, about 30 to 40 miles above its surface, is far friendlier and has been characterized as relatively Earth-like. But Venus is woefully unexplored compared to the Moon and Mars, leaving scientists with huge knowledge deficits about its intricate natural processes. "[T]o determine whether there is life in the clouds of Venus, substantial modelling and experimentation will be [needed]," the team concluded.
Scientists have detected tantalizing traces of a gas on Venus that may indicate the presence of alien life
in its clouds, according to a bombshell study published on Monday in Nature Astronomy.
This discovery of phosphine, a compound produced by some lifeforms on Earth, is "not robust evidence for life" on Venus, emphasized researchers led by Jane Greaves, an astronomer at Cardiff University.
However, there's currently no abiotic explanation for the presence of the gas, which means a biotic origin cannot be ruled out at this point.
The presence of phosphine remains "unexplained after exhaustive study" that yielded "no currently known abiotic production routes" in Venus's atmosphere, clouds, surface, or subsurface, Greaves and her colleagues said in the study.
"Phosphine could originate from unknown photochemistry or geochemistry, or, by analogy with biological production of phosphine on Earth, from the presence of life," the team added.
Venus is notoriously inhospitable to life on its surface, which is a hellscape of nightmarish proportions. But the environment in the Venusian skies, about 30 to 40 miles above its tortured landscape, is far friendlier, and has been characterized as relatively Earthlike.
FAIR USE NOTICE: This page contains copyrighted material the use of which has not been specifically authorized by the copyright owner. ExoNews.org distributes this material for the purpose of news reporting, educational research, comment and criticism, constituting Fair Use under 17 U.S.C § 107. Please contact the Editor at ExoNews with any copyright issue.
Atacama Telescope Array in Chile, biosignatures, Cardiff University, James Clerk Maxwell Telescope in Hawaii, Jane Greaves, phosphine, spectral fingerprints, Venus
---
ExoNews Editor
Duke Brickhouse is a former trial lawyer and entertainment attorney who has refocused his life's work to exposing the truth of our subjugated planet and to help raise humanity's collective consciousness at this crucial moment in our planet's history, in order to break out of the dark and negative false reality that is preventing the natural development of our species, to put our planet on a path of love, light and harmony in preparation for our species' ascension to a fourth density, and to ultimately take our rightful place in the galactic community.
---