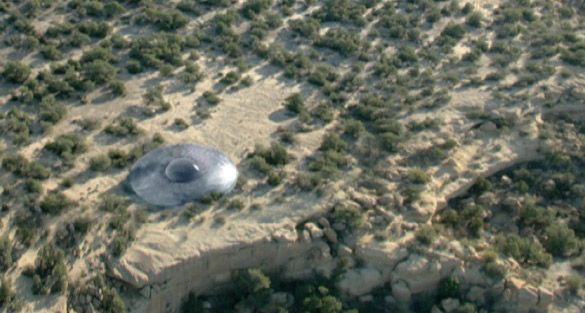 Listen to "E148 A Look Into the UFO Incident at Aztec, New Mexico" on Spreaker.
Article by O. C. Stonestreet                    October 20, 2019                   (statesville.com)
• Scott Ramsey, wife Suzanne Ramsey and Frank Thayer, Ph.D., a professor emeritus at New Mexico State University, are the authors of The Aztec UFO Incident (2015). (This book follows their 2011 book, The Aztec Incident: Recovery at Hart Canyon.) They have done so much research and uncovered so much information that they plan to publish a third book on Aztec as well.
• The Aztec UFO Incident occurred in March 1948 near Aztec, New Mexico, in the northwest corner of New Mexico in the "Four Corners"area. Suzanne Ramsey grew up near Aztec, and she and her husband have spent 32 years researching, interviewing, finding new leads, and collecting documentation on the UFO landing. The story includes pre-incident sightings, physical evidence, the scientists who worked on the craft, and the cover-up. Their conclusions are provocative. They write: "[P]eople in general are unwilling to consider the enormity of the implications the facts would force them to face."
• The Aztec UFO Incident, involved the discovery of an intact, 100 feet in diameter saucer-shaped craft atop a mesa in New Mexico, just eight months and some 370 miles from the better-known crash of a saucer at Roswell, New Mexico, in early July 1947. A number of local people were at the scene before the U.S. military arrived. The military scoured the craft, even going inside of it, before they ran off the locals warning them to keep quiet about what they had seen.
• Thayer and the Ramseys write: "The witnesses were all 100 percent certain that what they saw that day was not a conventional aircraft, nor was it a prototype Air Force design that strayed off course and crashed on the high plains of New Mexico. Based on clear witness memories, there is no doubt that they saw a landed flying saucer from origins unknown."
"A strange object drifting southwestward through the sky has scores of North and South Carolinians agog today. The object, on which descriptions varied, was first spotted at Fayetteville … at about 4:30 p.m. yesterday. … Except for its shape and the scores who witnessed it, the reports were reminiscent of the myriad tales of flying saucers current since the war …" — "Strange Object Floats Across the Carolinas," The Landmark, Dec. 29, 1949, Page 1.
Scott and Suzanne Ramsey live a little east of Mooresville, just inside Rowan County. I have written about them before. You may recall that Scott is the "Uncle Scott" in "Uncle Scott's Root Beer," a non-alcoholic beverage he and Suzanne formulated and began marketing a few years ago. Their beverage can be purchased at local Food Lion grocery stores and other venues.
When I met them at their home back in 2017, it was to talk about their root beer. As interesting and delicious as that subject was, while talking to them I found out that they were also the authors of a book about a UFO (read "flying saucer") incident that happened in March 1948 near the small town of Aztec, New Mexico. I did not mention the book in my column on the Ramseys that ran in the June 4, 2017, R&L, as I wanted to focus my readers' attention on their drink.
As far back as I can remember, I have been interested in aircraft and science, including science fiction. When I was 12, I began reading everything I could find about UFOs or flying saucers and even did a science-fair project in junior high on that subject; I won the third-place award. I have continued to be interested in the topic and have done several columns about local sightings of these mysterious objects in our skies.
Now that I have gotten around to reading their 317-page paperback book, I wanted to share their work with my readers. "The Aztec UFO Incident," as it is called, involved the (supposed?) discovery of a saucer-shaped craft, measuring approximately 100 feet in diameter, atop a mesa in New Mexico, just eight months and some 370 miles as the B-29 flies from the better-known (supposed?) crash of a saucer at Roswell, New Mexico, in early July 1947. The full title of the Ramseys' book is "The Aztec UFO Incident: The Case, Evidence and Elaborate Cover-Up of One of the Most Perplexing Crashes in History," which gives a straight, upfront summary of the book.
FAIR USE NOTICE: This page contains copyrighted material the use of which has not been specifically authorized by the copyright owner. ExoNews.org distributes this material for the purpose of news reporting, educational research, comment and criticism, constituting Fair Use under 17 U.S.C § 107. Please contact the Editor at ExoNews with any copyright issue.