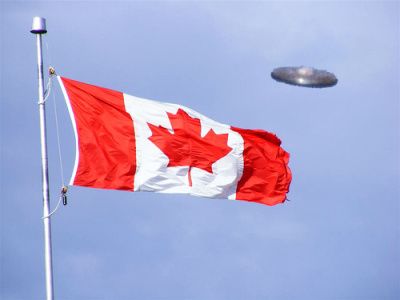 Article by Mike Drolet                      August 30, 2019                    (globalnews.ca)
• Canada has a rich history of unexplained UFO incidents, which fuels a substantial community of believers. The Canadian branch of MUFON gets reports of between 500-600 sightings per year, which is double what they had just 15 years ago. About six percent of these sightings cannot be explained.

• Victor Viggiani is a former elementary school teacher who wrote letters to the Canadian government requesting documents that detailed military contacts with UFOs. Says Viggiani, "I got one solid document out of Comox Air Force Base in September of 2001 where two CF-18's were scrambled to chase three unknown tracks of interest." According to the document labeled 'secret', a medical evacuation plane flying nearby also reported the three moving lights that were moving too fast for it to catch up. "[E]ventually the CF-18s catch up to these things," Viggiani says. "They make contact. It says right in the document. And then the one line reads: CF-18s contact at 35,000 feet. And then after that, it's redacted."

• In 1967, Stan Michalak was prospecting next to Falcon Lake, Manitoba, when he came into contact with a flying saucer which left him with an odd grid of burn marks on his chest. Also in 1967, over a dozen people in different locations witnessed what they believed to be a late-night plane crash in Shag Harbour, Nova Scotia. But there was no plane or crash debris to be found.

• In 2016 an Alberta man caught a small object zoom by at an incredible speed on camera. And in 2017 a man in Squamish British Columbia video recorded a green glowing orb flying into the forest.

• Viggiani ruminates, "[T]his stuff has been going on for centuries. The human family has had a history of things from the sky. Every single Indigenous population on the planet has stories about things or people from the sky and it goes back a long, long way."
Is the truth really out there?
If you believe Canadian UFO disclosure expert Victor Viggiani, stories of alien visitors have been right in front of us all along.
"The problem is this stuff has been going on for centuries," he says. "The human family has had a history of things from the sky. Every single Indigenous population on the planet has stories about things or people from the sky and it goes back a long, long way."
The former elementary school teacher began writing letters asking for documents from the Canadian government detailing military contacts with unknown objects.
"I got one solid document out of Comox Air Force Base in September of 2001 where two CF-18's were scrambled to chase three unknown tracks of interest," he says.
The documents, which are labelled secret, detail three unknown lights in the sky, Viggiani said. A medical evacuation plane flying nearby reported similar objects that were moving too fast for it to catch up.
"And then eventually the CF-18s catch up to these things," he says. "They make contact. It says right in the document. And then the one line reads, CF-18s contact at 35,000 feet, and then after that, it's redacted. Cute."
The sighting is similar to what U.S. navy pilots experienced in 2014 and 2015 when UFOs were captured on their aircraft cameras moving at supersonic speeds. Video of those incidents, which were never explained, was released by the Pentagon. If there is video from the Canadian incident, Viggiani says nobody is saying.
Canada has a rich history of unexplained incidents, which is fueling a substantial community of believers.
2:24 minute video of Canadian 'UFO experiencers' (Global News YouTube)
FAIR USE NOTICE: This page contains copyrighted material the use of which has not been specifically authorized by the copyright owner. ExoNews.org distributes this material for the purpose of news reporting, educational research, comment and criticism, constituting Fair Use under 17 U.S.C § 107. Please contact the Editor at ExoNews with any copyright issue.