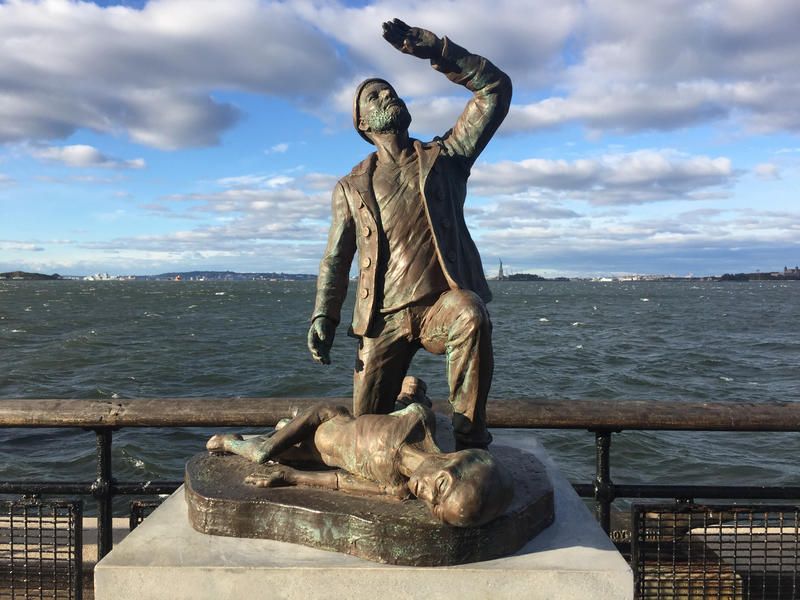 by Nicole Saraniero                October 23, 2018                   (untappedcities.com)
• On July 13, 1977, New York City experienced day one of a two-day city-wide black-out. Many neighborhoods saw a surge in crime and flaws in the city's infrastructure and emergency preparedness were brought to light. Patrolling the New York Harbor between Battery Park (or 'The Battery") in lower Manhattan Island and the Statute of Liberty on Liberty Island was the tugboat named 'Maria 120'.

• Suddenly, the crew of the Maria 120 saw a bright streak in the night sky and what appeared to be a private aircraft crashed into the harbor. The tug radioed the Coast Guard a distress signal and informed them that they were going to try to tow the crashed vessel to shore. But when the Coast Guard boats arrived to help there was no aircraft, and the tugboat Maria 120 and her six-man crew had vanished.

• A Staten Island-based sculptor, Joe Reginella, has created a statute and monument located on the water's edge at The Battery, with a plaque describing how the tug boat and crew had vanished in 1977, never to be heard from again. The statute depicts a longshoreman crewman gazing up at what can be presumed to be an alien spacecraft as an extraterrestrial figure lies at his feet. The statute/monument will be on display on weekends through November.

• Reginella has also produced a documentary that follows the son of one of the abducted crewmen as he seeks to uncover the truth of his father's disappearance. (see the 2:19-minute trailer below)
Standing at the edge of the water in The Battery, with the Statue of Liberty just behind it, is a monument dedicated to the crew of the tugboat Maria 120. According to the plaque on the pedestal of the statue, the six man crew and vessel mysteriously vanished from New York Harbor in July of 1977. Perhaps this story doesn't ring a bell because that summer is better known in New York City for the two-day city-wide blackout or the terrifying crimes of serial killer David Berkowitz. Or perhaps, it's because it never happened. This fun and farcical memorial, which depicts a longshoreman crewman gazing up at what can be presumed to be an alien spacecraft as an extraterrestrial figure lays at his feet, is the latest public art piece from Staten Island based sculptor Joe Reginella. Reginella's previous installations include the Brooklyn Bridge Elephant Stampede monument and a monument to an octopus attack on a ferry in Staten Island harbor.
As in his previous work, for the NYC Tugboat Abduction monument Reginella draws from true New York City history to add credibility to the story. The blackout of July 13th was a very real occurrence that happened during the summer of 1977. Many neighborhoods saw a surge in crime and flaws in the city's infrastructure and emergency preparedness were brought to light. Reginella frames his fictional story in the context of this real life event. In the story of the Maria 120, crewmen were patrolling the waters between Liberty Island and Battery Park when in the pitch blackness, a bright streak of light shot through the night sky and what appeared to be a private aircraft crashed into the harbor. The crew immediately radioed the Coast Guard a distress signal and informed them that they were going to try to tow the crashed vessel to shore. However, when the Coast Guard boats arrived to help, there was no aircraft, and the tugboat Maria 120, as well as her crew, had vanished.
2:19 minute trailer for NTC UFO Tugboat Abduction documentary
FAIR USE NOTICE: This page contains copyrighted material the use of which has not been specifically authorized by the copyright owner. ExoNews.org distributes this material for the purpose of news reporting, educational research, comment and criticism, constituting Fair Use under 17 U.S.C § 107. Please contact the Editor at ExoNews with any copyright issue.