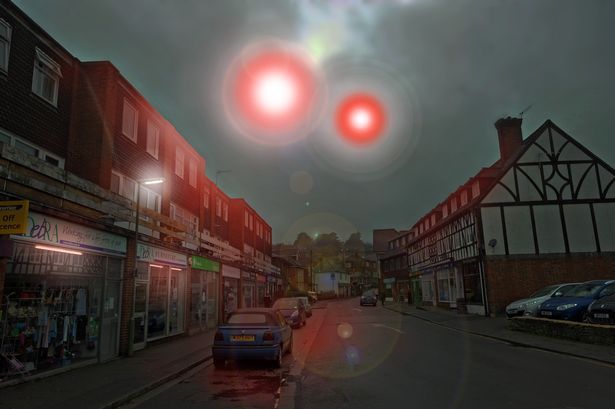 Listen to "E54 8-5-19 Aliens Are Real and They Are Here" on Spreaker.
Article by Marc Betts                  July 25, 2019                    (edp24.co.uk)
• Tony Buckingham of Littleport Cambridgeshire England, has spent forty years researching UFO activity in the East Anglia, and has created a community of UFO enthusiasts who claim to have had out of this world experiences.

• In the winter of 1974, at age 20, Buckingham was alone at his family's house watching tv when he went outside to add some coal to the boiler. Suddenly everything became muffled and quiet. Says Buckingham, "I felt static electricity all over me. I stood up to clear my ears but as I stood up there was this object level with my eyes. It was massive. It wasn't a typical flying saucer but a cone shape. It seemed to be there for ages but it was probably a few seconds." "I had this over-riding sense of well-being, a calming, almost loving sensation." Before Buckingham could grab his camera, the object shot straight up in the air and disappeared.

• Buckingham says that as a young man, he was into "motorcycles, rock-n-roll and girls". But after this UFO sighting, he began searching for what few books on UFOs that he could find. Shortly thereafter, Erich von Daniken's book, Chariots of the Gods, was released. This changed Buckingham's thought patterns for the rest of his life. He found other books on UFOs and searched for UFO support groups. Back then, UFO groups could be found in nearly every town. Today they have dwindled to about six groups in the entire country.

• In 2016, Buckingham created a Facebook discussion group, and began holding monthly meetings across East Anglia, presenting documentary films and guest speakers. He also organizes field trips to places of interest.

• Earlier this year, two women from Downham Market, Norfolk shared an encounter. Said Buckingham: "One of the girls got up in the night to get a glass of water and looking out of the window there were three lights. They came [inside] and went around the room making her feel strange. She called for her friend when a white light came on searching the room." Then, "The lights went back out of the window and flew off. They turned the lights on and noticed an hour of time had gone. One of them had blood on her feet but there were no markings and most of the electrical items in the house stopped working."

• "I am fanatical about this," adds Buckingham. "I spend all day everyday researching. When you dig really deep and get to the real stuff you see declassified documents and what thousands of high ranking people have spoken about all telling you the same thing. Aliens are real and they are here. I strongly believe that there are many groups of aliens here already."
For centuries humans have debated whether alien lifeforms exist. One man has been sure that they do for more than 40 years, even creating a community of UFO enthusiasts in East Anglia.
Reporter MARC BETTS went to meet Tony Buckingham.
UFOs and the existence of aliens is a topic that has been debated by some of the highest minds in the world.
And while many remain sceptical over the prospect of Earth being visited by extraterrestrial life, Tony Buckingham, from Littleport, near the Norfolk/Cambridgeshire border, has spent the last 40 years researching UFO activity in the East. He has even created a community of believers who claim to have had out of this world experiences.
The first experience of extraterrestrial life
Mr Buckingham, a retired business owner, said: "My first conscious experience was in 1974. It was the winter and I lived about three miles away on the other side of the village.
"I had been instructed to look after the house as my mother, father and brother and sister had gone out. I was watching TV and forgot to top up the boiler, suddenly I remembered and ran out to the garden. I was bending down to get some coal when everything went quiet, like when you are landing in an aircraft, my hearing became muffled.
"I felt static electricity all over me. I stood up to clear my ears but as I stood up there was this object level with my eyes. It was massive.
"It wasn't a typical flying saucer but a cone shape. It seemed to be there for ages but it was probably a few seconds.
"I had this over-riding sense of well-being, a calming, almost loving sensation. I thought about getting my camera but before I had made the decision this thing shot straight up in the air at a speed that aircraft could not do then."
FAIR USE NOTICE: This page contains copyrighted material the use of which has not been specifically authorized by the copyright owner. ExoNews.org distributes this material for the purpose of news reporting, educational research, comment and criticism, constituting Fair Use under 17 U.S.C § 107. Please contact the Editor at ExoNews with any copyright issue.