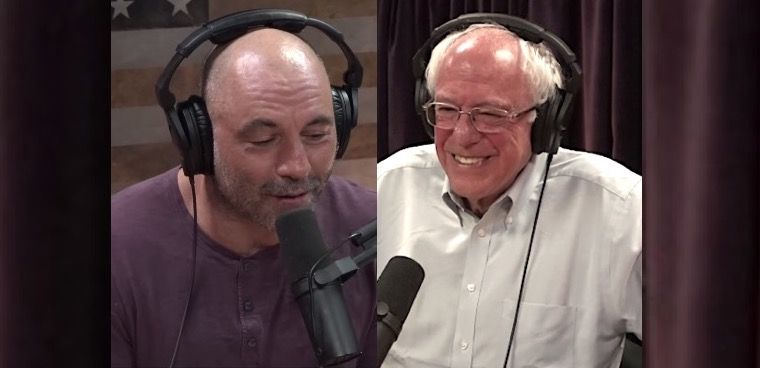 Article by Will Gendron                      August 07, 2019                      (thefader.com)
• On August 6th, Democratic Presidential candidate Bernie Sanders (D-Vermont) was a guest on the Joe Rogan Experience podcast. Sanders took the opportunity to clarify his views on a number of major issues, including climate change, student debt, and the misconceptions surrounding the minimum wage.

• At the very end of the interview, Rogan asked Sanders, "If you got into the office and you found out something about aliens, you found out something about UFOs, would you let us know?" Sanders responded that if he, as President, learned anything about extraterrestrial presence, he would announce it on the Joe Rogan Experience.  (see video clip below)
Joe Rogan asks Sanders during the final 41 seconds of the podcast. Sanders jovially makes a commitment to announcing anything he may find out about extraterrestrial activity on the Joe Rogan Experience itself. The reality of this situation occurring wouldn't be too shocking at this point, considering the simulation has been cracking for a while now.
When Rogan isn't letting people like Ben Shapiro and Jordan Peterson talk for actual hours without being challenged on their racist and misogynistic ideas, his platform has been more effective than the current Democratic debate format for Sanders, who was able to clarify his views on a number of major issues.
38 second clip from the Joe Rogan Experience with Bernie Sanders
discussing disclosure of the extraterrestrial presence (JRE Clips YouTube)
FAIR USE NOTICE: This page contains copyrighted material the use of which has not been specifically authorized by the copyright owner. ExoNews.org distributes this material for the purpose of news reporting, educational research, comment and criticism, constituting Fair Use under 17 U.S.C § 107. Please contact the Editor at ExoNews with any copyright issue.