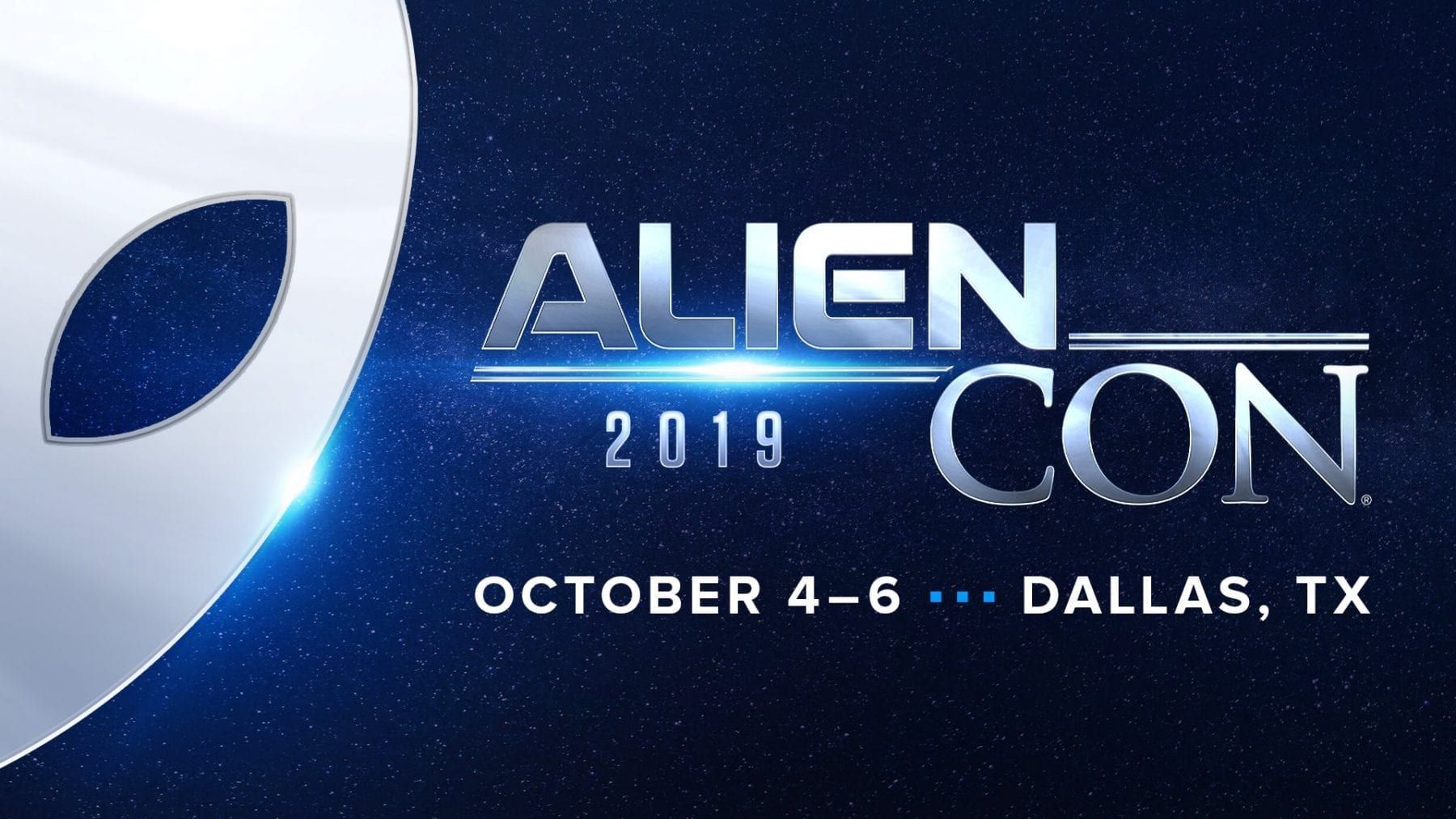 Listen to "e155 Dallas' AlienCon an Out-Of-This-World Experience for Many Who Believe" on Spreaker.
Article by Brian Bethel                       October 24, 2019                      (reporternews.com)
• On October 4 – 6, AlienCon 2019 was held in Dallas, Texas, and it was a sell-out. The curious, the true believers and the downright fanatics all gathered at the Kay Bailey Hutchison Convention Center to see their favorite UFO researchers and media personalities. Why was AlienCon such a success? Attendee Vanessa Pascher offered, "I think we've all had certain experiences, things that just make us wonder." Have extraterrestrials influenced our past, and what might they mean to our future?
• AlienCon topics included "History of Quantum Consciousness"; "Megalithomania Around The World: Impossible Engineering and Secret Traditions of the Ancients"; "Secrets of a Government UFO Investigator" and "Do 'Spacetime Portals' Exist on Earth?" "I like the idea of just opening my mind to possibilities," said attendee Erica Beach. "I want to expand mentally. I want to be challenged." "(The speakers) aren't saying this is one hundred percent fact. But at the same time, this is something you can think about and just make your own mind up."
• History Channel's hit television series 'Ancient Aliens' (starting its 14th season) was well-represented by co-executive producer Giorgio Tsoukalos, David H. Childress, Nick Pope, Travis Taylor and others who claim that human history has indeed been influenced by contact with extraterrestrial life. Aliens might even be our progenitors, tampering with native animal DNA or outright engineering us for reasons baneful or benevolent, depending on one's point of view. The show's alternative interpretation of science and history draws some ire from detractors, such as the Smithsonian, Forbes, the New York Times. As Tsoukalos told a crowded convention hall in a panel discussion, many of the things that our ancestors thought were magic of the gods, are simply an advanced extraterrestrial technology.
• Robert Zamora drove eight hours from Brownsville to attend the conference with his wife, son and daughter. Zamora's love of UFOs began when a boyhood friend would lend him UFO magazines. "Mathematically speaking, there's a big possibility that we're not alone in this universe," said Zamora. "[T]here has to be life out there. It just might not be what we think of life in normal forms like ours."
• Bill Genzer and his wife, Cat, won the convention's costume contest by portraying a wild-haired Giorgio Tsoukalos and his extraterrestrial "girlfriend." They beat out memory-erasing Men in Black, proton pack-wielding Ghostbusters, ancient Egyptians and a whole Star Wars cantina of extraterrestrial life. Said Cat Genzer, "Mainstream archaeology has said civilization is only 3,000 years old, but what about all of these things that (indicate) that it's far, far older? … I think it's time that we started kind of rewriting the history of man."
• Kiko Salazar and his wife, Christina, came all the way from Brazil, Indiana to attend, and paid $1,300 each for a "Galactic Pass," which provided meet-and-greets with celebrity guests and a special set of other perks and experiences, including a private panel with headlining guests. "Ten years ago, you wouldn't have even had a convention like this," said Salazar. "Being… with like-minded people, it's just awesome. [I]t's something we'll (continue to) do." Salazar says that he once saw a black diamond-shaped UFO with "big, white lights" silently crossing the Arizona sky in 2001.
• There has been plenty of interest in "unidentified aerial phenomena," or UAPs, in the mainstream of late, with the US Navy videos encountering strange objects and the existence of the U.S. government investigation of UFOs under the Advanced Aerospace Threat Identification Program. That program's benefactor, Robert Bigelow told "60 Minutes" in May 2017 that he was absolutely convinced" aliens exist – and that they have come here. These events were frequently mentioned in presentations throughout the weekend.
• Perhaps the most important word to those in current UFO culture is… disclosure. They have the fervent hope that the U.S government and others finally will admit we live in a world in which aliens exist, that we will learn the true nature of our relationship to them, and that the resulting flood of new technologies will help us accomplish tasks from cleaning the oceans to uplifting humanity to its rightful place among the stars. Executive director of Paradigm Research Group, Stephen Bassett told convention-goers that he was expecting announcements to come from major government entities in a relatively few months. "The post-disclosure world is ahead of us," said Bassett, "… three, four, five, six, seven years from now."
• Pat Martin of Houston said she decided at age 73 it was time to take a chance, go to a convention, and absorb as much as she could. Martin believes the government "knows something." She said the entire experience had been well worth it, opening her mind to new possibilities. "There probably are aliens here doing something," Martin said with a sly smile. "They may be at this convention, who knows?"
Brilee Elliott believes in aliens.
"We have this whole universe," 10-year-old Brilee, of Ohio, observed at AlienCon in Dallas earlier in October. "We just can't be the only ones."
In that opinion, she is not alone.
Elliott, her aunt Erica Beach, uncle Derek Watson and hundreds of others crowded into Kay Bailey Hutchison Convention Center for a massive gathering of the curious, true believers and downright fanatics.
AlienCon is 'More than just cool'
Elliott has given the problem of aliens much consideration.
After coming to realize that aliens were "more than just cool," she started "thinking about (them) when I was supposed to be in bed."
She now openly ponders — at her relatively tender age — time-tested enigmas, such as how the ancient Egyptian constructed the pyramids.
"How could do the Egyptians do that without any help?" Elliott asked, echoing an argument some have made for decades on end.
Cue the familiar image of Ancient Aliens' co-executive producer Giorgio Tsoukalos, whose tremendous mane of hair and unwavering assertion of "Aliens" has become an internet image meme with a seemingly limitless lifespan.
That level of recognition has turned Tsoukalos, along with other "Ancient Aliens" contributors such as "real-life Indiana Jones" David H. Childress, former U.K. Ministry of Defense UFO investigator Nick Pope, engineer/physicist Travis Taylor and a slew of others into virtual rock stars in the outré world of paranormal TV.
Such star-power ensured that AlienCon was a sell-out on an early fall Saturday, and remained crowded through the weekend.
Like many attending, Vanessa Pascher, waiting for a panel by well-known UFO researcher Stephen Bassett to start, said that the show is a "guilty pleasure."


"But in a sense, I think we've all had certain experiences, things that just make us wonder," she said, adding that she's had her own share of anomalous experiences that have made her look at the sky and wonder.
Instead, it's to what extent could such beings have influenced us in the past, and what might they mean to our future.
Such a stance is perhaps natural given the event's tie-in to the History Channel's "Ancient Aliens" program, which carries a thesis that human history has been in ways covert and gross influenced by contact with extraterrestrial life.
At the extreme end, the program entertains the notion that aliens might even be our progenitors, tampering with native animal DNA or outright engineering us for reasons baneful or benevolent, depending on one's pet theory.
The show attempts to present a sort of puzzle-piece narrative.
Under that umbrella, pretty much anything is fair game, from mysterious Hudson Valley-area structures that imply ancient druids may have traveled to New England, to speculation that the octopus may have come to Earth from the stars, to the implications of liquid water found inside a meteorite, to in-depth examinations of how an alien ship might travel among the stars.
FAIR USE NOTICE: This page contains copyrighted material the use of which has not been specifically authorized by the copyright owner. ExoNews.org distributes this material for the purpose of news reporting, educational research, comment and criticism, constituting Fair Use under 17 U.S.C § 107. Please contact the Editor at ExoNews with any copyright issue.