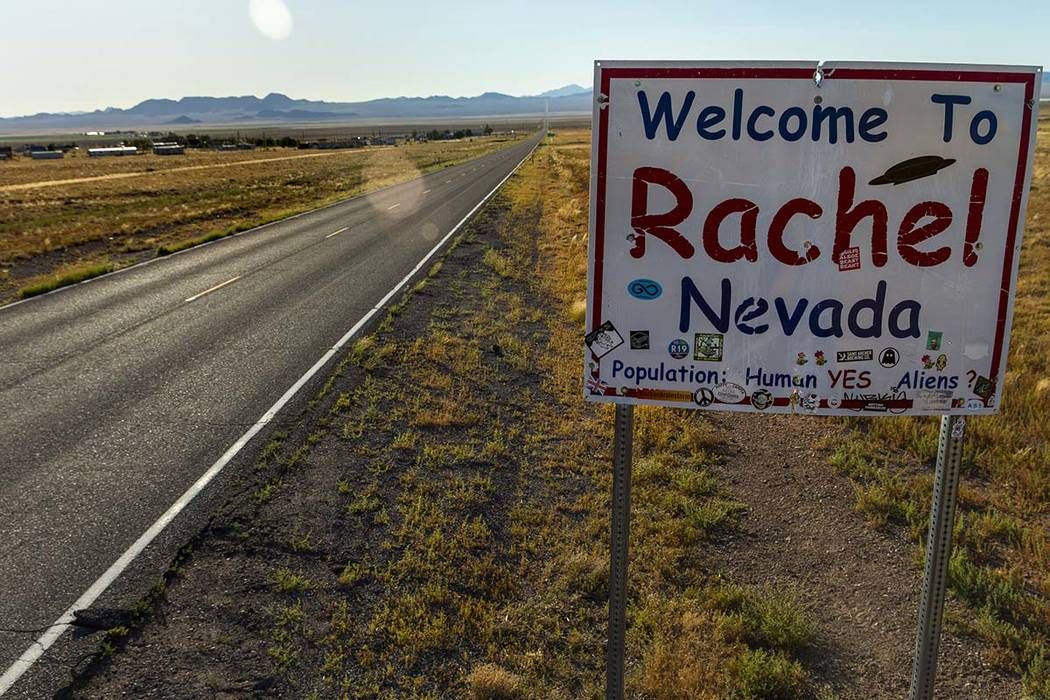 Listen to "E73 8-21-19 He Got 2 Million People to Say They'd Storm Area 51. Now He's Planning an Alien Festival." on Spreaker.
Article by Hannah Knowles                  August 12, 2019                      (washingtonpost.com)
• Mathew Roberts sounded a call to "Storm Area 51" in Nevada, as a joke. Then 2 million people signed on to the Facebook event, the Air Force warned people not to raid a military base, and things got out of hand. So now, he and Arkansas college student Brock Daily are turning the entire September 20th event into a three-day festival called "Alien Stock".

• Alien Stock is expected to attract anywhere from 5,000 to 30,000 people to the small town of Rachel 65 miles east of Area 51, and a couple of hours drive north from Las Vegas on the Extraterrestrial Highway. The festival promises surprise performances, art installations and camping. It is also expected to overwhelm a tiny town already overrun by media attention.

• Connie West, co-owner of the 'Little A'Le'Inn' in Rachel says, "Of course it's scary… But I'm excited… How can I not be?" Rachel has long embraced the rumors of hidden aliens and their spacecraft. An anonymous business owner in Rachel wasn't as excited. "We live in a quiet little place because we like it quiet," she said. A notice on the town's website warns festival-goers: "There is no gas and no store. … We expect cell service and the Internet to be offline… Credit card [processing] will not work, so bring enough cash."

• Daily and Roberts are working to make sure that people who show up will have access to basics such as water, bathrooms and space. Daily notes that Alien Stock is not looking to make a profit. It isn't charging entrance fees, although attendees will have to rent a parking spot or campsite. They are taking donations however.

• Alien Stock bills itself as "a meeting place for all the believers" — or at least those intrigued by the possibility of extraterrestrial life. Most details on the entertainment have yet to be released. Roberts told a California news station that he wants the event to be "positive, enjoyable, safe and profitable for the rural area of Nevada.
The call to raid an Air Force base for aliens was a joke, drawing on decades of conspiracy theories.
Then 2 million people signed on to the Facebook event.
Authorities warned against any attempt to enter the base. And now, unless plans go awry, hordes of strangers will, indeed, gather in the Nevada desert next month near a secretive government facility called Area 51.


The man who created the Internet sensation, Storm Area 51 — They Can't Stop All of Us, is planning a real-life festival called Alien Stock near the remote base within the Nevada Test and Training Range, a couple hours' drive northwest of Las Vegas. The three-day festival set to start Sept. 20, a celebration of aliens that promises surprise performances, art installations and camping, is expected to pack a tiny town already overrun by media attention and a spike in extraterrestrial enthusiasm.
With just over a month left to plan and some residents reportedly less than thrilled about the attention, the organizers are focused on the logistics of bringing thousands to a town of 54 people, as counted in the last Census. They're fending off suggestions they could be planning the next Fyre Festival, the 2017 event that fell apart spectacularly and led to fraud charges.
And the Internet frenzy over Storm Area 51 has thrust Rachel, Nev., into a new limelight and tested residents' patience.
"Of course it's scary," said Connie West, whose alien-themed inn declares on its website that it is "BOOKED SOLID FOR ALIEN-STOCK." "But I'm excited," she told The Washington Post. "How can I not be?"
FAIR USE NOTICE: This page contains copyrighted material the use of which has not been specifically authorized by the copyright owner. ExoNews.org distributes this material for the purpose of news reporting, educational research, comment and criticism, constituting Fair Use under 17 U.S.C § 107. Please contact the Editor at ExoNews with any copyright issue.