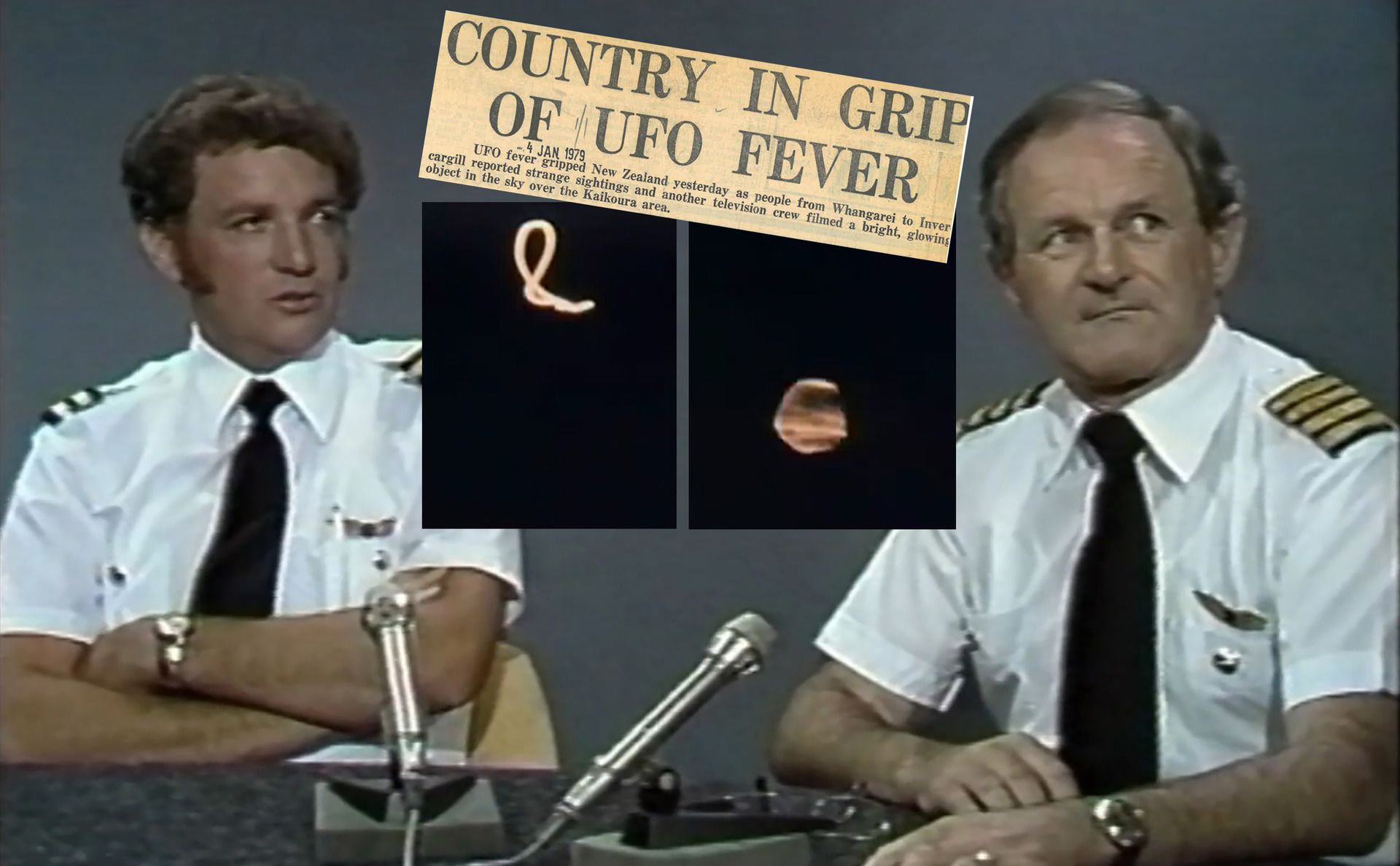 Crew Remember the Day UFO Was Spotted Over Kaikōura, New Zealand
December 15, 2018                      (nzherald.co.nz)
• On New Year's Eve 1978, two pilots (pictured above) and four passengers on a plane flying off the New Zealand's South Island spotted strange lights in the sky. It was blamed on Venus, or squid boats, or a radar returns from a field of cabbages. The witnesses were shamed and accused of a hoax. It even broke up a marriage.

• On the day of the incident, shortly after takeoff, the pilots noticed strange lights appearing and disappearing over the Kaikōura coastline about 20 miles west. One of the passenger witnesses, David Crockett, says, "Captain Bill Startup shouted to us that we should go to the flight deck immediately as something was happening again." As they happened to be a television news team video crew, they filmed a rapidly moving, bright white light.

• The plane landed at Christchurch and the pilots asked the news team if they wanted to go back through the area they had traversed. Almost all of them said yea and reboarded. The plane took off at 2.16 am. About three minutes after takeoff, the group saw a bright, round light to the right. The airplane radar showed a target in the same direction about 18 nautical miles.
• They filmed the pulsating, hypnotic light for several minutes as it appeared to travel along with the plane, just outside of the windows. When they turned toward it, the light seemed to react by moving away from the airplane.
• After landing at Woodbourne Airport at about 3am, the group stayed at the two pilots homes in Blenheim. The news reporter among them interviewed the pilots before flying to Melbourne to give the recordings to his boss. The footage featured on prime time news that night and a longer documentary piece screened later.

• The news went around the world and was featured by major news media, including by the Herald and by CBS anchorman Walter Cronkite. The skeptical reaction was immediate. Explanations included that it was Venus, drug runners, light reflected from cabbages or squid boats.

• The New Zealand government ordered an inquiry by the NZ Air Force, which concluded that the sightings could be explained by natural but unusual phenomena.
• Bruce Maccabee, an optical physicist who specialized in laser technology for the US Navy, was flown to New Zealand and Melbourne to interview witnesses. He concluded the event involved unknown objects or phenomena fitting the definition of UFOs. "One would think that the conclusion that several of the sightings involved unidentified objects flying with impunity in the New Zealand air space would have been sufficient to start an even deeper study of the UFOs," said Maccabee. "But it wasn't. The sightings were relegated to the dustbin of history."

• [Editor's Note]   In 1978, the Deep State's policy of suppression of information and ridicule was in full swing to keep the existence of UFOs and the extraterrestrial presence a highly guarded secret.
It was New Year's Day, 1979, when the world awoke to the news that strange lights had been spotted by six people on a plane off the New Zealand's South Island.
Was it a UFO? No, said the skeptics. It was Venus, it was squid boats, it was radar returns from a field of cabbages.
But 40 years later, the two pilots and four passengers are adamant it was none of the above and are frustrated at being unable to find answers.
The Herald on Sunday tracked down each member of the group around the world. One is a mango farmer in Hawaii, while another is an 80-year-old newlywed after her royal wedding-themed ceremony at her retirement village the night before Meghan and Harry's big day.
The case bought instant fame – but no fortune – for some, before bringing shame and anger when they were accused of hoaxing the sighting. It broke up a marriage.
At the end of 1978, Australasia was in the grip of UFO fever. In October, 20-year-old Frederick Valentich disappeared while piloting a small Cessna 182 aircraft over Bass Strait while heading to King Island in Tasmania. Described as a "flying saucer enthusiast", Valentich informed Melbourne air traffic control he was being accompanied by an unknown aircraft.
Two months later across the Tasman, on December 21, Safe Air pilots Vern Powell and Ian Pirie spotted strange lights while flying from Blenheim to Christchurch.
A producer for Melbourne's Channel 0 (now Channel 10), Leonard Lee heard the news and tracked down reporter Quentin Fogarty, who worked for the channel but was on holiday with his wife and children in Christchurch, staying at TV One journalist Dennis Grant's home.
Freelance Wellington cameraman David Crockett was also hired, along with his wife Ngaire, who operated the audio tape recorder.
The group were invited to jump aboard Safe Air's Blenheim-based Argosy plane, named Merchant Enterprise, late on December 30, which pilots Bill Startup and Bob Guard were taking on a newspaper run between Wellington and Christchurch.
Shortly after takeoff, the pilots noticed strange lights appearing and disappearing over the Kaikōura coastline about 20 miles west.
"While we were filming a standup to camera, Captain Bill Startup shouted to us that we should go to the flight deck immediately as something was happening again," says David Crockett.
He managed to film a rapidly moving, bright white light.
"With the conversation coming through my headphones from the pilots and radar from Wellington, it all started to get very scary," says Ngaire Crockett.
FAIR USE NOTICE: This page contains copyrighted material the use of which has not been specifically authorized by the copyright owner. ExoNews.org distributes this material for the purpose of news reporting, educational research, comment and criticism, constituting Fair Use under 17 U.S.C § 107. Please contact the Editor at ExoNews with any copyright issue.
---
ExoNews Editor
Duke Brickhouse is a former trial lawyer and entertainment attorney who has refocused his life's work to exposing the truth of our subjugated planet and to help raise humanity's collective consciousness at this crucial moment in our planet's history, in order to break out of the dark and negative false reality that is preventing the natural development of our species, to put our planet on a path of love, light and harmony in preparation for our species' ascension to a fourth density, and to ultimately take our rightful place in the galactic community.
---