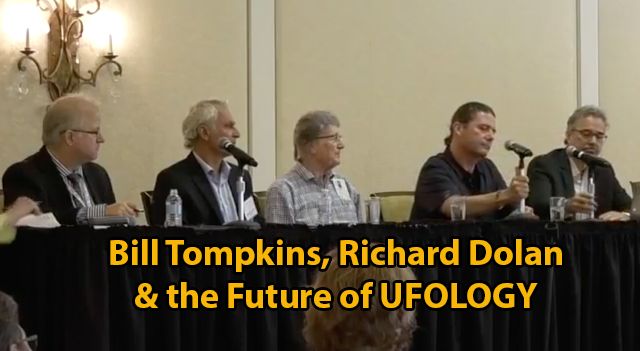 By Rich Scheck
The sudden death of Bill Tompkins on the day of the total solar eclipse provides a
fitting moment to evaluate the current state of UFOLOGY.
http://exopolitics.org/william-tompkins-transitions-on-day-of-full-lunar-eclipse/
The on-going controversy surrounding the bona fides of those like Corey Goode
and Andrew Basiago claiming to be part of the Secret Space Program's (SSP) 20 and
back Operation Pegasus is a major concern to many in the Disclosure Movement.
Richard Dolan, Bill Ryan and others have essentially demanded more concrete evidence 
in support of such claims of participation before they can sign off on their legitimacy and
relevance to UFOLOGY.
Michael Salla has attempted to address the Dolan group's concerns and has been a
strong voice championing them through his many articles covering various aspects of 
Goode's account.
His confidence in their legitimacy has been fundamentally bolstered by the work of Bill
Tompkins who spent the last 2 years of his life sharing his extraordinary experiences
during a long life that appears to include a major role with the Navy's SSP.
As the well respected historian of the SSP and the inventor of the term Breakaway
C
ivilization, Dolan's low comfort level with the Goode/Salla/Tompkins position has
had an impact on the Disclosure community that remains unresolved.
His dissatisfaction with Tompkins book which he refused to publish because he thought
it was poorly written does not refute what appears to be clear evidence that the former
Navy ship designer was indeed part of the SSP.
Bill's extensive interviews on the Jeff Rense show are fully archived and available for
evaluation by everyone interested in this topic.  Having listened to him many times on
Rense, I was convinced he was speaking honestly about his role.  The combination of
humility, humor, intelligence and thorough knowledge of the material lent considerable
strength to his claims.
Now Bill has moved on with his dramatic transition on the day of The Great American
Eclipse.  Whether that is just some cosmic coincidence and/or his way of confirming
he was the real deal remains to be seen.
It would behoove those in leadership roles like Salla and Dolan as well as Stephen
Greer, Paola Harris, Steve Bassett, Grant Cameron and others to bring some degree
of closure to this issue in the spirit of enhancing the future of UFOLOGY and the
Disclosure Movement.
What that looks like and how it is achieved remains to be seen.  But resolve it they
must at the risk of undermining an important discussion in modern life.  It would also
be a fitting testament to the memory of Tompkins, the recently departed Jim Marrs
and the countless truth seekers among us who have labored long and hard in the
UFOLOGY arena.