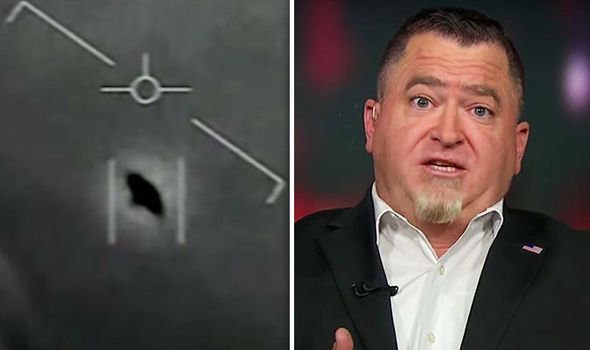 In the article "LUIS ELIZONDO: MUFON's Exclusive Interview" that came out in the May 2018 issue of the MUFON Journal, I found important points to think about and which relate with AATIP (The DOD's Advanced Aerospace Threat Identification Program) and with TTSA (To the Stars Academy of Arts & Sciences). The article authors were Chase Kloetzke, Kerry McClure and Roger Marsh.
Elizondo's POINT 1) It becomes unclear whether TTSA will be allowed to reveal details of the metamaterial allegedly obtained from a UAP. After explaining that it is a mistake to call it a "metal alloy" Chase Kloetzke and MUFON colleagues-authors write:
"Lue (Luis Elizondo) was unable to answer if the material was used to develop anything, but added, "One would assume that we want to analyze and try to exploit as much as possible any type of new material that we find. So, we're most likely not going to hear too much more of that, much like all of a sudden we have Velcro or Teflon."
My COMMENT: To avoid dangerous technology from reaching the whole world I think that at least a few highly credible scientists should sign a non-disclosure agreement and verify the unique, non-earthly characteristics of the metamaterial(s) and publicly testify under oath to Congress that what they've seen and scientifically verified is unlikely to have been manufactured by any known country. This would give more credence to the confirmation/disclosures thus far given. It's been 73 years+ of skeptics and scientists asking for a "physical evidence" related to genuine UFOs and now that it has been announced it should not be considered "evidence given" based only on the credibility and authority of the TTSA members. Civilians and various institutions should assist TTSA in research. This is a great opportunity for the scientific community to rise up to the challenge. The more social forces care about the subject the more information will be released and processed in a healthy manner.
Elizondo's POINT 2) MUFON researcher Chase Kloetzke asked Mr. Elizondo if they learned anything that keeps him up at night. The reply was "I think it's not necessarily negative. I think we are in the precipice of potentially understanding a new paradigm. You know, mankind, our evolution has been marked by moments of clarity….I believe we are on the precipice of understanding a little bit more of our place in the cosmic neighborhood and I think that should be exciting and thrilling. We must remain cautious and diligent, but I'm not sure we necessarily need to be afraid. Concerned, sure. I'll buy that. Afraid, I don't think so."
My COMMENT: I'm glad he has not seen signs of danger in the UAP, intelligent phenomenon (besides its use of unauthorized airspace as modern nation-states legally think about "their" airspace). This coincides with about 90%+ of the survey responses by experiencers in the F.R.E.E. survey. However, IF other reports (based on more specific testimony) of a space fleet needed to defend Earth against intruders (with the assistance of other benevolent civilizations) is true, the issue would be more complex than expected.
Elizondo's POINT 3) MUFON QUESTION: Is there a space force? ANSWER: "Lue smartly answered, "Next question. Can I buy a vowel?"
My COMMENT: What does this mean? Does it mean that, yes, there is a secret space force that he is aware about but cannot mention? If so, is it elementary-initial level or super advanced as some insiders claim? How is TTSA going to sort out this issue in the future? How far does the "rabbit hole" go?
Elizondo's POINT 4) MUFON asked: "MUFON has had many cases with Government intervention, reports and even investigations that included military jets or helicopters chasing UFOs….Is there any desire for To the Stars Academy to look at some of this evidence?" ANSWER: "To the Stars Academy of Arts and Science intends to look at…all of these incidents." Lue answered, "No matter how serious or how ridiculous, we want the full spectrum. We want chips to fall where they fall and let the data speak for itself while we develop and fully implement this community of interest. It is going to be every bit as capable as Google or anything else.
This is the first time we can analyze data nearly in real time, in a manner that allows us to determine very quickly: is it something legitimate or is it a hoax?"
My COMMENT: Great! The "full spectrum" is a truthful attitude especially for a complex subjects with many interrelated aspects.
I believe that TTSA will be allowed to reveal more IF the TTSA community and the human community at large becomes interested and shows that it can handle the information constructively. This seems to coincide with the overall attitude of most UAP intelligences. However, "full spectrum" should include the psychic and consciousness connection, the contactees and experiencers, their alternative histories of mankind, how the cosmic community is structured, possible interventions on humanity (genetic and cultural) and the human community should be able to digest this constructively after its various narrative probabilities have been studied and sorted out with as much scientific methodology as possible.
Elizondo's POINT 5) When Mr. Elizondo was asked "What is your best guess on the intelligence behind these craft?" He replied, "I think there's lots of possibilities. But as I said before, it could be from outer space, inner space or the space in between. …But let's look at another paradigm here: the present is nothing more than an infinitesimally small point in space-time.
Probably measured in plane-time, in which elements of the future become elements of the past, right? And everything that we do as human beings is experienced in that infinitesimally small moment of space-time; by the way, it's not static, it's moving. In fact, one could use the analogy, time is like a fuse, and the parts of the fuse that have already burned that are ashes – that's the past. The part of the fuse that remains intact – that is the future, and this moment, this flash right where the future becomes the past, is really hard to define, because if you were to zoom close enough, you would see parts of the fuse burn unevenly.
Parts of the future and parts of the past are kind of lying over each other, and we're now seeing this in the quantum world….the electron is actually going through the fabric of space-time and is actually ebbing in and out of existence and reappearing at an infinitely fast rate. And so, therefore the electron is everywhere and nowhere at the same time.
So, if we experience everything through this tiny little optic, everything we've built, everything we've learned, every emotion, love, fear, hate, every experience as a human being is through this tiny little moment of space-time as we are moving forward. What if there were other species or even humans, where their understanding of the present, that optic, that spark, is maybe a little bigger?
Rather than being a point, maybe it's a range. Mabe the understanding of the present isn't a point, but it's a range, and maybe there's elements of the future and the past that are experienced as the present, and, therefore, what we perceive as linear space-time maybe others don't. In fact, maybe these are things that have lived here forever, before us. Maybe, we share the space with them."
My COMMENT: Yes,I also think that UAP intelligences may be able to experience a "wider present," probably because they are capable of being consciously in contact with the atemporal…to see, let's say, from above, more simultaneous probable futures and even one's temporal line specific past and the probable pasts that did not specifically connect with our preferred temporal line frame of reference.
I consider the fact that these issues (whether correct or not) are being told by a former official, no-nonsense, accredited person that researched UAPs for several years as very important and mind-opening. Thank you Mr. Elizondo!! It is basically a more sophisticated admission of the serious possibility that we are in fact being "visited" by (in some ways) more advanced intelligences (simplistically known as "extraterrestrials"). Inner, psychological, experiential space and physical experiential space may connect in a more useful manner for these intelligences and our civilization needs to understand how this comes to be.
While the word "consciousness" was not mentioned, it was implicit as being able to perceive a wider range of "the present" relates with consciousness as the capacity to experience. Also, if we share the same space, perhaps our legal concerns about other intelligences manifesting in our detectable space would be concerns about the right to maintain our reduced experiential space-time (including its national atmospheric air space, oceans, inside the Earth's crust space) without being interfered with. But what if there are other ranges of space-time on Earth that we have no access too? Shouldn't we also recognize them as legitimate for the use of these UAP intelligences? Should we also legally accept their appearance in the specific space-time segment which we normally perceive? These legal issues are a sobering and beautiful challenge.
More of us really need to grow up (meaning to expand our views and identifications) and to personally work with these issues constructively in order to create a new civilization as demanded by wider facts; generating values to live with respect toward a more connected form of existence…a connection of experiencing consciousnesses in the deeper layers of reality which overcome less ontologically real space-time separations.
Meeting the challenge which involves these more formal "revelations" requires from us to successfully come to terms with the reality world of the "UAP intelligences" as a reality which is not separate from us, especially as their technology and the cultural, political and exopolitical implications of true UAPs and their intelligences become undeniable.
Mr. Elizondo also asks us as individuals in a society to "ask the hard questions and pursue the truth." To become involved, to care about these issues and to recognize their importance. He said that that kind of inquiry should be done by true patriots; that To the Stars Academy should not be composed by "yes people."  I heartfully agree.
After speaking (in the 2018 Contact in the Desert Conference) with Mr. Peter Levenda the chosen writer for TTSA and (in the 2018 joint IRVA/SSE Conference) with Dr. Hal Puthoff a well-known physicist working with TTSA, I found them to be sincere, well-intentioned, reasonable and cautious in what they declare. I think that they are sincerely working with the information available to them even though they may personally suspect that other programs have been researching different issues and aspects at since since the so called "Roswell Incident." I don't think that most members of TTSA are necessarily pushing the idea of "an alien threat" or the continuation of a cover-up in order to further a deeply-seated mindset and some self-serving powerful individuals and entrenched interests within the military industrial complex. I think that this group of people are simply trying to understand what is going on in a moderate, rational, scientific way that can responsibly educate the public and I think that they are simply a bit weary of some (often insufficiently validated) less moderate declarations within the UFO community.
I also tried to speak with Mr. Elizondo in a conference organized by A.J. Gevaerd in Porto Alegre, Brazil but he didn't arrive. There were questions which needed clarification and had been sent to me by other researchers…for instance why it was not mentioned from the very beginning that AATIP was in fact a secondary name for a program whose official code name was AAWSAP (The Advanced Aerospace Weapons Systems Application Program). It would have facilitated obtaining validation that the Pentagon-DIA research indeed existed.
As much as TTSA needs to reach out not only to the general public but to serious – more rational and scientifically careful – researchers in the UFO community, I think that the UFO research community also needs to overcome excessive suspicions and to be more supportive of the effort led by TTSA members, even if the latter (understandably) consider the possibility of a 'threat' as something that has to be logically considered, especially in connection with the Pentagon. I think that the UFO community needs to extend bridges towards TTSA with a friendlier attitude and for – all of us together – to expand our personal identification psychological barriers so as to carefully sort the wheat from the chaff.