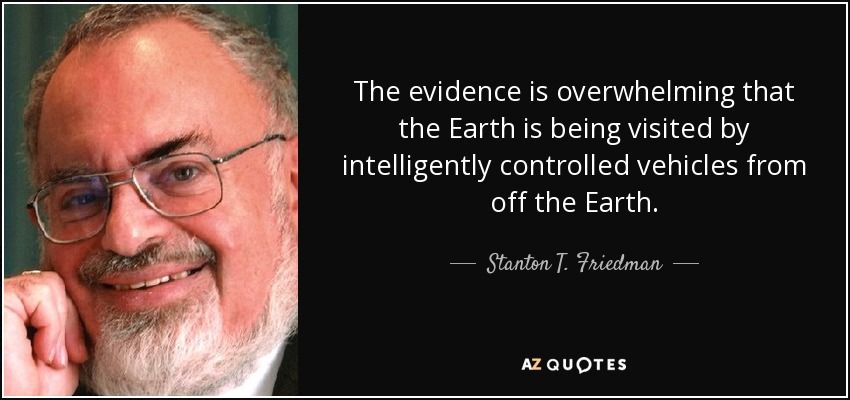 by Alison Penn                July 6, 2018                   (rdrnews.com)
• On July 6th, nuclear physicist and world renowned ufologist, Stanton Friedman (84), attended his retirement party with 100 well-wishers at the International UFO Museum and Research Center in Roswell, New Mexico. For over 60 years Friedman has given 700 lectures in all 50 U.S. states and in many other cities internationally on the topic of UFOs. In his retirement, Friedman plans to find out what the aliens have in mind for Earth from testimonials of communications with extraterrestrials.

• Regarding his contribution to the historical narrative, Friedman said, "Man is not alone and our kids will grow up… knowing that — and that's good." Friedman said that the niece of Betty and Barney Hill, Kathleen Marden, will carry on his work. He also singled out John Greenwald who runs the Black Vault because he is "a sharp young man with plenty of data."

• The International UFO Museum and Research Center staff presented Friedman with a plaque and a watch for his dedication, time and service, loyalty, friendship and generosity. He will be remembered as "one of the greats" of the museum. Friedman said the large number of visitors to the UFO Museum shows there is a genuine interest in aliens and UFOs. He thanked the city of Roswell for sharing controversial topics in a "sensible" way instead of being "ridiculous."

• UFO investigator Donald Schmitt said of Friedman during the retirement party. "If not for this gentleman right here, this museum would not be here. Roswell would not be here. … The (weather) balloon explanation would have remained the extent and that would be it…" "Stan Friedman led the charge… (and) got the ball rolling."
A crowd of around 100 people joined Stanton Friedman, a nuclear physicist and world-renowned ufologist, for his opening talk titled "Traveling through the Stars" on Friday morning and another audience gathered for a retirement party in the afternoon to celebrate Friedman's potentially last UFO Festival.
The International UFO Museum and Research Center was buzzing with visitors and even had a line out the door around 9:30 a.m. The smaller crowd came at 4 p.m. for his retirement party in the North Library with an impromptu question-and-answer session that covered Friedman's lectures and personal life. Friedman will be 84 on July 29 and said he has contributed over 60 years of work using science and collecting data to his UFO crusade.
In the morning lecture, Friedman guided the audience through the famous 1947 Roswell Incident, his career as a nuclear physicist — and then his research on ufology.
As a believer in the existence of extraterrestrial life and its visitation to earth, Friedman said, "Man is not alone and our kids will grow up, grandkids, great-grandson will grow up knowing that — and that's good."
In March, it was announced Friedman intends to retire from the UFO Festival circuit. He estimates that he has done 700 lectures on this subject in all 50 states and even internationally. When asked about his retirement plans, he said he plans to philosophize on the big picture more and traveling for pleasure instead of work. Agreeing that he is still curious about ufology, he added in his retirement he intends to find out what the aliens have in mind for earth from testimonials of communicating with extraterrestrials.
To pass on his torch of research, Friedman said Kathleen Marden, niece of the allegedly abducted Betty and Barney Hill, is another author and lecturer that will carry on his work. Friedman said his first choice would be John Greenwald, who runs the Black Vault because he is "a sharp young man with plenty of data."
His lecture and retirement party had themes regarding what he called "the galactic community" that may be a reality one day and there are more questions to be answered. To have this community, he said earthlings need to let go of the ego of being the center of the universe and examine the proclivity to war and how humans operate on planet earth. He said he has an 11-year-old great-grandson and often thinks of what world his descendant inhabits in the future.
FAIR USE NOTICE: This page contains copyrighted material the use of which has not been specifically authorized by the copyright owner. ExoNews.org distributes this material for the purpose of news reporting, educational research, comment and criticism, constituting Fair Use under 17 U.S.C § 107. Please contact the Editor at ExoNews with any copyright issue.