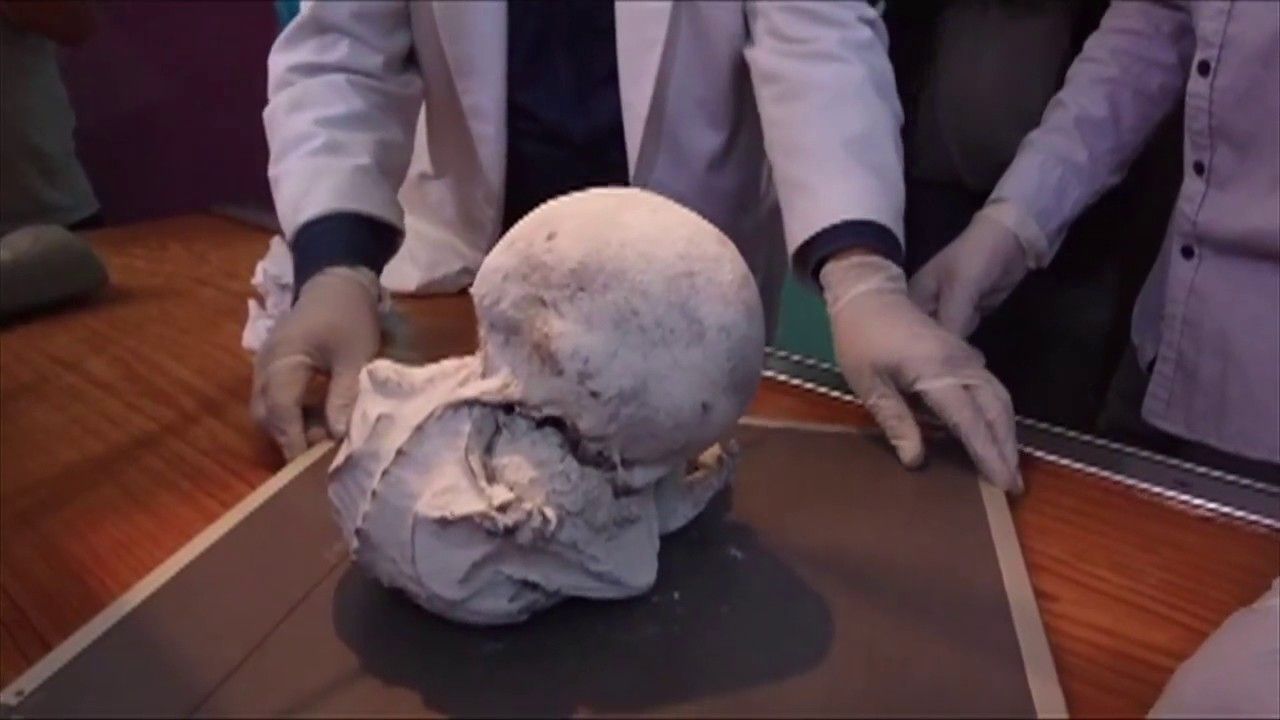 Transcript/extract of segments of the lecture given by Mr. Maussan on September 20, 2017 at the Ufology World Congress in Montserrat, Spain:
Mr. Jaime Maussan: On September 5, the results of DNA analysis of the BioTecMol laboratory arrived. I gave the samples to them on June 15. Tests were carried out to arrive at an extraordinary conclusion: 30% of this DNA is similar to the human being, but 70% is not. As it is the report of a laboratory says that surely they are of bacterial origin. However, in a more detailed analysis, it was found that only 20% is of bacterial origin and 80% of that 70% it was not possible to establish its origin or find another species on Earth that shares it. About 2,000,000 more sequences need to be determined and this will take from 6 months to 1 year aprox. These are preliminary results.
Biologist Ricardo Rangel (shown in a video interview by Mr. Maussan): Some 600,000 sequences / molecules with an approximate length of 150 nucleotides have been obtained through a massive sequencing process. Of the 4 samples that have been studied, between 19% and 30% of similarities to the human genome have been identified. We have tried to compare databases using a progran known as BLAST (Basic Local Alignment Search Tool), an international database based on the complete human genome and other organisms and more than 2000 micro organisms, of bacteria. Sequences have not been found to have significant similarity to the human genome. Nor have they been found to have no similarities with the bacterial genome. We are comparing with animals like primates, the crocodile, the sea turtle to see if there are similarities and the results is that so far with the database we have there is no similarity. We still have a lot more DNA to sequence which will take us at least 6 months to 1 year.
Dr. José de Jesús Salce,  forensic medicine teacher for the Mexican Navy, has been contributing to this research in a personal capacity and referring about the smaller species (not about the larger specimen called "Maria"): "The location of the foramen magnum is interesting. The base of the skull has a square, cubic shape when in most primates, if it is not round, it is oval. It would be the first time that we are observing a species with a large hole of cubic form with edges of a square type. The foramen magnum is located exactly in the middle of the skull or in the middle segment and not in the posterior or posterior third segment as usually occurs.
In a human being the viewing angle is an average of 140 degrees. Here, the position of the orbital spaces tells us about the possibility of having a wider viewing range of perhaps 180 degrees. The bone structure would allow a greater amplitude of the human being.
The oral cavity again emphasizes that it has a very small jaw would only allow swallowing but not chewing and we see the pneumatization (black spaces that are trabeculae or spaces in the bone that are probably pneumatized. They give lightness to the skull. However, it does not diminish its capacity of resistance, that is to say, it remains rigid and resistant but is lighter, In addition, if they were to be pneumatized, this could favor the resonance of the skull, a resonance of a very weak sound that would be ultra sonic or sub sonic.
If the alteration had been made in life we would see the traces of surgery. And, if the alteration had been made after death, the tissue is not alive and therefore would not have regenerated and would not have regained its shape and the scars and the points of union would be noticed.
Regarding "Maria" the larger specimen, it is not possible (that two fingers in each hand have been cut and that phalanxes have been added) because the length of each bone is specific and this would give us traces that have been modified, cut or added. However, the anatomical correspondence between each bone and the relationship between them determines that it is not possible to alter or falsify these hands."
Dr Raymundo Salas, Peruvian radiologist and expert in Tomography with 35 years of service said in a video tapoed interview that he determined that "María" (the larger specimen) had been a living being. She has internal organs (unlike mumies), perhaps even ovaries. The roots of the phalanxes in the feet show that it would not have been possible to alter the feet. The tomography shown no mutilation. Also, the bones in the hands which are unusualy large (20 cm) connect with each other perfectly well and neither "Maria" nor "Wawita" (a similar mummy but of a 1 year old once living being) show signs of manipulation. The larger mummy "María" has a gynecoid pelvis but the sex of smaller mummy "Wawita" has not been determined. Dr. Salas said that the skulls (cephalic perimeter) are somewhat larger than normal and elongated. 
"María"
"Wawita"
In a video taped interview of Dr. Edson Salazar Vivanco (a Peruvian surgeon), Dr. Salazar Vivanco explained that: One of the small bodies (the decapitated body) has prominence in the iliac crest, absence of pubic bone, prominent clavicle, a single bone in the forearm that in the human we have the ulna and the radius, presence of carpal bone and 3 phalanges in 3 fingers. In the leg below the knee a single bone instead of the tibia and fibula. In the tarsus of the feet a single bone joined to 3falanges. The skin is in the form of scales and porous to the touch. It resembles the skin of a lizard.  We were able to study 3 new small bodies and they were called "the family".
---
Mr.Maussan reminded that – while there are 6 and 7 finger syndromes in human beings – there are no known 3 finger  human beings. 
He mentioned that few detractors have been recently commenting about the 60cm beings. "Why would they speak of them if (for them) 'it was demnonstrated' that the larger body is false?" He also noted that although they are similar as a species, each one has unique facial and individual features. He  mentioned that after noticing that one showed a bulge pelvic area, 3 eggs were discovered in one specimen under X rays. 
Comment: We must consider biologist José de la Cruz Ríos' study of the smaller specimens that look more reptilian in appearance. 
Mr. Maussan said in the conference in Montserrat that perhaps one of the reasons for so much resistance against this investigation (even within the ufological community) may be that history itself would have to be re-written. He and all the other researchers mentioned and also Mr. Thierry Jamin (who has been promoting this research almost from the begining)  have stated that they are willing to recant and say that they were mistaken if they are scientifically proven wrong. 
On the other hand, Mr. Maussan revealed that the Peruvian journalist, Mr. Jois Mantilla was taken to a cave like opening by "Mario" the huaquero who knows where the specimens are and – apparently – were they were found. Here it is claimed that several of the mummies were found in Nazca, on a very steep hill. A video of this was shown during Mr. Maussan's conference in Montserrat, Spain.
---
Commentary:
This research effort is excellent and very important! The investigation must continue but there already is enough robust evidence in favor of the extraordinary. We must support research! Get to the bottom in more detail to support a position in scientific debates. And repeat studies if possible. It could very well be the definitive evidence that we are not alone because there are visitors from other worlds who have lived with us in the past or who still interact with us or maybe there are intelligent non-human beings in underground bases. Be that as it may, the ufological society, paranormal researchers, researchers of the mysteries of the past, alternative thought, spirituality, and extraterrestrial contact must respond by joining when the moment arrives …. which is now!
Support research and even more research for humanity to awaken under whoever has the capacity and willingness to "wake up" and change paradigms towards a more connective and healthy worldview. Please share.
The conference (for now in Spanish):