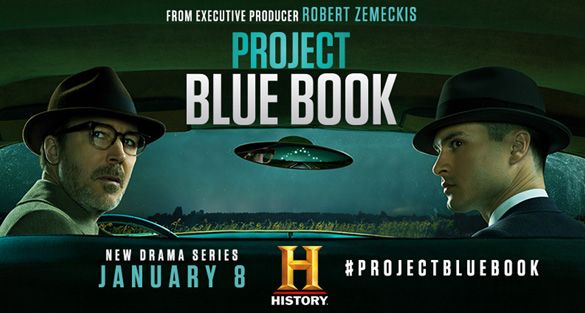 by Judy Berman                    January 3, 2019                      (time.com)
• Based on the true story of J. Allen Hynek's evolution from UFO skeptic as the head astronomer for Project Blue Book, to a believer suspicious of a government cover-up, premiered on January 8th on the History Channel. Project Blue Book was an Air Force project to 'study' and ultimately debunk all UFO reports, which existed from 1952 to 1969.

• The show, entitled "Project Blue Book" is executive produced by Robert Zemeckis. Aidan Gillen, Game of Thrones' "Littlefinger", portrays the brilliant but arrogant J. Allen Hynek. Set in the simpler times of the 1950's and 60's, the historical drama brings forth the underlying paranoia of government agendas and Soviet espionage that was brewing just below the surface.

• Project Blue Book works as a paranormal procedural in the X-Files mold; the story moves quickly, the performances elevate the scripts and episodes strike the right balance between the character's relationships and a darker scenario that drives the season-long arc of a 'very watchable' show.
After World War II, as tensions with the Soviet Union fueled both the space race and fears of nuclear apocalypse, the U.S. Air Force started investigating UFOs. For help debunking the strange reports flowing in from across the country, the military enlisted J. Allen Hynek, an astronomer later known for developing the "close encounter" classification system. But over the years, Hynek grew less skeptical about UFOs and more suspicious of his bosses' agenda, even as he remained instrumental to the 17-year study Project Blue Book.
His story is so obviously the stuff of prestige TV that it's surprising it has taken so long to reach cable, in the form of a sci-fi drama from executive producer Robert Zemeckis that premieres on Jan. 8 on History. Project Blue Book smartly casts Aidan Gillen (Game of Thrones' Littlefinger) as the brilliant but arrogant Hynek. Captain Michael Quinn (Michael Malarkey) is the grounded Scully to his obsessive Mulder, a World War II hero charged with overseeing Allen–and ensuring that he toes the Air Force line. Above Quinn's pay grade, a cover-up is brewing. And at home, Allen's long absences have primed his wife Mimi (Laura Mennell) for a friendship with a mysterious new woman in town (Ksenia Solo).
Many great historical dramas–Mad Men, Halt and Catch Fire, The Knick–have been built on similar setups, following difficult visionaries who struggle against contemporary mores and authorities to shape the future we inhabit. Project Blue Book calls back to The Americans too, with Soviet spies sniffing around Allen's classified research.
FAIR USE NOTICE: This page contains copyrighted material the use of which has not been specifically authorized by the copyright owner. ExoNews.org distributes this material for the purpose of news reporting, educational research, comment and criticism, constituting Fair Use under 17 U.S.C § 107. Please contact the Editor at ExoNews with any copyright issue.