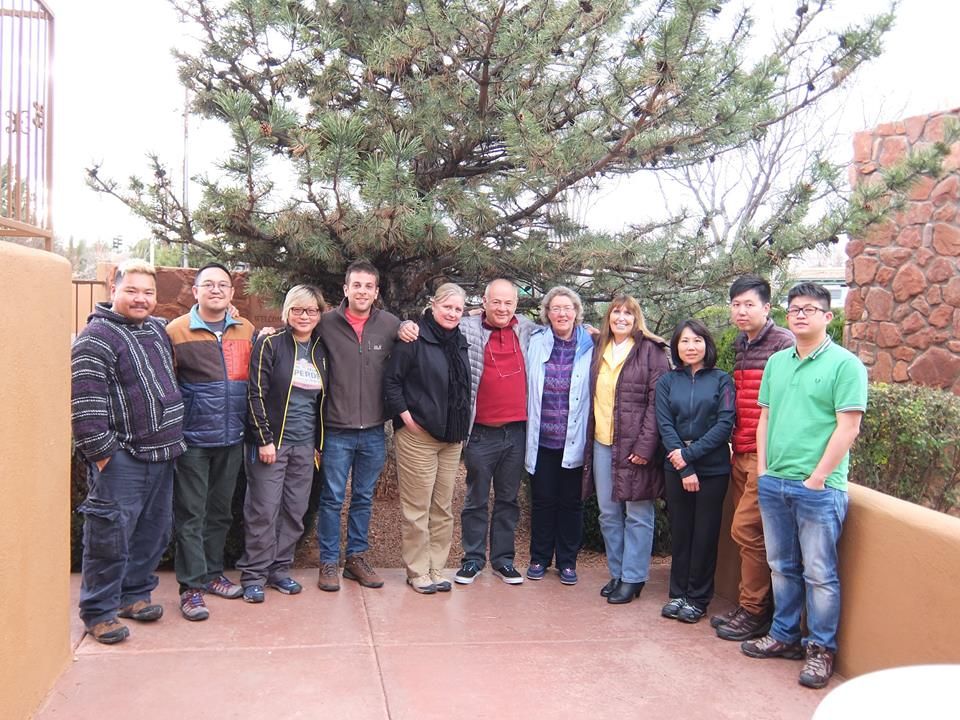 Angela Thompson Smith, Ph. D.
Mindwise Consulting
One-Day Introduction to Remote Viewing
The hotel conference table is littered with water bottles, paper, manuals, and packets of soft clay, pens, coffee cups, and workbooks. The 10 adult students, intent and engaged, are bent over sheets of templates and plain white paper, using black ink pens, and attempting to "see" a hidden picture target that has been identified only by a random alpha-numeric, a coordinate, 730ORQ.
The majority of the students have travelled over 7,500 miles from Hong Kong to attend the 2014 UFO USA Tour in Sedona, AZ. The week-long Contact in Sedona Tour has been organized by Director Neil Gould and Tour Master Jake Gould, in conjunction with the Exopolitics Institute, and runs from February 28th through March 4th, 2014. On the final day of the Tour, the team gathers in the hotel conference room for an accelerated introduction to the mind-skill of remote viewing.   Basically, remote viewing is the trained ability to mentally describe distant locations and events using something other than the known five senses. Remote viewing has a 40 year history of research, development, and applications and now has training schools, researchers, and practitioners around the world.
The class begins each training session by identifying their name, location, date and time, on their paper – – because you have to know where you are before zooming off into the cosmos to locate another time and place! In this case, the random coordinate is the "address" of a specific event at a specific location at a specific time that the students are asked to identify.
The students have already been through remote viewing exercises that morning, learning to identify colors, shapes, and form; they have mentally tracked a member of the class out-and-about in Sedona; and receiving just a geographic coordinate, latitude and longitude, used this cue to remote view a specific location and event in the past. Now they come to something a bit more complex: they are given an "encrypted coordinate" of a hidden location and an event that they are asked to identify and model.
Cheuk Fei straightaway starts getting logical things going through his mind: he writes that this must be a photo/image, a newspaper image, reporters, all actual images from the previous picture target, and he shuttles these off to the side of the paper as analytical overlay or AOL.  Then he relaxes and lets his "inner vision" take over. He identifies a shape and begins to model it in clay: the shape is complex: convex and curved on one side and indented several times on the concave side. He doesn't know what he is modeling, just whatever feels right. He takes only 5-10 mins to get his impressions, then write them down, and make his clay model.
Once all the students have completed their short session, they are given feedback: in this case the coordinate 730ORQ was linked to a hidden question: "What did Kenneth Arnold specifically see on June 24th, 1947 near Mount Rainier that he described as like 'saucers skipping across the sky?'" What Kenneth Arnold sketched after his encounter were not "saucers" but 9 objects, like oddly-shaped boomerangs, traveling around 1,200 miles per hour.
There were other successes in the class, too. Using just an alpha-numeric coordinate and "stream of consciousness" remote viewing, students were able to identify other events, locations and individuals. Even an historic event that was described in a 16th century woodcut prompted correct images. At sunrise on April 14th, 1561, citizens of Nuremberg, Germany reported that "The sky appeared to fill with cylindrical objects, red, black, orange and white discs and globes emerged. Crosses and tubes resembling cannon barrels appeared whereupon the objects promptly began to fight one another." The 16th century artist Han Glaser memorialized the event in a colorful woodcut. Students described the colors and shapes of the hidden picture target and Tour Leader Neil Gould actually described and drew cannon shapes in his session.
Where do we go from here, students were eager to read and learn more about remote viewing and were each given a copy of UK researcher Daz Smith's book: CRV – Controlled Remote Viewing: Collected manuals and information to help you learn this informative art, as well as published articles on remote viewing applications. Another UFO USA Tour is planned for Roswell, NM in October, 2014 and I plan on returning to teach another Introduction to Remote Viewing course. Hope you will join us there for an experience that is "out of this world"!
Angela Thompson Smith Ph.D. has 30 years experience in the psychology, parapsychology and remote viewing fields including 5 years working at the Princeton Engineering Anomalies Research (PEAR) Laboratory and 20 years in the RV field as a trainer, researcher, and in consulting. Dr. Smith is also a published author, an ordained shamanic practitioner, and currently lives and works in Boulder City, NV. Her website is www.mindwiseconsulting.com