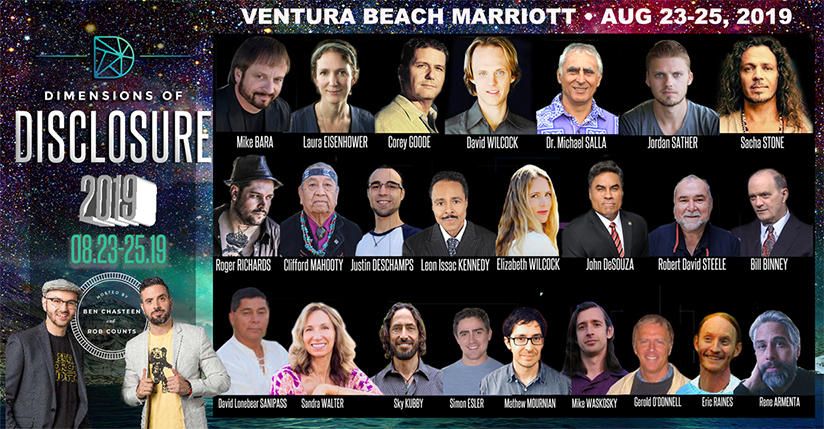 by Nikki Lyn Pugh
Imagine this scene: It is Dimensions of Disclosure 2019. Two men with VERY different backgrounds and appearance are on stage. One is a seasoned ex-CIA agent in a starched collared shirt, glasses and short haircut. The other is an ex-rocker, researcher and founding member of the International Tribunal for National Justice. The two take turns answering questions from a diverse crowd of hundreds.
Dimensions of Disclosure Highlight #1: Sacha Stone and Robert David Steele
In this age where brawling is the norm in political debate, the interaction between these two presenters seems a bit odd at first. Something is missing: where is all the name-calling and cheap shots? In its place is something quite uncommon and refreshing. Despite their differences, there is a noticeable fondness and respect for each other as the Q & A proceeds. Moments of tension turn to good-natured banter and laughter in just the right measure. The audience, including this reporter, appreciates what each of these dedicated experts have to say, and also the way they say it. The room is electric with the passion, wit, intelligence, heart and the mutual respect that these powerhouse speakers radiate.
I am referring to the now-infamous mainstage Q & A with Sacha Stone and Robert David Steele on Day Two of Dimensions of Disclosure 2019, which took place August 23-25 at the Ventura Beach Marriot Hotel in Ventura, California. I point this scene out specifically because it stands as a symbol for not only what an open and lively debate in a constitutional republic can and should look like, but also what Dimensions of Disclosure itself has come to stand for over its three years of existence.
Dimensions of Disclosure continues to take the pulse of the disclosure movement like no other event can. This year's conference saw attendance swell to nearly 700 ticket buyers and the topics were expanded as well, keeping up with the fast pace in which everything seems to be happening on the disclosure front these days. I don't know about you, but to me it feels as if humanity in general is busting at the seams. This year's conference absolutely reflected the intense and accelerated energy that exists on the planet at this time.
Something For Everyone
Both the main stage and the workshops were graced with speakers as diverse as Stone who gave a mind-blowing presentation on advanced technologies, to Jordan Sather of 'Destroying the Illusion' getting into the nitty-gritty about Q Anon, censorship and personal growth. Other presenters included James Gilliland, Leon Isaac Kennedy, Laura Eisenhower, John DeSouza, Elizabeth Wilcock, Lonebear Sanipass, and of course, Corey Goode, Dr. Michael Salla, and David Wilcock. Goode and Wilcock's Saturday night "chat" brought forth the very latest disclosure revelations from the 'Alliance' as well as what may be on the horizon regarding the 'Solar Flash Event'.
Besides the presenters, there were plenty of opportunities to unwind, walk on the beach, sit in the grass, interact, eat healthy food and just chill. Buenaventura Park located next door to the hotel offered a place to meditate or to do some dancing at the end of the day. It was also where you could catch the free community workshops, early morning yoga, and the daily 11:11 am meditations. Zuni elder Clifford Mahooty and Reiki master Jaimee Barrington offered a soul-nourishing opening ceremony at the park on Friday morning.
For anyone wanting to get their "beach on" as well as their disclosure fix, the park was ideal as it was literally one block from the sand dune beach of the Pacific Ocean. Sky Kubby of 'Medicinal Foods' led a group of us in an early Saturday morning Bagua Tai Chi warm up class. It was very grounded and perfect for helping to prepare for a busy conference day.
Highlight #2: Leon Kennedy and James Gilliland
While there were many opportunities to interact and stay busy during the weekend, this writer appreciated the opportunity to slow down, to be in the present and grow in consciousness at the event. When I find someone who is able to combine topics of alien life and spirituality together in one enchilada that is both practical and mind-expanding, they do have my attention. This is what the next two speakers whom I will highlight brought to the table.
Actor and producer Leon Kennedy is a Hollywood legend who, as he says, was "yanked" into non-traditional Christian ministry after many years in the music and film industry. He received the "Divine message" to specifically work within the disclosure community. He now regularly speaks at conferences such as Dimensions of Disclosure. Kennedy is the media manager for David Wilcock and Corey Goode, amongst others, and was recently featured on the popular YouTube show "Edge of Wonder".
It is hard to describe in words exactly what it is like to experience a Leon Kennedy presentation. It is part disclosure speech and part revival, with a whole lot of inspiration and healing thrown in for good measure. Kennedy takes you to the edge of the cosmos, mentally and emotionally. At the same time, he keeps it real by focusing on issues such as forgiveness, personal responsibility, generational patterns, the power of prayer and those crazy thoughts that run through our heads at the most inopportune times. (Hint: Sometimes they aren't YOUR thoughts at all!) If you get a chance, check out Leon for yourself. You won't be disappointed.
Another delight which satisfied my searching for both external truths and inner spiritual development was a presentation given on Sunday by James Gilliland of ECETI Ranch in Trout, Washington. ECETI stands for 'Enlightened Contact with Extra Terrestrial Intelligence'. His ranch, near Mount Adams, is well-known for interaction with ET and inner earth beings. On his multi-acre ranch Gilliland hosts weekend retreats and conferences. Those looking for their own personal ET contact experiences are rarely disappointed.
On stage, Gilliland is soft-spoken and as unpretentious as they come. The dozens of slides he showed of strange craft, light forms, and actual beings caught on camera were truly remarkable. Gilliland's presentation left me with a lot to contemplate about our human (and not so human) origins, about contact that is happening now, and about how to grow spiritually in order to prepare for heightened ET contact. At the end of his talk I also felt a sense of optimism that comes from knowing that we may have a lot more benevolent "help" than we think we have down here on Earth.
"The more you expand in consciousness, the more you make alliances with higher beings to help fend off dark forces," says James Gilliland.
Now that is something to think about!
                                                              Highlight #3: Panel Discussion
The event wrapped up with all of the "heavy hitters" on stage for a panel discussion and to introduce a new movie, Cosmic Secret, the follow-up film to last year's Above Majestic, tentatively scheduled to premiere this November. David Wilcock and Corey Goode were among the panelists, along with Laura Eisenhower, Jordan Sather, Elizabeth Wilcock, Leon Kennedy, James Gilliland, Clifford Mahooty, ex-FBI agent John DeSouza, Dr Michael Salla, the new film's director Roger Richards, and "Edge of Wonder's" Rob & Ben who served as the conference's Masters of Ceremony.
The panel took questions from the live audience as well as from the nearly 4000
people watching online via Livestream. Again, as had been the case all weekend, the intelligence and insight of the questioners was impressive. This was a crowd who had obviously done their homework. The presenters on stage spoke from the heart, particularly about the challenges that they had endured over the last year that has made getting the disclosure message out increasingly difficult.
But 'get the message out' they did! The big question we have now is: Will we have to wait a whole year for the next Dimensions of Disclosure conference? I hope not!
Nikki Lyn Pugh, MFA, INHC is a writer, health coach, traveler and teacher who looks up at the sky often to say hello to her cosmic cousins. When she is not in Northern New Mexico, she can be found road tripping in her little blue Yaris "Blueberry."
You can find out more information about Nikki at thegentletraveler.com. Also check out her upcoming series on YouTube, QAnon101, set to launch October 1, 2019.