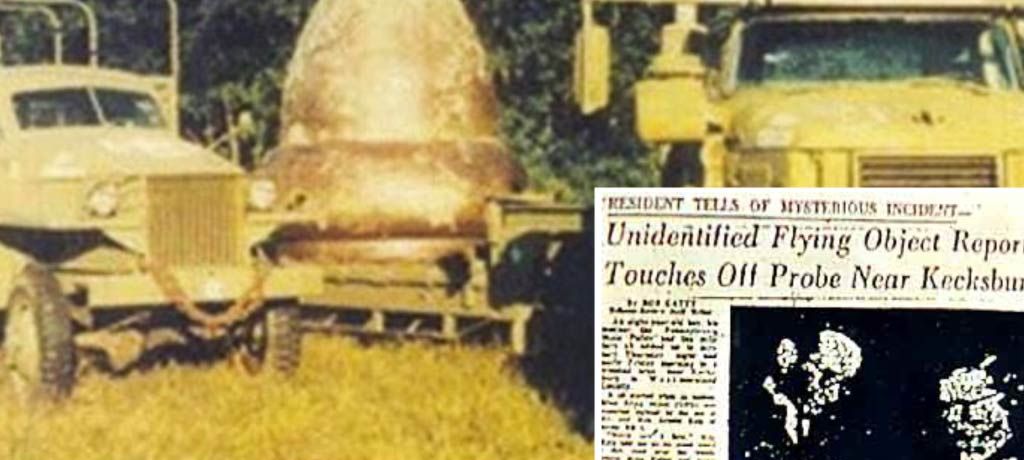 Listen to "E63 8-11-19 UFO Sightings Frequently Reported Across Western Pennsylvania" on Spreaker.
Article by Stephen Huba                      July 27, 2019                      (triblive.com)
• Retired journalist Bob Gatty, 76, originally reported on the Kecksburg UFO incident for the Greensburg Tribune-Review, when on December 9th, 1965, people across six states and Canada reported seeing a fireball streak across the sky before crashing into a wooded area in Mt. Pleasant Township, Pennsylvania, a southeastern suburb of Pittsburgh. (Note: The Army and State Police cordoned off the area, and claimed that they found nothing there in the woods. But locals have come forward to say they saw a military truck removing an acorn-shaped object the size of a Volkswagen Beetle with hieroglyphics on it.)
• The Kecksburg UFO sighting has become part of local lore, but Gatty says, "It's not going away. Whether you believe or don't believe in this stuff, the fact remains there is a lot happening for some reason." Reports of unexplained aerial phenomena are getting serious attention from Congress, the U.S. military and longtime UFO watchers. "Congress apparently is taking this stuff… seriously," says Gatty.

• UFO researcher Stan Gordon, 69, has spent the past 54 years investigating the Kecksburg incident. Gordon says that there has been a recent "surge" in sightings of unexplained phenomena in Western Pennsylvania. Says Gordon, "We've had a surge of UFO and Bigfoot activity in the area in the last couple of weeks. Many of these sightings are very detailed reports… from credible people that you cannot easily dismiss." Most end up in the growing repository of unexplained phenomena, with no conclusive explanation.

• Gordon continues to report UFO sightings in Pennsylvania on his website, StanGordon.info. Pennsylvania is ranked seventh in total UFO sightings in the U.S., with 3,937 UFOs reported since 1947. There have been 84 sightings so far in 2019, which already matches the total for 2018. The most recent was a sighting over Greensburg on July 5th of a red/orange round object moving across the sky at night, lasting about six minutes.

• On July 4th, an orange-red sphere was spotted at night in both Erie and Cecil, in Washington County. On June 28th, a shiny silver saucer was seen over Mt. Lebanon. After about 15 minutes, it disappeared. On June 23rd, an Elizabeth resident reported seeing five amber-colored, circular shapes move in all directions in the sky, and then form an arrowhead shape before disappearing after about 4 minutes.

• Peter Davenport, director for the National UFO Reporting Center, has been collecting UFO data for 25 years. In 2004, Davenport presented a paper to the Mutual UFO Network on the use of "passive radar" for detecting UFOs in the near-earth environment. This was acknowledged by the CIA and the FBI. Davenport says that the US government has known about the UFO phenomenon for a long time. Solving the mystery of UFOs will require "a government that still serves the people".

• UFO sightings by Navy fighter pilots have reached the highest echelons of the US government, according to the 'To the Stars Academy of Arts & Science'. Former Pentagon intelligence official Christopher Mellon, an adviser to the Academy, wrote in the Washington Post in 2018 that the existence of UFOs is no longer in question. What is lacking is a commitment from the Defense Department to investigate the growing body of evidence from the military. Said Mellon, "It is time to set aside taboos regarding 'UFOs' and instead listen to our pilots and radar operators."
While the Kecksburg UFO sighting has become a quaint part of local lore, more recent reports of unexplained aerial phenomena are getting serious attention from Congress, the U.S. military and longtime UFO watchers.
"It's not going away," said retired journalist Bob Gatty. "Whether you believe or don't believe in this stuff, the fact remains there is a lot happening for some reason."
Gatty, who originally reported on the Kecksburg incident for the Tribune-Review in 1965, recently noted on his blog NotFakeNews.biz that the Navy has issued new guidelines to fighter pilots regarding UFO sightings, and members of Congress are seeking more frequent briefings on the subject.
"Congress apparently is taking this stuff — at least the Navy reports — seriously," said Gatty, 76, a former Sykesville, Jefferson County, resident who lives in Myrtle Beach, S.C.
Meanwhile, longtime local UFO researcher Stan Gordon said there has been a "surge" in sightings of unexplained phenomena in Western Pennsylvania — whether extraterrestrial or not.
"We keep getting reports of very strange things that people see around here," said Gordon, 69, of Greensburg. "We've had a surge of UFO and Bigfoot activity in the area in the last couple of weeks. Many of these sightings are very detailed reports."
While sightings usually spike in the spring and summer, when people are outside more, reports in 2018 and 2019 have been more consistently year-round, he said. Sightings are mostly of unexplained things in the sky or of earthbound cryptids — animals such as Bigfoot, whose existence is unsubstantiated.
Gordon has spent the past 54 years investigating the Kecksburg incident, when on Dec. 9, 1965, people across six states and Canada reported seeing a fireball streak across the sky before crashing into a wooded area in Mt. Pleasant Township.
FAIR USE NOTICE: This page contains copyrighted material the use of which has not been specifically authorized by the copyright owner. ExoNews.org distributes this material for the purpose of news reporting, educational research, comment and criticism, constituting Fair Use under 17 U.S.C § 107. Please contact the Editor at ExoNews with any copyright issue.