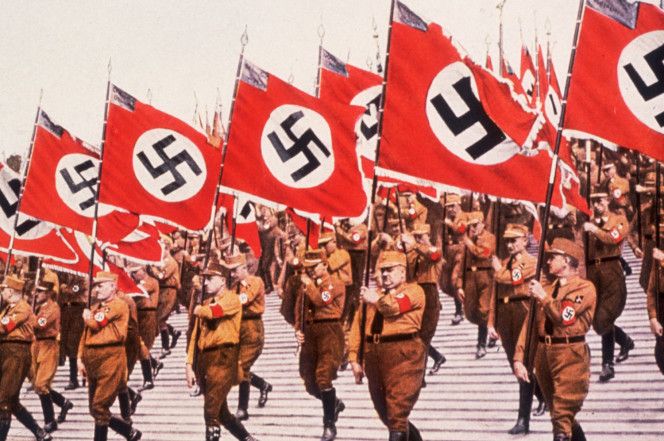 by Steve Erdmann, Edited by Robert D. Morningstar          September 1, 2017               (ufodigest.com)
• A book review of Joseph Farrell's "Hidden Empire Trilogy"
• Book One: Post-WWII Nazi dominance of the world's corporate sector; slave labor building advanced technology; the relationship between Nazi intelligence chief Richard Gehlen and the CIA's Allen Dulles; Fourth Reich Nazi connections to international banking, Argentina, the Apollo missions, the Philadelphia Experiment; and the JFK assassination
• Book Two: Fourth Reich pillaging of global wealth; the Nazi/CIA planned economic collapse of the Soviet union; "full spectrum" technological dominance of the world; the development of a secret space fleet
• Book Three: the emergence of a breakaway civilization with access to occult knowledge and financial reserves of over $300 trillion; a sinister 9/11 plot
Joseph P. Farrell has written many interesting tomes on the occult, esotericism and mysterious happenings, and equally fascinating is his trilogy on the emergence, continuance and conquest by Nazism as revealed in (1) Nazi Fourth Reich: Nazi International: The Nazi's Postwar Plan to Control, Finance, Conflict, Physics (2008), (2) Covert Wars and Breakaway Civilizations (2012), (3) Hidden Finance, Rogue Networks and Secret Sorcery: The Fascist International, 9/11, and Penetrated Operations (2016), Adventures Unlimited Press, One Adventure Place, Kempton, Illinois 60946, $19.95.
Extraterritorial Nazi State
Part I
His Nazi International analysis centers on how various high-ranking Nazi officials—particularly Martin Bormann—envisioned a long-range plan for control in the form of World Corporate socialism. Patterns of incestuous relationships existed between American corporate elites and Germany, involving companies such as Morgan Stanley, Standard Oil, and DuPont Chemical, I. G. Chemical and the German I.G. Farben Company, whereby Prescott Bush had business dealings with German Fritz Thyssen.
Under codename Akton Feurerland (Operation Fireland), such an elite movement created underground vaults and U-boats to connect to the far reaches of Argentina. In 1942, Bormann's Project Bernhard created $600,000,000 of counterfeit British pound notes. Such tactics were all a part of Bormann's Auslands-organization, a Fifth Column Network utilizing dummy corporations, finance agents, lawyers and research ventures.
SS Obergruppenfuhrer Dr. Ing Hans Kammler headed a think tank harboring German secret weapons research and a slave labor pool of about 14 million people. One of the suspected inventions was a revolutionary device called The Bell. Obergruppenfuhrer Dr. Johann Friedrich Scheid (Hermadorff & Schenburg Company) headed a secret conference where he coalesced and aligned many major firms of great importance as far as Spain South America and the Middle East.
A strange relationship existed between Bormann, German military intelligence mastermind Richard Gehlen, and Allen Dulles, brother of John Foster Dulles of the law firm involved in the eventual forming of the Central Intelligence Agency (CIA).
Farrell gives concern to increasing pro-Nazi movements around the world in Arabia, Eygpt, Italy, and many other locations (pp. 193-200).
FAIR USE NOTICE: This page contains copyrighted material the use of which has not been specifically authorized by the copyright owner. ExoNews.org distributes this material for the purpose of news reporting, educational research, comment and criticism, constituting Fair Use under 17 U.S.C § 107. Please contact the Editor at ExoNews with any copyright issue.