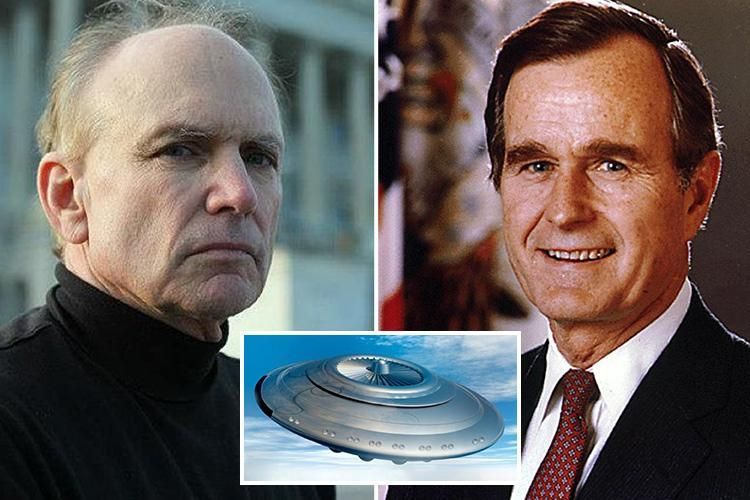 by Emma Parry                    December 18, 2018                  (thescottishsun.co.uk)
• Steve Bassett (pictured above left), an American UFO lobbyist, told the (Scottish) Sun Online that the 41st US President, George Herbert Walker Bush (pictured above right), knew the truth about the extraterrestrial presence on and around the Earth, and could have ended the UFO cover-up. Bush was a former director of the Central Intelligence Agency and had been briefed daily by CIA agents while in the White House. Bush-41 would have been the "ideal" president to disclose the truth about UFOs as he was so well informed. But he kept all his UFO knowledge a secret right up until he died last month at age 94 at his home in Houston, Texas.

• According to Bassett, Bush-41 "…would have been the ideal 'Disclosure' President… The Cold War was over and the door was now open to end a very expensive and complex truth embargo." "[I]t is my view the military/intelligence complex would have been quite comfortable with 'Disclosure' taking place during a second term of President George H. W. Bush."

• Former US President Jimmy Carter pledged that he would disclose to US citizens what the government knew about UFOs if elected after witnessing a strange light while governor of Georgia in 1969. But while director of the CIA, Bush is said to have blocked President Carter's attempts to obtain UFO information during a briefing on November 19, 1976. Bush told the president-elect he didn't have the need to know but if he wanted information he should ask the Congressional Research Service (CRS) to prepare a briefing for the new administration. Bassett thinks Bush rebuffed Carter because he knew some UFOs were extra-terrestrial in origin. "Carter fired him shortly thereafter," says Bassett. "One might ask, 'If there was no truth to the extra-terrestrial hypothesis, why would Bush disrespect a presidential request?"

• Bassett also claims that "…Bush was quite knowledgeable about the history of the extra-terrestrial presence to the extent he required. Did that include the July 1947 Roswell events? Almost certainly yes."

• While campaigning with his son Jeb Bush in the 1980s, Bush-41 was asked about UFOs by a journalist. He replied, "Americans can't handle the truth." During a presidential rally trip to Rogers, Arkansas, in 1988, Bush was asked: "Will you tell the people the truth about UFOs?"  Bush replied: "I know some. I know a fair amount." Later, Bush included in a speech: "We will travel to neighboring stars, to new worlds, to discover the unknown."
The 41st President of the United States, who died last month aged 94, was a former director of the Central Intelligence Agency and was briefed daily by spooks while in the White House.
And according to UFO researchers he would have been the "ideal" president to disclose the truth about UFOs as he was so well informed.
But he kept all his UFO knowledge a secret right up until he died at his home in Houston, Texas.
Steve Bassett, an American UFO lobbyist, told Sun Online Bush knew the truth about extra terrestrial life and could have ended the UFO cover-up.
He said: "The consensus among researchers is George H. W. Bush would have been briefed on the extra-terrestrial presence to whatever extent he so desired.
"There is no clear evidence George H. W. Bush wanted 'Disclosure'. That said, it is my view the military/intelligence complex would have been quite comfortable with 'Disclosure' taking place during a second term of President George H. W. Bush.
"He would have been the ideal 'Disclosure' President from their perspective. The Cold War was over and the door was now open to end a very expensive and complex truth embargo."
While director of the CIA, Bush is said to have even blocked former president Jimmy Carter's attempts to obtain UFO information during an alleged briefing on November 19, 1976.
Bush told the president-elect he didn't have the need to know but if he wanted information he should ask the Congressional Research Service (CRS) to prepare a briefing for the new administration.
Carter had pledged he would disclose to US citizens what the government knew about UFOs if elected after witnessing a strange light while governor of Georgia in 1969.
Bassett, the executive director of UFO campaign group Paradigm Research Group, thinks Bush rebuffed Carter as he knew some UFOs were extra-terrestrial in origin.
He said: "We do know the newly elected President Carter approached CIA Director Bush regarding a study the White House wished to initiate regarding the extra-terrestrial issue.
"Bush declined to cooperate and referred him to another agency. This may have guaranteed he would not be able to stay on as CIA Director – or not.
"Carter fired him shortly thereafter. One might ask, 'If there was no truth to the extra-terrestrial hypothesis, why would Bush disrespect a presidential request?'"
FAIR USE NOTICE: This page contains copyrighted material the use of which has not been specifically authorized by the copyright owner. ExoNews.org distributes this material for the purpose of news reporting, educational research, comment and criticism, constituting Fair Use under 17 U.S.C § 107. Please contact the Editor at ExoNews with any copyright issue.