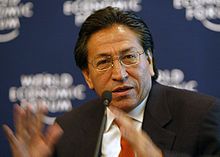 "Yesterday I had an interview with CNN about a theme that would seem exotic; that would seem to be part of science fiction but it is not. (It was) about the extraterrestrials." (Alejandro Toledo, former President of Peru).
Thus, former Peruvian President Alejandro Toledo recently mentioned the extraterrestrial issue  in a serious – not in a tongue and cheek – manner. After these words were pronounced, there was a brief silence in the room. It all took place at Hotel Estelar (Stellar Hotel!) in the district of Miraflores, in Lima, Perú on Tuesday March 22nd 2016.  A moment before that he was speaking about the military when his discourse suddenly shifted to an extraterrestrial issue. So, he briefly mentioned that but then he didn't explain it any further. Subsequently, after these short sentences about 'extraterrestrials', he shifted gears again and continued speaking about the military, specifically about the need to be honest and therefore to honor the military and not just the police. Following that, he went on to mention other issues pertaining to Peruvian national politics in the context of the upcoming elections.  
Dr. Toledo is a Presidential candidate (for a second term) and is unlikely to get elected because he is low in the polls. His candidate for Vice President is Mrs. Carmen Omonte.  
Interestingly, UFO researcher and psychologist Richard Boylan, PhD lists Mrs. Carmen Omonte as connected to a "MJ-12 Committee" associated with the UN. http://drboylan.com/mj12unoosacss.html   Whether this is a genuine or a spurious list, I don't know. 
As of today (March 31, 2016), I also don't know what former President Toledo was actually referring to. It might be about a more "standard" scientific approach (like astrobiology?) that can be blown up out of proportion. I hope it is not another dissapointment. It could all become clear soon.
Off course, I'd like these declarations to be part of a disclosure process; a sincere educational openness for the people of Earth referring to an actual intelligent extraterrestrial presence but – for all I know – he might have been referring to anything else like the role of astrobiology and its formal scientific search for extraterrestrial intelligence.  However, it is curious and newsworthy.
Link to the statements by former President Toledo https://www.youtube.com/watch?v=osWphyPt67A
Another link to the same statements https://www.youtube.com/watch?v=jO_5H4FrVf8
Interestingly (and this is also newsworthy),  a few days later, on the late evening of March 28, unknown objects were seen over a low income district in northern part of Lima called "Carabayllo" and they were cell-phone filmed and witnessed by a number of people. Are they man-made, natural or truly anomalous objects? This has to be found. There also were circling search lights on the sky in one of the videos but with blue orbs in the background. Was all of it concocted or perhaps someone pointed the search lights at the blue orbs to get a response? Hopefully, more information will be forthcoming.
The image above used in reports of the Carabayllo sightings has been found to correspond to the publicizing of a previous event in Colombia according to my friends Pablo Novoa Álvarez (archaeologist) and Yohanan Diaz Vargas (reporter) and Virgilio Sánchez-Ocejo (attorney and UFO researcher). They tell me that it was to publicize the New X files series. 
Also, when the Carabayllo event videos were placed and reported by online newspapers, they were placed in YouTube together with an older 2015 video from Santiago de Chile but claiming to be from the Carabayllo event in Perú when in fact it was a video dating from 2015 (quite likely showing Chilean Air Force airplanes during a military exercise). This may discredit the Carabayllo event. However, what also needs to be found for sure now is whether tthere are any genuine videos or photos from the night of March 28 in Carabayllo, Lima. 
Link to the Santiago de Chile 2015 video erroneously mixed up with the Carabayllo event. https://www.youtube.com/watch?v=qAd3WJ65Fpo
What may have happened the night of March 28 is being investigated by DIFAA, the Peruvian Air Force office that investigates UFOs. They will probably get o the bottom ot it.
The confluence of the enigmatic words from former President Toledo and the alleged Carabayllo UFOs gives us reason to speculate. Hopefully, both issues will soon become clear.
Link to circling searchlights pointing towards the blue orbs (look carefully and tilt the screen if necessary)  https://www.youtube.com/watch?v=HCjA1Ie8A0w
By Giorgio Piacenza